Crispy Thai Oyster Omelet at Nai Mong Hoy Tod (นายหมงหอยทอด)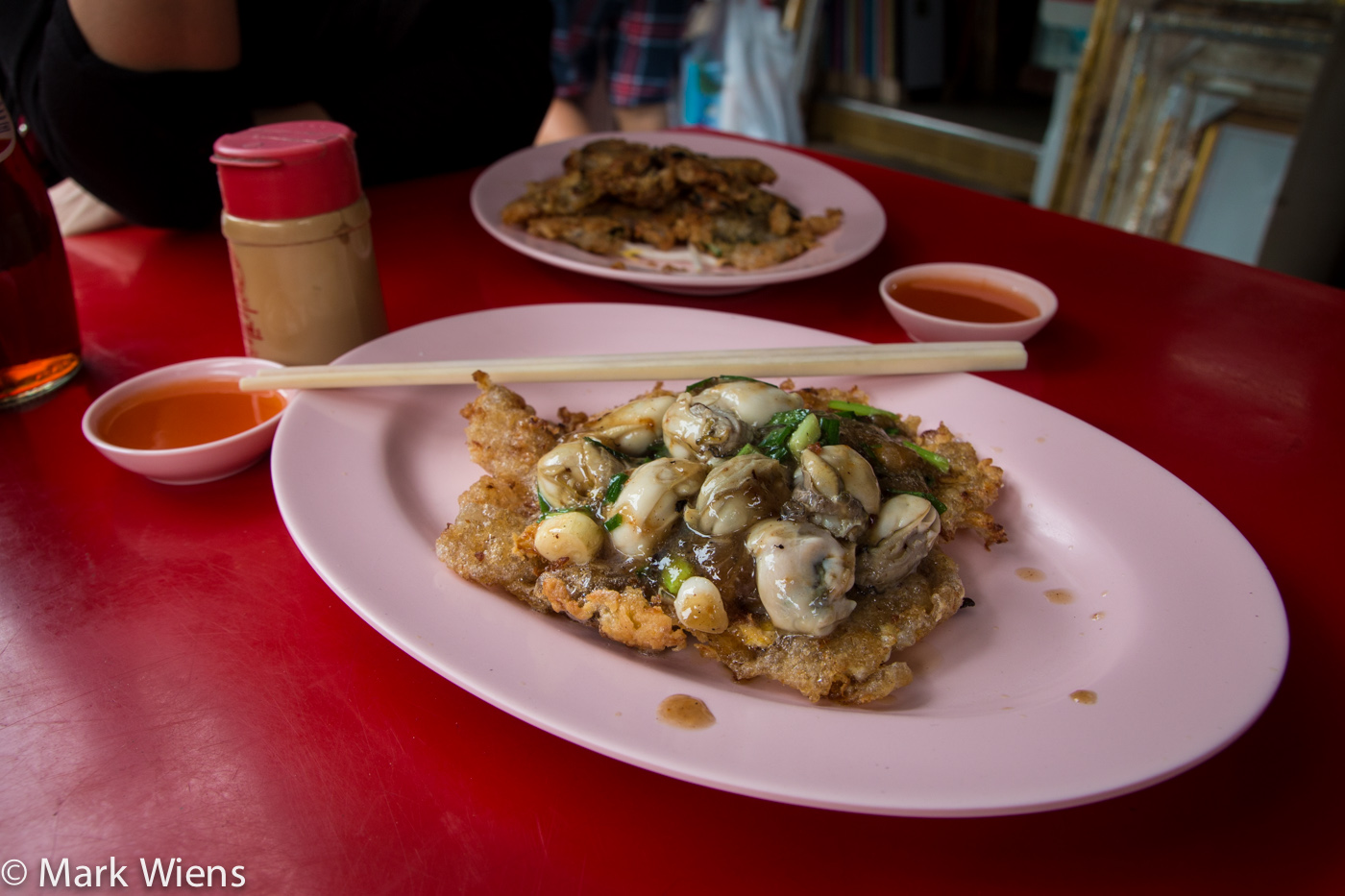 Hoy tod (หอยทอด also sometimes spelled hoi tod) is a Thai style oyster or shellfish omelet.
However, it's often more like a crispy pancake rather than an omelet in my opinion.
The dish is sort of the relative of Pad Thai, and occasionally at restaurants around Thailand you'll find both dishes served at the same restaurant. However, there are also many restaurants that only specialize in Hoy Tod or Pad Thai. Read more about the Pad Thai / Hoy Tod face-off here.
But anyway, one of the most famous restaurants to eat hoy tod (หอยทอด) in Bangkok is a restaurant known as Nai Mong Hoy Tod (นายหมงหอยทอด, they spell their name Nai Mong Hoi Thod).
You'll find them in Yaowarat Chinatown, just off Charoen Krung Road, about 20 meters down Phlap Phla Chai street.
It's just a short distance from the serious street food egg noodle spot, and if you keep walking down Phlap Phla Chai for about 15 minutes you'll hit the kua gai intersection.
Nai Mong Hoy Tod (นายหมงหอยทอด) is a shophouse style restaurant, and you can choose to either sit inside, or open air on the sidewalk.
I normally prefer to grab a seat outside to take advantage of the street-side atmosphere.
You can either choose to order the awlua (อ่อลั่วะ) version, which is crispy (this would be the normal version of hoy tod), or what they call awsuan (ออส่วน), which is the goopy version, and should be similar to this.
You then have a choice of either mussels or oysters. And since I didn't want to choose, we got one of each, both crispy.
If you go to eat hoy tod (หอยทอด), just know from the beginning that you're about to eat some serious oil and grease.
It's not exactly what you would call a healthy Thai dish, but it is a tasty one.
At Nai Mong Hoy Tod (นายหมงหอยทอด), they have a pretty cool cooking setup, and their cooking station sort of reminded me something like police shields.
The heavy iron skillet sits on top of a custom made charcoal burning stove, and they've added a fan to the fire with switch, so when they really need to bump up the heat to get the food sizzling they just turn on the fan, as sparks fly.
Oil, and I believe lard to be more specific, is used generously to make hoy tod (หอยทอด).
The oil is heated first, then a pancake like batter goes in until it start turning golden brown. More oil is continuously added throughout the cooking process to ensure the omelet is as crispy as possible.
First they brought us the hoy malang poo tod (หอยแมลงภู่ทอด (กรอบ), the crispy mussels omelet.
For this dish, they embedded the small mussels in the batter, cracked an egg in the middle, whirled everything up, and cooked it until it was golden in color, and extremely crispy.
It was placed on a bed of bean sprouts to soak up a bit of the extra grease, and served with a tomato sauce prik dipping sauce.
Price – 70  THB
Like I mentioned, it was more of a pancake rather than an omelet.
They use sticky rice flour to the make the batter, so the texture is really sticky, and has some elasticity to it (not in a rubbery kind of way, but more in a cheese kind of way).
The hoy malang poo tod (หอยแมลงภู่ทอด (กรอบ) was wildly crispy on the edges and in the middle, and then sticky on the inside. The mussels were quite small, and there weren't a lot of them in there.
The The hoy malang poo tod (หอยแมลงภู่ทอด (กรอบ) was quite tasty, but I thought the ratio of batter of mussels was a little low.
A quick dip in the sweet tomato sauce, added an extra tanginess to the crispy pancake.
A few moments later, fresh out of the hot oil, came the hoy nang rom tod (อ่อลั่วะ หอยนางรมทอด (กรอบ), the crispy oyster omelet.
Whereas the mussels were embedded into the mussels omelet, for this version the oysters were placed on top of a little disc or patty of crispy fried batter.
Price – 70 THB
First of all, oyster are just one of the great edible things in this world.
Pair a handful of oysters with something incredibly crispy and rich, and you've got a combination that is sure to satisfy.
As opposed to the hoy malang poo tod (หอยแมลงภู่ทอด (กรอบ) which had too much batter for me, I thought the ratio of shellfish to pancake was better with the hoy nang rom tod (อ่อลั่วะ หอยนางรมทอด (กรอบ).
The hoy nang rom tod (อ่อลั่วะ หอยนางรมทอด (กรอบ) was very good, but extremely greasy.
Here's the eating video…
(If you can't see the video, watch it here: http://youtu.be/CUjV4DG32ag)
The Bottom Line
Nai Mong Hoy Tod (นายหมงหอยทอด) serves a very tasty version of hoy tod (หอยทอด), and if you like this dish, this is a definite place you must check out.
If you're not so much into oily and greasy food, you should stay far away.
Nai Mong Hoy Tod (นายหมงหอยทอด)
Address: 539 Thanon Phlap Phla Chai, Bombrab Sathupai, Bangkok
Open hours: 10:30 am – 9 pm daily
Phone: 08-9773-3133, 02-623-1890
Prices: 70 THB per dish
ที่อยู่ 539 สี่แยกแปลงนาม ถนนพลับพลาไชย ป้อมปราบศัตรูพ่าย กรุงเทพฯ
โทร. 08-9773-3133, 02-623-1890
เปิดบริการทุกวัน 10.30 – 21.00 น.
How to get there:
Nai Mong Hoy Tod (นายหมงหอยทอด) is located just a 5 minute walk from Yaowarat Road, on the more local side, just off Chaoen Krung road. Go down Phlap Phla Chai about 20 meters, and the restaurant is on your right hand side.

View Bangkok Eating Thai Food Map in a larger map