How to Make Southern Thai Curry Paste (วิธีทำเครื่องแกงเผ็ดใต้)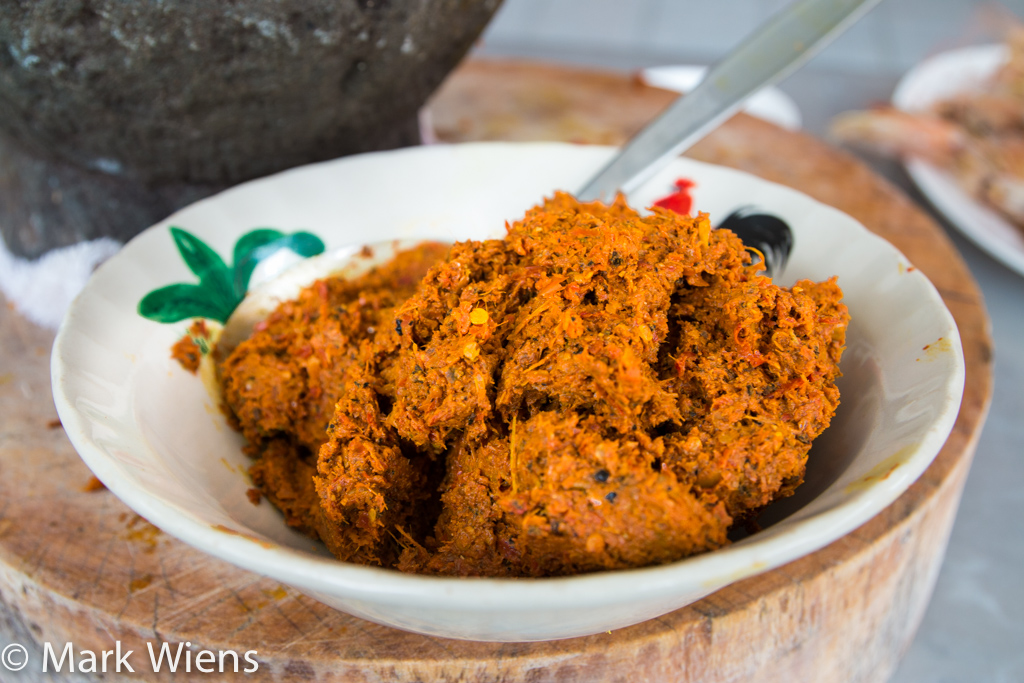 I've already mentioned this a few times before, but Thai curry pastes are the foundation of Thai cuisine.
They are not only used in making a different variety of Thai curries, but they are also the spice and herb mixture that gives flavor to soups, and many different Thai stir fried dishes as well.
You already know how to make Thai red curry paste, but since my wife is from the south of Thailand, one of the most common Thai curry pastes we have sitting around our home in Thailand on a daily basis (and a paste my mother in-law cooks with frequently) is called kreung gaeng ped dai (เครื่องแกงเผ็ดใต้) – or southern Thai style curry paste.
NOTE: The south of Thailand is the Malay peninsula part of the country, usually beginning in the Prachuap Khiri Khan province, and all the way south to Malaysia.
While many of the ingredients are similar to that of other curry pastes in Thai cuisine, you can normally recognize southern Thai curry paste because of its distinct yellow color, a result of adding fresh turmeric to the mixture.
As I start to share more southern Thai recipes, you'll start to see that southern Thai cuisine makes frequent use of fresh turmeric – especially in soups and curries and pastes, and even in fried fish.
Another distinction between southern Thai curry paste and other curry pastes is that it usually contains a higher amount of shrimp paste, which is a popular flavor enhancing ingredient in the south of Thailand.
Thai shrimp paste gives the curry paste its salty component, and although it might smell quite strong on its own, it really combines well with all the other ingredients and you'll hardly smell or taste that pungent fermented shrimp paste when you're cooking with it.
All that to say, don't omit or substitute the shrimp paste, it's essential.
Normal dry black peppercorns are also one of the main ingredients in this recipe, providing a bit of extra heat, and that wonderful strong black peppery flavor.
One of the things I love about southern curry paste is that the recipe includes both dry Thai chilies, known in Thai as prik haeng (พริกแห้ง), as well as fresh Thai bird chilies.
This gives the curry paste not only that dry smokey flavor, but also that fresh green chili flavor as well.
The prik kee noo (พริกขี้หนู), or fresh Thai bird chilies, are not only spicy with heat, but they are also so fragrant and when pounded, they release oils and chili juice.
Ok, now that we went over some of the key ingredients for this recipe, I'll just list everything here, but you can also go below to check out the more official recipe box.
Here are the ingredients you'll need:
50 g. dried Thai bird chilies – these are called prik haeng in Thai
30 g. fresh Thai bird chilies – prik kee noo (I used about a small handful)
50 g. garlic (it was about 2 full heads)
50 g. turmeric
50 g. galangal (One 2 inch chunk)
25 g. shallots (in Thailand the shallots are small, so I used about 5 small shallots)
5 stalks of lemongrass
½ kaffir lime – and we're only going to use the skin for this recipe
2 tbsp. dry peppercorns (you could also use coarsely ground pepper if that's what you have)
½ tbsp. salt
2 tbsp. shrimp paste (you should be able to buy this at any Asian supermarket)
That's all for the ingredients, now let's get started making it.
Preparing the curry paste
Just like other Thai curry paste recipes, the method of preparation is actually quite simple, it's just time consuming – it takes a long time to get that smooth buttery paste that you're looking for.
Basically just take all the ingredients, slice them into thin small pieces, and then start pounded away, until all the ingredients have turned into a paste.
I often start with the chilies, and then keep adding other ingredients as I go along, but really, as long as everything is in there and blended together, it doesn't really matter what order you add everything.
In the video (watch it below), you'll probably notice that I actually have to take my mortar and pestle down to the floor, in order to get more leverage and be able to pound from above – it really helps.
There is one exception though… you don't want to add the fermented shrimp paste until the very end, when you're just about done pounding.
The shrimp paste is already a paste, so it doesn't need more pounding, and as soon as you add it, you'll find that your curry paste gets extremely sticky and thick and takes a lot more power to pound.
At this stage of the recipe, you really don't need to do much other than just keep on pounding and pounding.
You'll slowly see your southern Thai curry paste going from chunky and being able to recognize all the ingredients, to smooth and oily.
And how could you not love that beautiful color of the fresh turmeric?
(Warning: Do be careful of touching the hot chilies with your hands. If you use your hands, like I did, they will burn from touching the chilies, which I don't really mind, but if you do, be sure to use gloves)
Why not use a blender or food processor?
You might be wondering, why not just blend up all the ingredients, or throw everything into a food processor? That's a great question.
The reason to pound everything by hand is that when you grind and bruise all the ingredients, they slowly release all their oils, which translates to flavor. And this doesn't happen as well when you quickly blend them all up.
However, if you don't have an hour or two to prepare the curry paste, it would still work to use a blender or food processor.
(NOTE: If you use a blender of food processor, be aware that turmeric will stain everything you use yellow)
(If you can't see the video, watch it here: http://youtu.be/kVldpua3uLA)
Southern Thai Curry Paste Recipe (วิธีทำเครื่องแกงเผ็ดใต้)
Time: About 1.5 hours to get a nice paste
Recipe size: This recipe makes a small soup bowl full of curry paste – which is probably about 20 tablespoons or so
Cooking utensils: Mortar and pestle
Flavors: Spicy and salty
Eat it with: We'll use this southern Thai curry paste for a number of southern Thai recipes (more coming soon)
WARNING: Touching chilies while making curry paste can make your hand burn (feel likes it's on fire!), so even though I didn't wear gloves in the video, it's best to wear gloves if you can.
For more Thai recipes click here.

How to Make Southern Thai Curry Paste
Thai curry pastes are essential in preparing Thai cuisine. Today I'm going to show you a recipe for a southern style of Thai curry paste, which makes the base of a number of different popular Thai dishes in the south of Thailand. If you can master this recipe, you'll be cooking some extremely delicious southern Thai dishes in no time. Be sure to check out the
video of this recipe here
.
Ingredients
50 g. dry Thai bird chilies - prik haeng (came to a heaping handful)
30 g. fresh Thai bird chilies - prik kee noo (these are the almost neon colored ones)
50 g. garlic (it was about 2 full heads)
50 g. turmeric rhizome
50 g. galangal (I used about a 2 inch chunk)
25 g. shallots (this came to 5 shallots in Thailand, but Thai shallot are pretty small)
5 stalks of lemongrass
½ kaffir lime - we're only going to use the outer skin for this Thai curry paste
2 tbsp. peppercorns (I think coarsely ground black pepper would work fine as well)
½ tbsp. salt
2 tbsp. shrimp paste (don't omit this!)
Instructions
The first steps are just to prepare a few of the ingredients to be pounded.
Take the turmeric root, galangal, and shallots, and dice them all into small pieces. Doesn't need to be too small or evenly cut, this is just going to make it easier to pound. Set them all aside on a plate.
For the lemongrass, first remove two or three of the outermost layers (the outer layers of the lemongrass are tough and not flavorful). Start from the bottom (thicker side) of the stalk and cut off the end, and then slice it into thin slivers, about half the way to the top. Toss out the top half of the lemongrass stalk as its not flavorful and it's tough also. Set it aside.
Take your kaffir lime and carefully slice off the outer green bumpy skin. You want to slice only the outer green skin, without getting the white pith. Cut the green skin off about half of the lime.
Using a mortar and pestle, start pounding the dry Thai chilies first. They might be a little bouncy as they are dry, but the more you keep on pounding them, the more they will loosen up and their oils will start to form.
Once you've pounded the dry chilies for about 10 minutes, add the fresh Thai bird chilies - you can add the stem and all. This may help add some moisture to your curry paste. Keep pounding, maybe for about 15 minutes or so, until the chilies are broken down.
Start adding pieces of turmeric, garlic, and shallots to your curry paste, and keep on pounding and pounding. If your mortar and pestle isn't big enough, you may need to put some of your paste into a separate bowl and do a couple batches.
Gradually add in all the lemongrass and the kaffir lime peel and keep on pounding. It took me over an hour to pound this southern Thai curry paste. You don't want any chunks, and you want to fully release the oils of all the ingredients - that's when you're going to get the best flavor out of your paste.
Your curry paste should be a nice oily buttery consistency and quite smooth when you're done. Then add the black peppercorns, and salt, and keep pounding until the peppercorns are completely pounded in. Keep on pounding until you have a beautiful pasty blob.
The final step is to add the shrimp paste. Pound it slowly, more mashing it into the paste. It should get quite a bit stickier and dryer with the addition of the shrimp paste. Once the shrimp paste is fully mixed in, your curry paste is ready.
Notes
Making
southern Thai curry paste
is not too difficult, but it is just time consuming and it does take some serious arm energy. Basically for this recipe, all you just need to do is take all the ingredients mentioned above, and pound them using a mortar and pestle until they become a buttery paste. Though it does take some time and effort, I can assure you, the end result will be nothing short of incredible flavor.
Conclusion
Although making Thai curry paste by hand is time consuming and takes plenty of energy, the end result of the flavor will not disappoint you.
All those chilies, the garlic, shallots, pepper, lemongrass, turmeric, and galangal, and all their oils mingled together is a combination that can make anything you cook with it taste incredible.
Once you have made this recipe for southern Thai curry paste, you can then go on to make a number of other southern Thai dishes you'll love:
Hope you enjoyed this recipe!
If you loved this recipe, I would be extremely grateful if you would give it a 5-star rating, leave a comment below, and share it with one of your friends who loves cooking Thai food too.
Thank you in advance.