Food Photo: Gaeng Om Northeastern Thai Herb Soup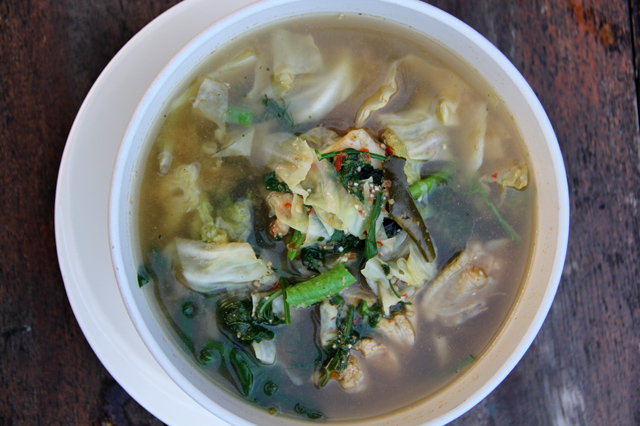 One of those Thai dishes I always appreciate yet rarely eat is the herb filled Isaan dish known as Gaeng Om.
The soup is normally made with a base of chicken or pork and includes a wide assortment of vegetables and a host of fragrant herbs.
The distinctive herb that really came through in this particular version (pictured above) was dill. It was absolutely fantastic!
หนึ่งในอาหารไทยจานโปรดของผมคืออาหารเด็ดจากภาคอีสานที่มีชื่อว่า แกงอ่อมนั่นเอง
วิธีการทำแกงอ่อมนั้น เริ่มต้นด้วยการทำน้ำซุปไก่ หรือน้ำซุปหมู แล้วใส่เครื่องเทศหลากหลายชนิดลงไป เพื่อให้ได้กลิ่นและรสชาติตามต้องการ
ทั้งกลิ่นและรสชาติของผักสมุนไพรต่างๆ จะสามารถรับรู้ได้ทันทีที่ทานเข้าไป แกงอ่อมนี้เป็นอาหารที่เรียกได้ว่าเป็นอาหารจานเด็ดเลยทีเดียว