Fai Klom Thana (ร้านไฟกลมธนา) – Good eats behind PTT headquarters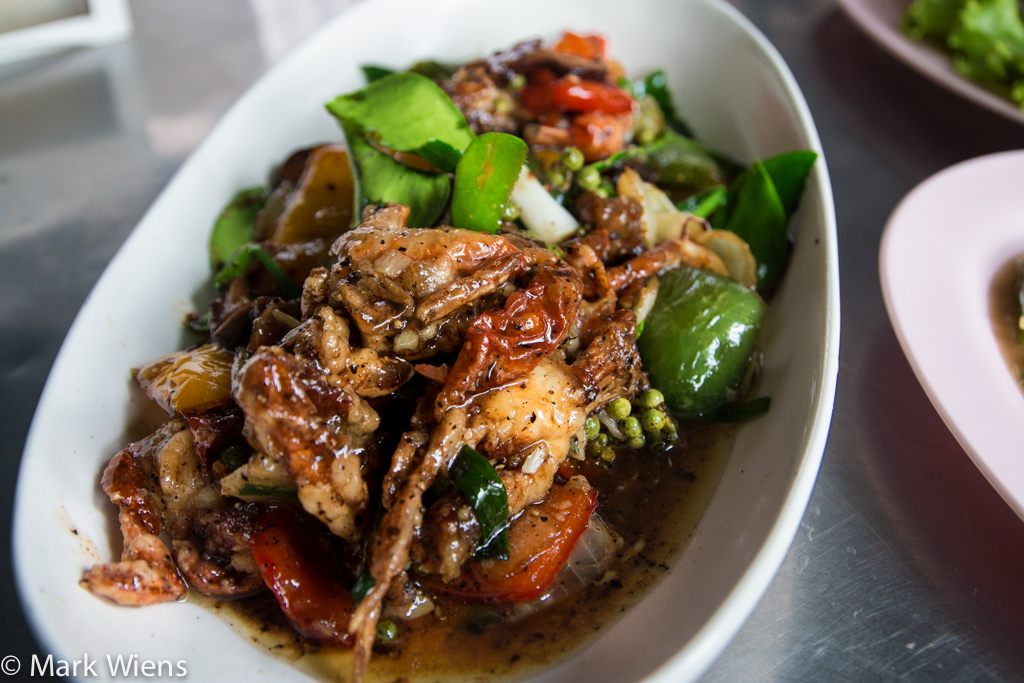 A few days ago, I was in the Chatuchak area of northern Bangkok, and I came across Fai Klom Thana on Foursquare; It looked like my kind of place, and since we were in the area, we went to try them out.
The actual atmosphere and style of Fai Klom Thana (ร้านไฟกลมธนา) was pretty much exactly my style.
It is housed in an old home, and though we were just a few blocks down the road from the mighty headquarters of PTT, it seemed like we were dining in the countryside.
The menu is pretty extensive, covering all sorts of general Thai food dishes, mostly stir fried dishes and soups.
We got straight to the ordering.
First dish to come out was a plate of tod man goong (ทอดมันกุ้ง), shrimp patties deep fried and served with a sweet syrup sauce.
I'm personally not a huge fan of tod man goong (ทอดมันกุ้ง), they sort of taste like big shrimp flavored chicken nuggets. But if you love fried patty style shrimp, these were very good (my wife really loved them). I thought they were good, just not my preference of a Thai dish.
Price – 90 THB
One of my favorite dishes at Fai Klom Thana (ร้านไฟกลมธนา) was the kana pla kem (คะน้าปลาเค็ม), Chinese broccoli, stir fried with salted fish.
The vegetable was stir fried on an intensely hot flame, for just a few seconds, and seasoned with the usual mix of soy sauce and oyster sauce, plus salted fish for extra flavoring.
Price – 80 THB
The kana was crisp, salty as it should be, teeming with garlic, and I could taste the breath of the wok in it.
Yam woon sen (ยำวุ้นเส้น), mung bean noodle salad, is one of my wife's favorite dishes, so we nearly always order a plate to sample at just about every restaurant we go to in Bangkok.
The yam woon sen (ยำวุ้นเส้น) came nicely decorated with mung bean noodles at the bottom, mixed with shrimp and pieces of minced pork, red onions, and peanuts on the side. It wasn't the best we've had, but it was quite good, nicely sour, and a good mixture of ingredients.
Price – 80 THB
Along with the kana pla kem (คะน้าปลาเค็ม), my other favorite dish of our lunch at Fai Klom Thana (ร้านไฟกลมธนา) was the tom klong pla chon tod (ต้มโคล้งปลาช่อนทอด).
Tom klong is very similar to tom yum, a Thai soup that's teeming with herbs and flavors, but the difference is that many of the herbs in tom klong are first roasted or fried, to bring out their fragrance, before preparing the soup.
This bowl of tom klong pla chon tod (ต้มโคล้งปลาช่อนทอด) included pieces of fried snake head fish, mushrooms, onions, and then a beautiful mixture of chilies, cilantro, culantro, lemongrass, galangal, and kaffir lime leaves.
It was sour, spicy, herb filled, and the pieces of fish and mushrooms were delicious.
Price – 100 THB
Finally for our big ticket item, we got the boo neem pad prik tai dam (ปูนิ่มผัดพริกไทยดำ), soft shell crab deep fried, and stir fried with black pepper, peppercorns, bell peppers, chilies, and lots of kaffir lime leaves.
Price – 180 THB
It have to say it was incredibly flavorful, and the sauce, which was filled with coarsely ground black pepper was wonderful. The mix of ingredients, including green peppercorns, bell peppers and onions, was wonderful as well.
The only thing I would have changed is for it to be a little less salty.
Here's a bite of soft shell crab coated in a pepper glaze, which I'm about to eat.
Like I mentioned before, Fai Klom Thana (ร้านไฟกลมธนา) really is my kind of an atmosphere for a restaurant – the old school home, metal covered tables, plastic chairs… good stuff.
I also really liked the quiet location.
Conclusion
The food was extremely tasty, very good. But I did think that everything we ate was on the salty side, a bit too salty, but it could have been the day I ate there, or the particular dishes I ordered.
The tom klong (ต้มโคล้ง) soup was one of my favorite dishes, and I also loved the kana pla kem (คะน้าปลาเค็ม Chinese cabbage fried with salted fish), which was stir fried on a high heat, and flavored by salted fish. The mixture of ingredients in the boo neem pad prik tai dam (ปูนิ่มผัดพริกไทยดำ) was absolutely delicious, but it was a bit salty.
Anyway, overall it was great food, and I loved the atmosphere, just next time I would ask them to turn down the saltiness just a notch.
Fai Klom Thana (ร้านไฟกลมธนา)
Address: Soi Vibhavadi Rangsit 11 Yaek 6, Chatuchak, Bangkok 10900, Thailand
Open hours: 11:30 am – 2:30 pm for lunch, 5 pm – 9:30 pm for dinner (closed on Sunday)
Prices: Our total bill came to 550 THB for Ying and I
Phone: 02-537-8310
ที่อยู่ ซอย วิภาวดีรังสิต 11 แขวง จตุจักร เขต จตุจักร
เปิดบริการ 11:30 – 14:30 น, 17:00 – 21:30 น ( หยุดวันอาทิตย์ )
โทร.02-537-8310
How to get there:
Fai Klom Thana (ร้านไฟกลมธนา) is not too far from Chatuchak Park (or market), but it is best to take a quick taxi ride from there. You can either take the BTS skytrain to Mo Chit, or the MRT to Phahon Yothin, and then take a taxi to Vibhavadi Rangsit, Soi 11 (which is the corner of the giant PTT building), then go down the road about 500 meters to Fai Klom Thana (ร้านไฟกลมธนา).

View Bangkok Eating Thai Food Map in a larger map