Duck Rice and Coconut Sweets: Bangkok's Bpet Sai Gaew Restaurant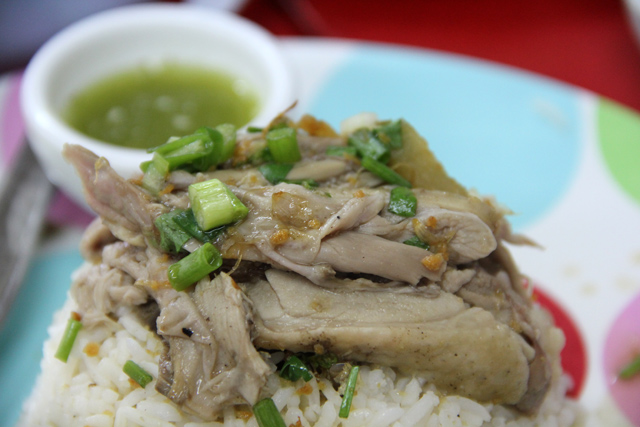 I started the meal off with something very very different from duck: Khanom Thuay ขนมถ้วย.
Yup, temptingly sitting at every single table at Bpet Sai Gaew เป็ดไส้แก้ว is a platter of fresh (and good looking) little coconut milk sweets.
What a brilliant idea, put little Thai desserts on every table at a duck restaurant!
Their business strategy worked well, because I was digging into one before my rice and duck even arrived at the table, and let me tell you, someone in the family definitely knows how to make good Khanom Thuay (ขนมถ้วย)!
Just like all duck restaurants in Bangkok, you'll know you are there by the whole ducks hanging by their necks in the glass cabinet.
Bpet Sai Gaew เป็ดไส้แก้ว specializes in Bpet Paloe (เป็ดพะโล้) which is duck boiled in soy sauce instead of roasted. If you're looking for Bangkok's best Bpet Paloe (เป็ดพะโล้) you may want to check out Tho Po Channa restaurant (it's a bit of a journey but worth every bite once you're there).
After the sweet treat, I began things with a plate of Khao Na Bpet (ข้าวหน้าเป็ด), rice with a few cuts of duck placed on top.
The rice was quality, and I especially enjoyed the duck broth that was scooped up over the rice. The green chili sauce provided wasn't quite flavorful enough, but the overall plate was great.
Here's a shot of the duck itself on top of my pile of rice!
After cleaning my plate of rice and duck, I decided it wouldn't be a bad idea to also sample their Kuay Teow Bpet (ก๋วยเตี๋ยวเป็ด). It wasn't the best bowl of duck noodles I've ever had, but it was decent.
I spiced things up with a few spoons of chili flakes and chili infused vinegar.
The freshly boiled ducks are proudly displayed in the open air cabinet to lure their customers inside!
Overall, I'm normally more fond of roasted duck as opposed to boiled duck. When I'm near Ratchawat Market I always stop in Rawanstar duck restaurant.
The Bottom Line
I was particualarly fond of the delicious coconut Khanom Thuay (ขนมถ้วย) treats – you should definitely try those! They also made a pretty good plate of Khao Na Bpet ข้าวหน้าเป็ด.
If you happen to be in the Punnawithi / Udom Suk area of Sukhumvit and need some neighborhood duck, it's a decent option.
Bpet Sai Gaew เป็ดไส้แก้ว
Address: 912/3 Sukhumvit Soi 101/1 Bang Na, Bangkok, 10260. Bewtween Wachiratham Sathit Soi 23 and 30.
Hours: 9 am – 8 pm
Phone: 02-3935999, 081-6168764
Prices: 40 – 50 THB per dish
912/3 ถ.สุขมุวิท 101/1  ระหว่างซอยวชิราธรรมสาธิต 23-30 แขวงบางนา เขตบางนา กรุงเทพ 10260
โทร. 02-3935999, 081-6168764
เวลาเปิด ปิด 9.00-20.00 น.
How to Get There

View Bpet Sai Gaew เป็ดไส้แก้ว in a larger map