A Bowl of Noodles Approved by Thai Chef McDang (หมึกแดง สะท้านบู๊ลิ้ม)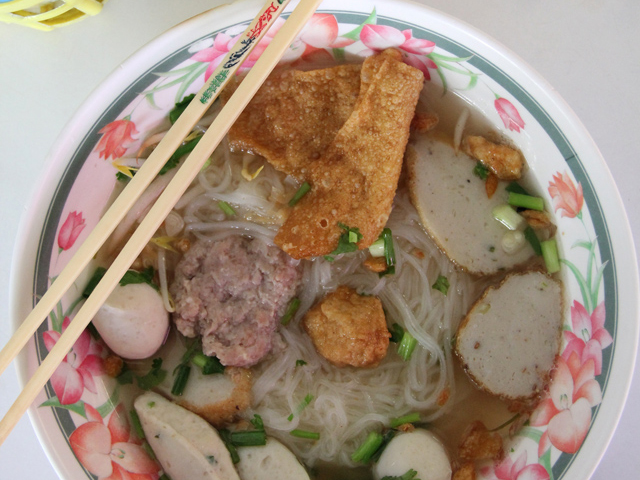 I know you've seen street carts in Bangkok.
But have you ever seen a Thai street food cart with this much stainless steel?
Ok, it's not a real street cart, it's a permanent restaurant, but the sheer amount of stainless steel in front of McDang Sathan Bulim (Udom Suk Pochana) หมึกแดง สะท้านบู๊ลิ้ม ( อุดมสุขโภชนา ), will definitely catch your eye and make you want to go to Bangkok immediately.
Like all normal Thai restaurants, most of the food is prepared at the entrance, facing the street – in this case on those massive shining stainless steel carts.
They don't just have one dish they specialize in, but they are famous for a few different dishes (possibly a reason that renowned Thai chef McDang gave them his prestigious food award a few years back).
Kuay Jab is one of their hit dishes, a bowl of curled rice noodles and pork bathed in porky broth.
Quite a few other simotanous diners ordered their khao kaa moo, which was nearly finished when I arrived but looked tasty nonetheless.
They also had a mega pot filled with some kind of coconut milk based curry which I could smell from across the restaurant and really tempted me… but again, it was at the tail end of the pot, so I decided to save it for next time.
I only tried their Kuay Teow Lookshin Pla (ก๋วยเตี๋ยวลูกชิ้นปลา). The bowl was filled with a wonderful selection of different fish balls, fish cakes and a nice hunk of minced pork.
Price: 40 THB
I dressed my noodles with the usual condiments – a few spoons of chili vinegar, a heap of dry chili flakes and a dash of fish sauce.
The noodles were great and the random fish balls were awesome! I especially loved the fish cake slice that was deep fried on the outside and spongy on the inside.
If you need something sweet after your meal at Restaurant, you'll be happy to know you don't even need to walk to the next stall, but you can order a bowl of nam kang sai right there. The mixed ice toppings bar is placed directly in the middle of the dining area for easy access.
I can't say I've tried too many things on the menu, but rest assured, this place is doing their thing well and has a number of recipes that won't let you down.
I think it's safe to say that any restaurant that incorporates that much stainless steel into the design of their establishment is a restaurant you know will be delicious before you even eat there.
The Bottom Line
Serving up a few classic Thai $1 Meals, you can bet you'll get some good noodles kuay jab and fish ball noodles at McDang Satanbulim. Like I mentioned, I haven't tired everything on the menu but judging by the satisfied customers I ate with, this place is pretty good.
McDang Sathan Bulim (Udom Suk Pochana)
Address: Sukhumvit 103, Udom Suk about Soi 48, Bang Na, Bangkok 10260, Thailand (next to Isuzu Udom Suk)
Hours:
Phone: 02-746-5029
Prices: Expect to pay around 30 – 50 THB per dish
หมึกแดง สะท้านบู๊ลิ้ม ( อุดมสุขโภชนา )
ซอย.สุขุมวิท 103 ติดศูนย์รถยนต์อีซูซุ
โทร. 02-746-5029
How to Get There
You can catch the BTS to Udom Suk (Sukhumvit Soi 103) station and then head down the street until you reach Soi 48. It's a few kilometers down the road, it may be best to take a taxi or motorcycle.

View Eating Thai Food Map in a larger map