Bkkfatty Diary Day 5: Bangkok Cooking Confessions and Mango Ginger's Supper Club Guestaurant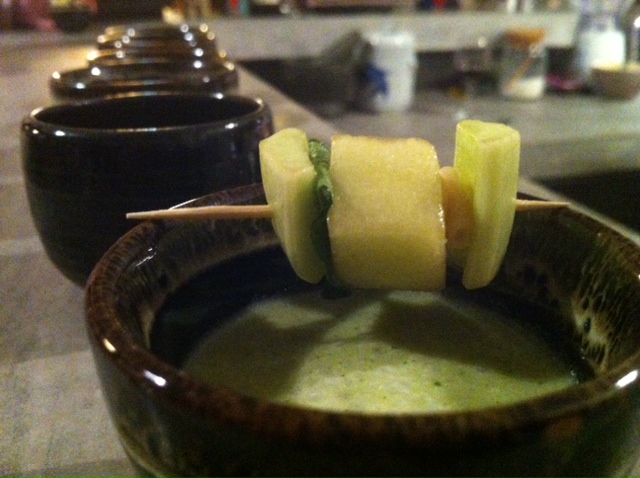 Fork, spoon, fingers…
These are the things that come to mind when I think of cooking and kitchen equipment.
So when our lovely readers first started sending us requests for recipes Mark and I initially kind of stared dumbfounded at each other and then we went back to eating.
You see we often forget to remind ourselves of the poor, less fortunate souls who don't have 'gai yang' trees outside their doors or live next to endless rivers of green curry.
But not having to cook can be as much of a handicap as it is a luxury in Bangkok.
So our initial response was to scream for help from experts like She Simmers who taught us how to make 'ordained banana' desserts (a pretty easy recipe to imitate even for guys like us).
And as time has passed and we've gotten more and more requests from readers, we're finally coming up with some video recipes for street style food we think you'll enjoy. You should see the inaugural video where Mark teaches you how to make spicy, sour Tum Yum Goong Soup and comment to let us know if you have certain recipe requests you really want us to cover.
All of this time in the kitchen is making us appreciate those of you who really love to cook. One such person you should know about is our blogging friend Vanessa, who invited me over to join the test run of her supper club.
Vanessa has a blog called Mango Ginger: Asian Flavors For A Western Kitchen and she's being wanting to try some of her recipes out on happy to oblige friends and strangers in a supper club format.
Supper clubbing or guestauranting is a trend where people basically turn their homes into restaurants.
Everyone pays to join and the food is usually nicer than your typical dinner party. There's also the element of strangers showing up which keeps things exciting and/or wonderfully awkward.
But no time to be too awkward or even chit chat when the mushroom chicken breast with tikka masala main dish hits the table!
Now that you've sorta met Vanessa, go to her blog to read more about her recipes. You may especially want to try making this mango mousse and with soft pistachio cookies, which I had the honor of converting into crumbs.
I told you we'd be sneaking in someone's home this week. Aren't you glad we did?