Burmese Food at Nong Bee's – Authentic Recipes from Myanmar (Chiang Mai, Thailand)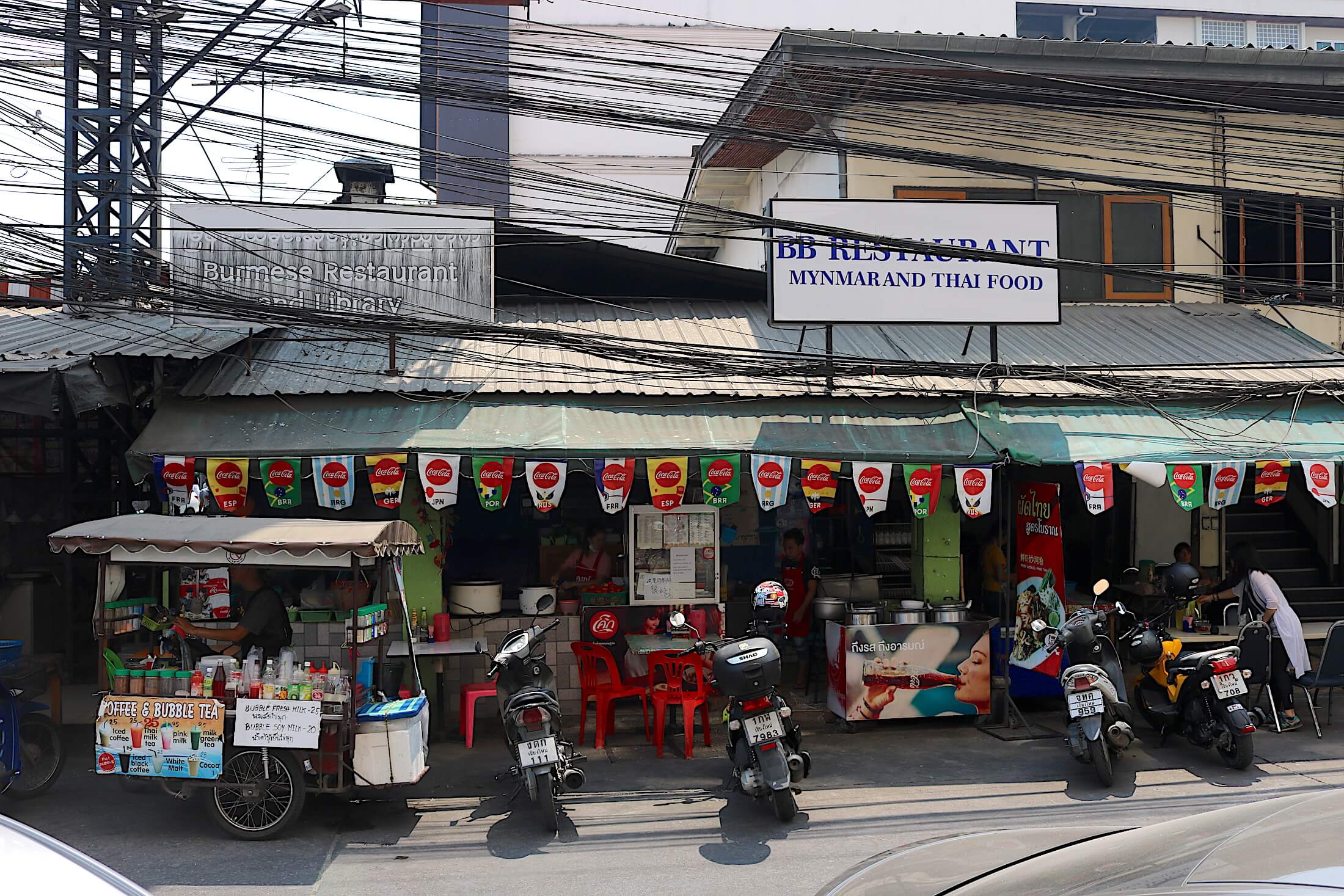 Of all the delicious local Thai food to be found in the wonderful city of Chiang Mai, you'll also find incredible variety in the options of 'foreign' cuisine here as well.
I don't mean pizzas or pasta (although there is plenty of that as well), the incredible foreign cuisine I want to tell you about comes from the hilly borders near the country of Myanmar (Thailand's western border and the surrounding areas).
Burmese food is amazing, and its quickly become one of my all-time favorite cuisines.
In this article I'm going to tell you about one of the best places in Thailand to have authentic Burmese Food – the restaurant is 'Nong Bee's Burmese Library.'
Learning, in the Tastiest Possible Ways
Sampling all the different cooking traditions in this beautifully diverse area (which is actually the most human-diverse area in the entire world), it is truly learning through eating.
Burmese cuisine is quite a stunning example of the huge (and delicious) diversity in Thailand.
Scroll down for the details, location information, and an abundance of tasty photos, and enjoy learning a little more about the delicious cuisine of Burmese food.
The Burmese Library
This is truly a meal of comfort food. Whenever I'm in Chiang Mai I just have to pay a visit to this lovely, family-run restaurant, 'Nong Bees Burmese Restaurant and Library.'
You can also call it the 'Burmese Library' for short, and it is definitely full of authentic Burmese Food.
Right away you'll notice two things here – a friendly, laid-back atmosphere, and some seriously delicious smells emanating from the open-air kitchen right in front.
Several Names, Same Restaurant
You can find the name in a Google search for 'BB's Burmese Food,' but the original name (on the blue sign) is 'Nong Bees Burmese Restaurant and Library.'
Due to the many projects they have that are focusing on teaching, and the promotion of literacy among various hill-tribes in the area (and the small library next door), the word 'Library' sort of stands out.
Anyways, its the same restaurant, you're at the right place… Lets get to the food!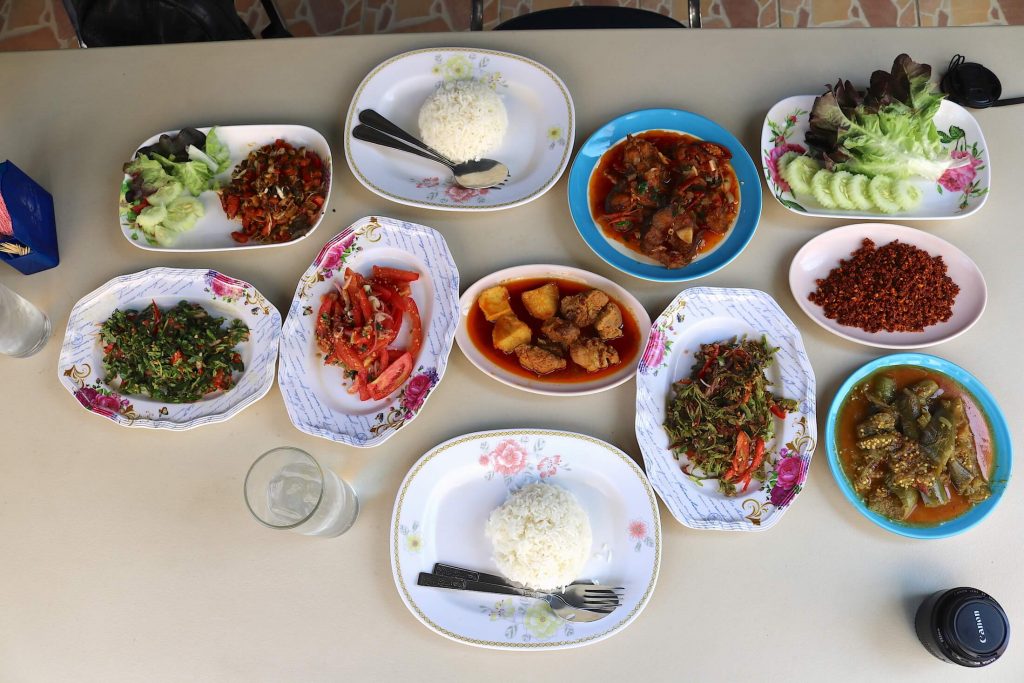 Everything Goes With Rice
Burmese food is almost always eaten with rice, and it is also food that Burmese will usually eat using their hands.
Part of the joy of Burmese food in my mind – aside from it being so colorful, making it feel so healthy as well as taste – is that its just plain fun to eat!
This is actually the cuisine that helped me perfect the art of eating rice with the hands by the way, probably one more reason why I love it so much.
(Of course they have forks and spoons as well, and of course you should use whatever you find most convenient!)
Bon Appetit.
Lighter, Airy, White Rice Grains
The rice you'll have here is likely to be different than the rice you'll eat with Thai street food. Its light, and airy, and just made for soaking up flavor – this rice goes down so incredibly easily with plate after plate of Burmese food.
Don't let it surprise you to see someone (maybe yourself) ordering a 'next round of rice' every few minutes throughout the entire meal.
Rice for meals like this usually isn't the full, thick-grain, Thai jasmine rice from Central Thailand, this is the working-class person's rice (not as dense, and its not as expensive). Its like the rice you'll usually have when eating rice in Myanmar too by the way, and to me this further adds to the authenticity of eating at Nong Bee's.
Note: Myanmar is a large country, they also grow very high qualities of aromatic rice (and glutinous rice as well), but its just not usually eaten with a meal like this one.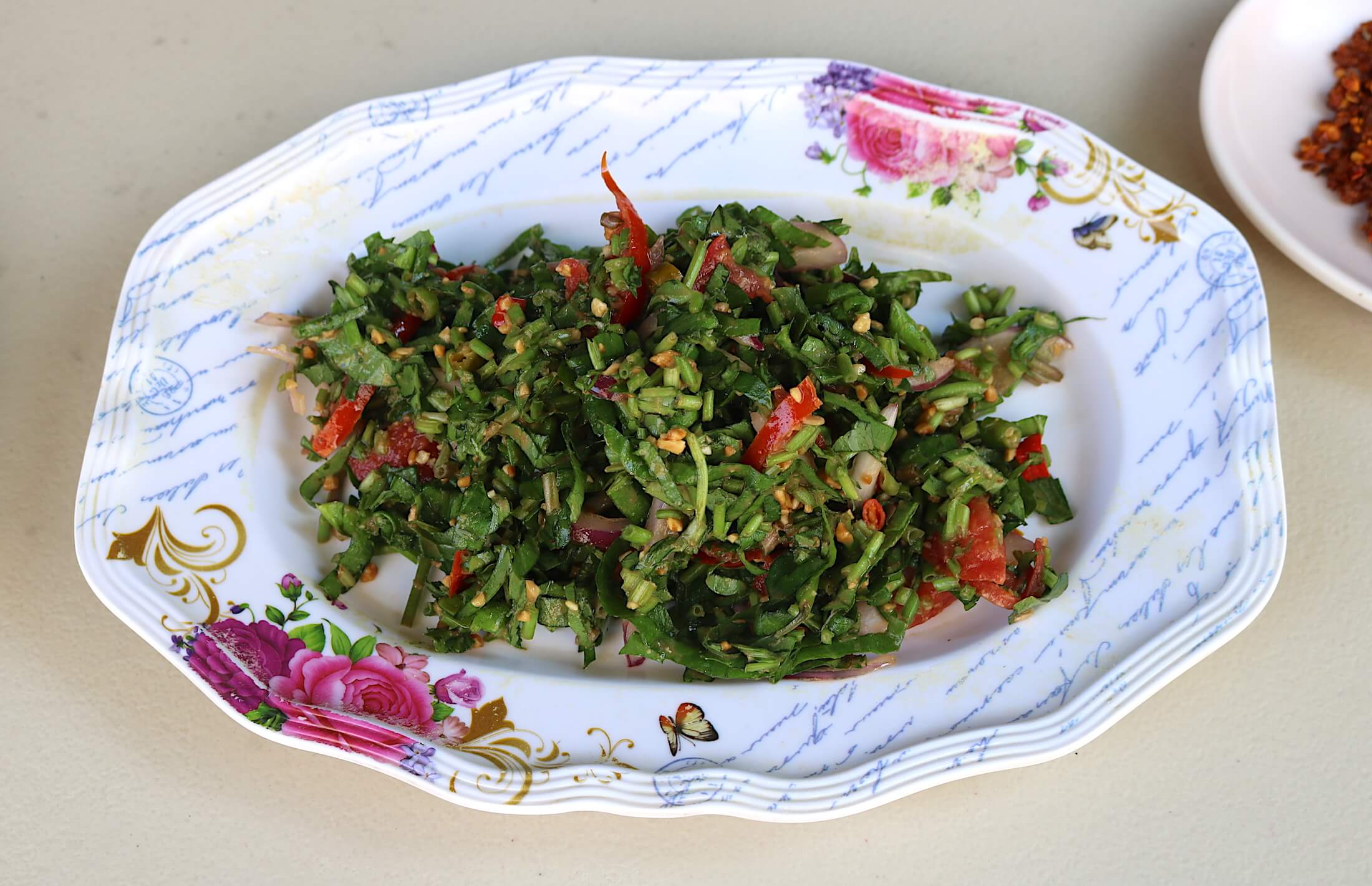 What To Eat Here
Burmese food is quite typical of South East Asia at first glance, colorful, with obvious influence from both India and China, but after a meal at Nong Bee's I'm sure you'll also see the unique sides to it as well.
Choosing a single dish, there's probably nothing that characterizes the differences more than 'thoke,' which are small, vibrantly fresh-tasting hand-mixed salads. They're at the heart of Burmese cuisine, and I think of them as the most healthy fast food dishes on Earth!
Why are Thoke so good?
Thoke salads ('thoke' rhymes with 'joke') are usually savory, but also just full of bright bursts of flavor (always at least some part will be made from fresh ingredients).
They're going to be slightly sour, and usually a little spicy, and a few plates of these will absolutely give you a taste of any texture lover's most delicious day-dreams.
Plates of thoke pair well with white rice, or you can just eat them as they come. I'm sure it will be this type of food that has you risking an all-out addiction to Burmese food, possibly after just one meal!
Your First of Several Rounds Begin Now.
There are many types of 'thoke,' (it just means 'salad') and its almost like using the word 'tam' in Thailand – this one word can have you deliciously entertained for hours.
You can easily have a dozen different plates of delicious Burmese salads before ever repeating the same dish twice.
In Myanmar, pretty much at any time around the clock, you will see people gathering around one of these salad dishes. In particular though, 'Lahpet Thoke' is the champion. Its the National Dish of Myanmar, possibly the most loved of all Burmese Food, and its the first thing you should order here at Nong Bee's Restaurant today.
*I usually walk in and immediately order two plates of this, I usually eat here with friends, and I always want at least one entire plate of this tea leaf salad all to myself.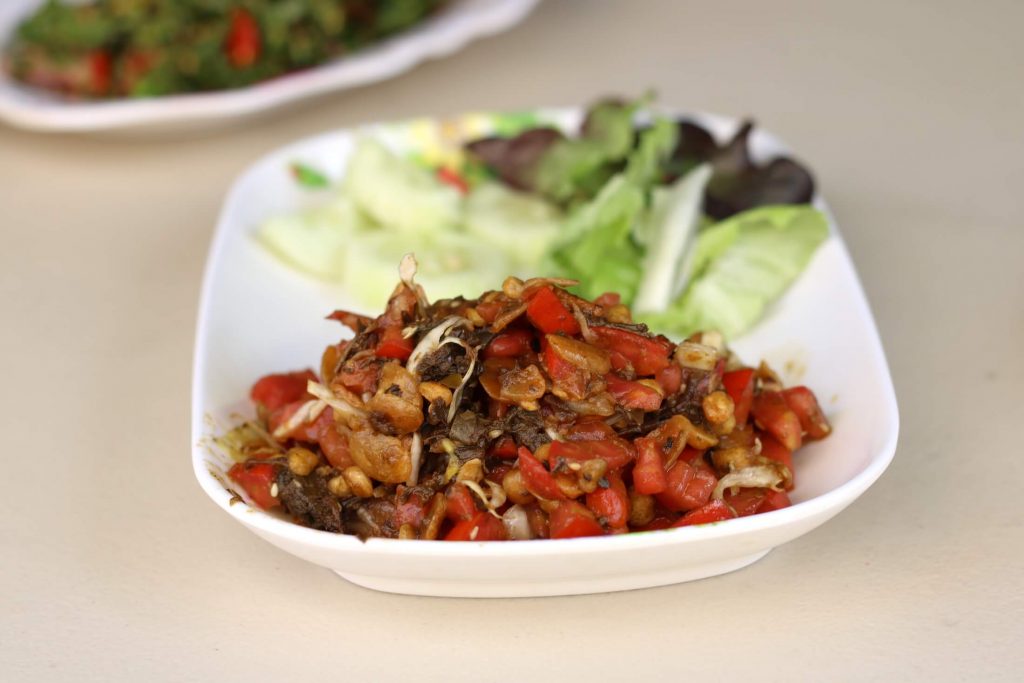 Tea Leaf Salad
English call it 'Tea Leaf Salad,' but actually lahpet means fermented leaves of green tea. The taste of these is probably a completely new flavor for you (it definitely blew my mind the first time I had it in Yangon).
Lahpet Thoke is so uniquely and wonderfully sour, with just a tiny hint of bitterness, but what I love most is how its just one delightful crunch after another.
So many tiny, crispy bits, and so many shreds of fresh vegetables, its exciting to every tastebud with every bite.
Its a texture-lover's dream combo salad, and I'm definitely hungry even describing it to you now.
How To Make This Salad
A chef begins by chopping up ripe red tomatoes, small purple shallots, a few fresh chilies, and some strips of Chinese cabbage. Scooping these into a large metal bowl, next come dashes of the dry ingredients – a scoop of dry curry spice and masala powder, deep fried broad beans, dry chick peas (whole or crushed), some small ground nuts or peanuts, and of course, the green tea leaves – all of it sitting on top of the vegetables.
The chef puts on a glove to hand-mix all the ingredients quickly, adding in a dash of salt and MSG along the way, and then gets it to your table while the entire combination is still thick with full and juicing flavor, but while the dry ingredients are still nicely crunchy (as they don't add these until the end).*
Note: Notice an interesting thing here, they hold the timing of adding ingredients to be even more important than exact amounts – this is an important part of Burmese cuisine, and can show you that texture in the food of Myanmar is something truly artful and precise (Roads and Kingdoms calls a meal of Burmese food a 'study in contrasts.').
Pork Ribs Curry
The curries are usually quite oily, and often very meaty, but you have to try at least one of them to go with your meal today – these are definitely another key part to a classic lunch order of Burmese food.
At Nong Bee's they fry each curry fresh (cooking them only after you order), and as they serve these in small bowls or side plates, the heaviness of ingredients stays more or less in balance with the rest of the meal – you don't have to be too afraid of overdoing things here.
This version of curry is simply a few hunks of soft pork ribs frying in a red curry paste, a healthy dose of cooking oil, and some chunky potatoes. You can taste a nice hint of clove and coriander from the curry paste, and it smells refreshingly of cardamom as well (it may remind you of Northern Thailand's deliciously porky 'gaeng hung lay').
Definitely a Safe Place to Go Food Crazy
If you have never had Burmese cuisine before, Nong Bee's is definitely the kind of place to push your food perceptions. Myanmar's cuisine will show you how even a simple dish can have both an extreme flavor saturation, and mind-blowing depths of texture, when its made exactly right.
By the way, its totally normal to order 7 or 8 different things for lunch here (and of course, a need for a second order of both lahpet thoke and majee thoke is very likely to happen, and we'll get to the latter dish in a minute).
My own lunch today includes 7 plates actually, but then 2 of which are so delicious that I have no choice but to order a second round of each. Including three plates of rice, plus drinks, the total for the food you see in the photos here is 350 baht (US$11.66).
Tamarind Leaf Salad
The last food that you absolutely cannot visit without ordering here is the Tamarind salad, "Majee Thoke." I have a few friends who claim this plate as 'the best Burmese Food,' even choosing it over the tea leaf lahpet thoke.
Its absolutely delicious, both more sour and more bitter, because of the flavor of the leaves themselves. The recipe for this salad is much more simple than lahpet thoke, and there's such a huge amount of earthy flavor – its so simple to make that its really almost an "eating is believing" type-situation.
The Recipe at Nong Bee's
Using only the young leaves from a tamarind tree, the only other main ingredients are onions, and roasted sesame seeds. Mixing these together in a bowl with sesame oil, the chef finishes by adding shrimp powder, more sesame powder, roasted peanuts (crushed), and salt.
Its smoky, so full of umami, and yet at the same time its also crunchy, spicy, and sour and fresh – I usually order seconds immediately, this food is amazing.
Truly some remarkable flavor in a dish with only a few ingredients, and I guess the only reason I disagree with my friends who call it their favorite is that I have too many good memories of eating lahpet thoke (and one amazing noodle dish 'Mohinga') myself while traveling in Yangon (the largest city in Myanmar).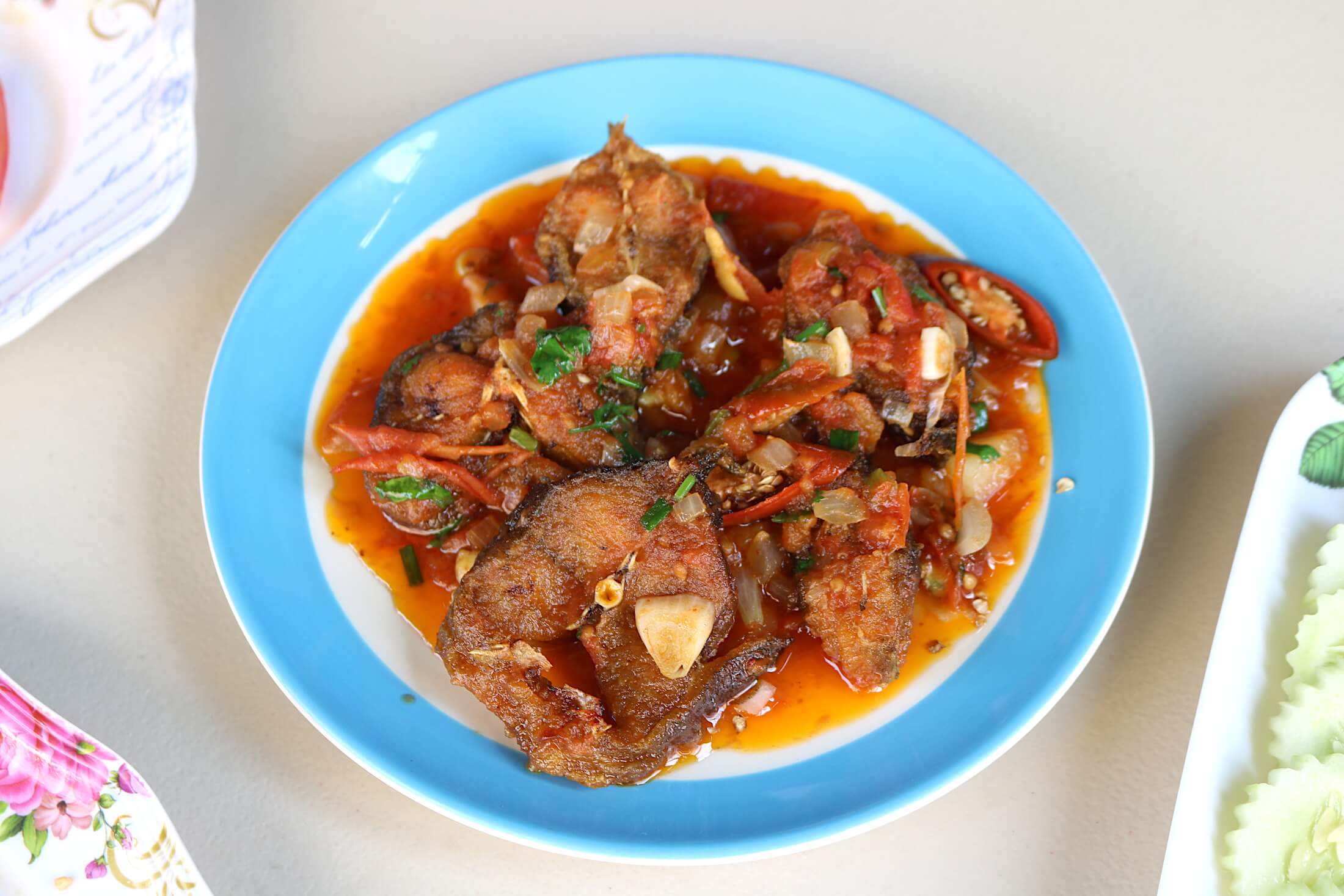 A Flavor That Can Hook You In Seconds
The Tea Leaf salad and the Tamarind Leaf Salad ("Majee Thoke") are definitely both 'Must-Orders,' as these are seriously foods that can have someone hooked after their very first bite.
Besides this though, the Burmese Library has a menu with over 40 other items of Burmese food to try – Enjoy!
During my own most recent lunch here, I just couldn't refuse the fried catfish. Its full of fried tomatoes and onions, red peppers, banana peppers, and chili peppers, and some pretty meaty hunks of crispy catfish (just look for the bones before you dive in). A chef was frying someone else's order just as I was walking up, and the smell of it was like a tractor beam – I had no choice but to ask for one of my own.
Try the 'Dry Chili Dip with Beans'
Just before my recommendations are done I want to quickly mention the country-wide Myanmar love for broad beans.
Lahpet thoke uses dry broad beans, some other salads include them steamed, but there's one dry chili paste that's also dear to the heart of Myanmar – it includes fermented broad beans, which are dry, and then pounded up, and usually made into a recipe that's something like a dry chili dip.
It's another uniquely Burmese taste, you eat it with the leaves of raw lettuce and cabbage that come on the side. Its incredibly good, definitely worth an order, and you can see it in the photo just below this block of text.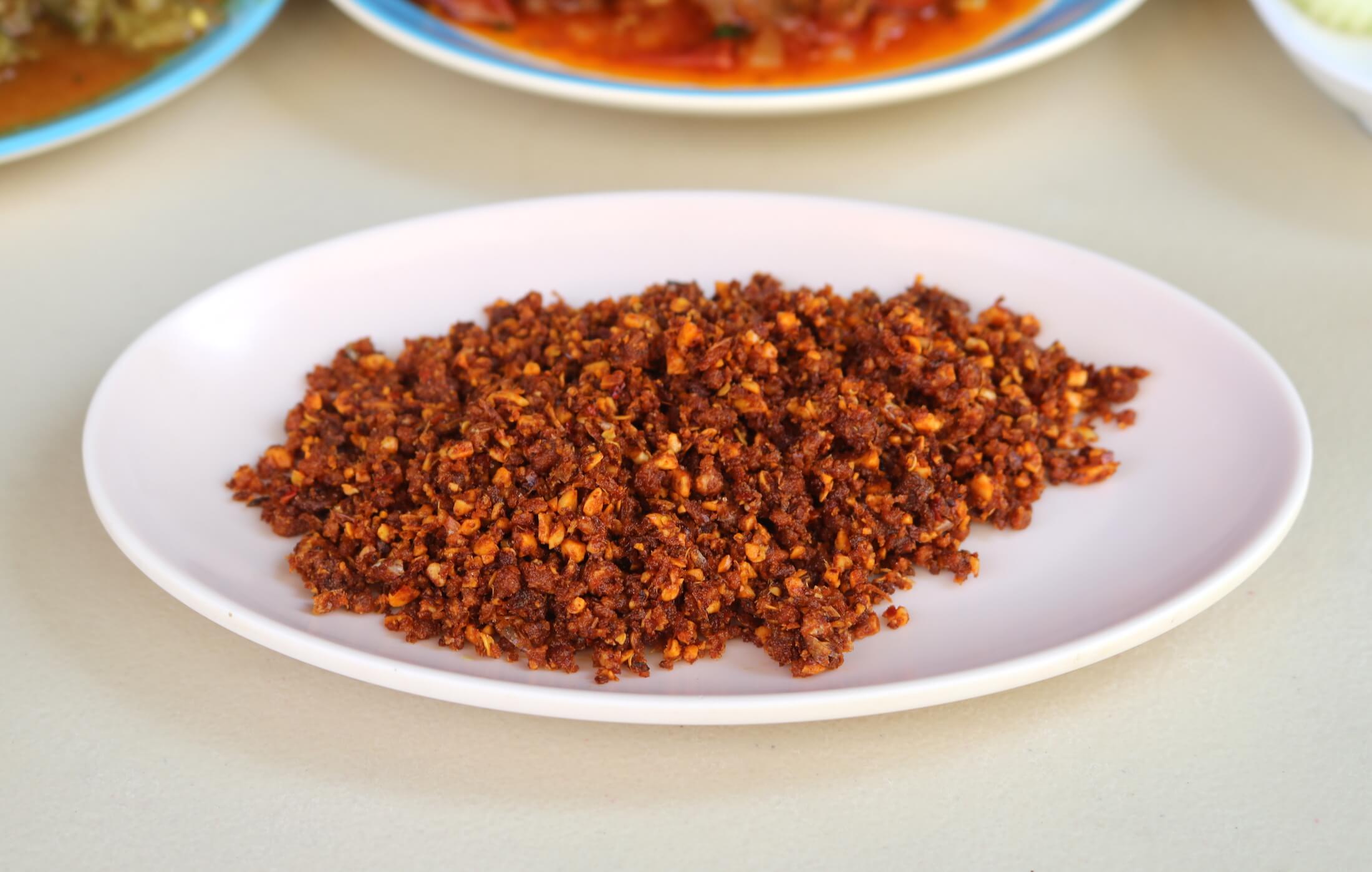 Eating Thai (or Burmese) Style
No matter where you go in South East Asia, you'll notice a close similarity in the basic structure of a local people's week-day lunchtime meal.
There will always be something like a chunk of fried meat (or tofu) sitting beside a small mound of white rice, a spicy, salty dip (like the photo above), thats eaten with a selection of fresh, raw vegetables. Crunching, dipping, or palate-cleansing, these veggies will often come from a family's own home garden, and its quite cool to watch someone unpack an entire meal like this from a single container (usually a reed-woven basket, 'kra-tip').
When Eating Family Style
Even at a restaurant (a full local meal eaten family-style), the food scene will often be the same, but with just more of each dish. You'll always have tons of variety, color, and a spread of complimenting flavors and textures.
Usually, main dishes will come in double, or triple orders (up to the one who orders), and splitting these orders across the table area allows everyone to be easily within arms reach of their favorite dishes without needing to pass plates around. Finally, there almost has to be one huge bowl of a simple soup (of which everyone will get their own small bowl), that ties the whole meal family together.
Read in great detail about Thailand's own food traditions in EatingThaiFood's Ultimate Guide here (link).
And If You're Still Hungry…
There are two other excellent salads you might try if you're still curious (I'm going to assume you're still hungry), and the first of these is another thoke made with tomato. You might notice that nearly every single dish here includes tomatoes (or broad beans), but I can tell you first-hand how delicious and sweet the red tomatoes are in Myanmar – they are just using what grows best from their own land.
*You should also remember that since tomatoes are one of the highest sources of glutamic acid (the source of the umami flavor/sensation), you shouldn't be as surprised when you notice Burmese food to be so tasty – it literally is umami-ful.
Finally, there's another delicious salad made with Asian Pennywort, which has flavor more on the bitter-side, but is probably one of the healthiest salads for under US$1 you could ever have in your life. Asian Pennywort has a long list of health benefits, its important in Ayurvedic medicine (tradition from India), and even Thailand eats tons of this vegetable as well (which they usually use in healthy juices or smoothies).
Beautiful in its Diversity
Already quite distinct from Central Thailand's cuisine, local food in this Northern area of Thailand often features dry spices and curry powders that remind you more of India than they do Thai food.
You'll have gorgeously spicy home-grown chili varieties, giving a local taste to the curries and soups they eat, and finally, you might also recognize a few different cooking styles similar to those from Southern China and even Northern Laos – its amazing the blend of food cultures you'll find in the North of Thailand.
In Myanmar (Thailand's Western border), chefs use a similar set of ingredients to those you'll find in Thailand, but they use them in such wonderfully different and unique ways.
Nong Bee's restaurant is probably the the best (and tastiest) place to go in Chiang Mai when you want to appreciate these different flavors.
After eating just one meal here, you can get an idea of how an easy-going chef cooking Burmese food can make a thoke salad out of pretty much anything!
I have even seen a salad made out of samosa (using scissors, the chef snips it into smaller pieces, and adds it to the mixing bowl) – and now you may also understand the affordably low prices of these simple but delicious foods.*
A Back Story
Prices have risen quite a bit for travelers all over SouthEast Asia (the entire world as well, but SE Asia has seen extreme change in the past 2 decades), but not too long ago, I think Myanmar may have been the absolute cheapest place to travel.
During our first visit to Myanmar in February of 2010, I can clearly remember paying with a US$1 bill to eat four hand-mixed thoke salads (rice is always included).
Enjoying the huge meal while sitting on a tiny plastic chair, its just a wonderful memory of street-side eating in Myanmar.
Healthiest Fast Food on Earth
Maybe prices are different today, but Myanmar is still home to what may be the most healthy fast food in the entire world. If you have never tried thoke for yourself, you need to either immediately plan a trip to Myanmar, or, if you're in Chiang Mai, visit Nong Bee's Restaurant and Burmese Library today.
Find the Restaurant Location below, and Thanks for Reading!
Name: Nong Bee's Burmese Restaurant and Library
Location: (Google Maps)
Hours: 10AM – 9PM Open Daily
Price: 30-50 Baht per Plate (Our Total Bill – 350 Baht (for 2 people)).