Bangkok's Vegetarian Grazing Zone: Chamlong's Asoke All Veg Food Court at Chatuchak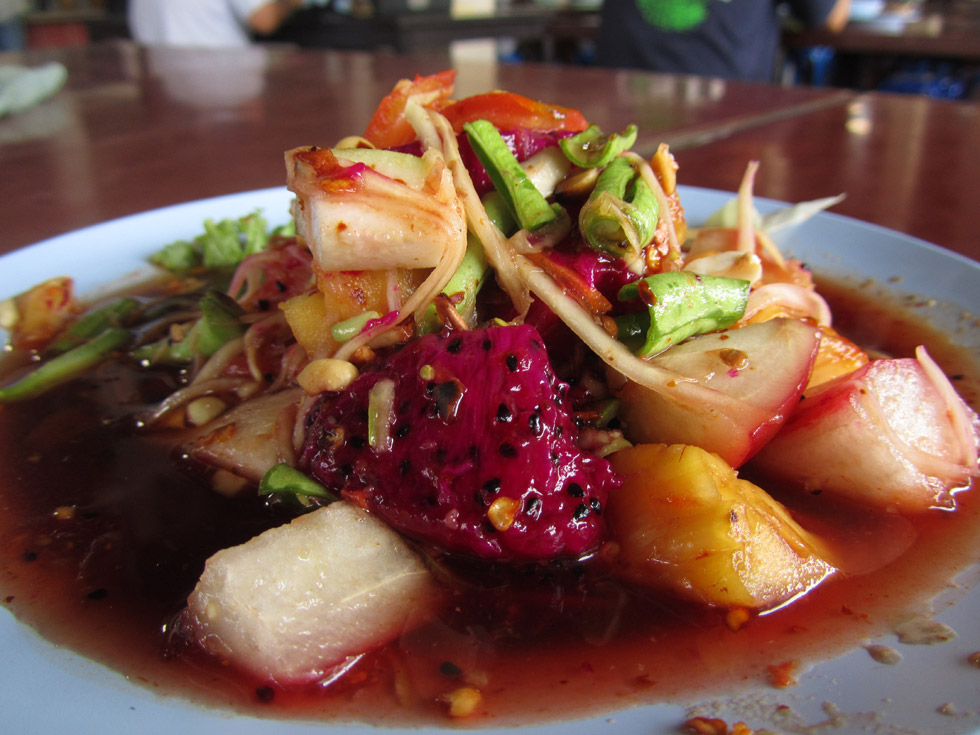 When you're looking for great vegetarian food in Bangkok, one place you need to go to eat is a restaurant known as Chamlong's Asoke (จำลอง (สันติอโศก).
After reading about a cheap vegetarian Thai food court on the Happy Cow website, located near the weekend Chatuchak Market, I knew it needed to be exploited.
There was zero complaining when it came to this meal, in fact I tried to spend as much money as possible and because the food was priced so low, everything we ate topped out at 130 THB (about $5).
Before entering the vegetarian grazing zone, you just sort of navigate your way to the back of the structure where the main food court is located.
Chamlong's Asoke (จำลอง (สันติอโศก) runs on the coupon currency – meaning you need to exchange cash for paper coupons before ordering your food.
We started with 100 THB each and couldn't even get through all the coupons. Luckily they refund you if your eyes are bigger than your stomach and you don't spend all the coupons.
The restaurant is set up with about 10 stalls each serving their own distinct Thai vegetarian dishes. There's a lot to choose from, and I'd recommend just ordering a few plates that look good.
No need to be picky here – everything is pretty good. You can even drink free water.
On my latest visit to Chamlong's Asoke, I tried their kuay teow lui suan (ก๋วยเตี๋ยวลุยสวน), or fresh garden vegetable rolls.
They were wrapped in sen yai, which is the wide rice noodle wrappers, and included a mix of different things on the inside, mostly tofu, jicama, lettuce, basil, and some other wonderful fresh herbs.
I loved the nice kick of mint within the rolls, which really gave it a nice refreshing flavor.
These little pancake guys, known as por pia sot (ปอเปี๊ยสด) were next in line. A very thin dough wrapped around bean sprouts and other ingredients and covered in a sweet brown glaze.
Like I've mentioned before, in my opinion mushrooms are probably the best meat substitute. These little skewers of het yang (grilled mushrooms เห็ดย่าง) were off the chain! They were chew and spongy like they should be and the lime infused chili sauce was scrumptious.
My least favorite of the dishes was a plate of pad thai woon sen (ผัดไทยวุ้นเส้น) – stir fried glass noodles.
It was decent and tasty, but lacking fish sauce and a spoon of sugar seemed to be a bit too far of a push (though it was still good).
As you see, it was a bit of a vegetarian grazing zone, so my excitement got the better of me throughout the dining experience at Chamlong's.
Could they really have hoy tod (a greasy oyster melt-in-your-mouth omelet)?
Yes indeed, except this version was hoy tod het (หอยทอด(เห็ด)), oysters made way for once again, the glorious mushroom.
One of the dishes I almost always order at any vegetarian Thai restaurant I go to, is grilled shitake mushrooms, which they call hed hom (เห็ดหอมย่าง).
These mushrooms are usually prepared mostly with the stems, so they are literally almost meaty tasting. They have great texture, almost grainy, and are packed with flavor.
For myself, it hardly get better for a vegetarian dish than these mushroom.
One of the things I enjoy about eating vegetarian Thai food, is that they often have a choice of really good types of brown whole grain rice – which I'm a huge fan of.
The khao ob puak (ข้าวอบเผือก), which you'll normally find right in the middle of the food court, is a wonderful mixture of black rice, steamed with pieces of taro and gingko nuts.
It went very well with all the rest of the dishes I ordered. If you love rice, don't miss this wonderful dish at Chamlong's Asoke (จำลอง (สันติอโศก).
If you're in the mood for eating some noodles, try the kanom jeen nam prik (ขนมจีนน้ำพริก), soft fermented rice noodles in a nutty sweet curry sauce.
My wife ate this dish the last time we went, and she really enjoyed it.
One of my top recommendations for vegetarian Thai food dishes at Chamlong's is the som tam ponlamai (fruit salad ส้มตำผลไม้).
They don't use fish sauce, because it's pure vegetarian, so the mixture of fruit is dressed in lime juice, soy sauce, and chilies.
It depends on what do you go, what exact mixture of fruit you'll get in your salad, but usually it comes with dragon fruit, pineapple, watermelon, guava, tomatoes, and a few shreds of extra green papaya. A sprinkle of roasted peanuts gives another nice touch.
If you go to eat at Chamlong's Asoke (จำลอง (สันติอโศก), don't miss their som tam ponlamai, it's awesome.
At many Thai vegetarian restaurants, you'll find that they serve all sorts of fake meats.
So for dessert, I decided I needed to try a few skewers of fake grilled meat. The one pictured above is supposed to be pork belly, and you can even see the noticeable different layers of the pig stomach.
I have to admit, it was pretty bad, and tasted quite a lot like cardboard. But if you're curious how it tastes, like I was, you should give it a try too.
Chamlong's is the real deal.
Authentic Thai vegetarian food set up into a vegetarian grazing zone with extremely cheap prices.
When you are in the Mo Chit Chatuchak area, be sure to check this place out.
Here's a video of my latest meal at Chamlong's Asoke:
(If you can't see the video, watch it here: http://youtu.be/eRohOlGchY0)
The Bottom Line
Chamlong's Asoke (จำลอง (สันติอโศก) is a convenient, and affordable place to eat vegetarian Thai food when you're in Bangkok.
What I really like about it, is that there's a nice selection of dishes, so you can sample a whole spread of different dishes with different flavors.
No matter if you're vegan, vegetarian, or just want to eat some healthier food options, Chamlong's Asoke is a great restaurant to visit.
Also, don't forget to check out our full Thai vegetarian food page here.
How to get to Chamlong's Asoke Vegetarian Thai Food Restaurant:
You can either walk from Chatuchak Market, or you can get off at Kampaeng Phet MRT station.
Update: May 2014
Thank you to Jacy for the directions update: "Walk out from Chaktuchak exit 1 and cross the road to the opposite side which is IN Square Mall now (this is a new shopping center).Then walk to the back of the Mall and you can see the food court right in front of you."
Open Hours: Tuesday – Friday: 6am – 2pm, Saturday – Sunday: 6 am – 3 pm
Prices: Small things are 10 THB and most dishes are 20 – 25 THB. It won't break the bank!
Here's the map:
Read the directions above, because they are doing construction in the area and the streets are changing. Also Thai readers should note this food court is often referred to as ชมรมมังสรวิรัติแห่งประเทศไทย or The Vegetarian Club of Thailand.

View Eating Thai Food Map in a larger map