Bangkok Floating Market Tour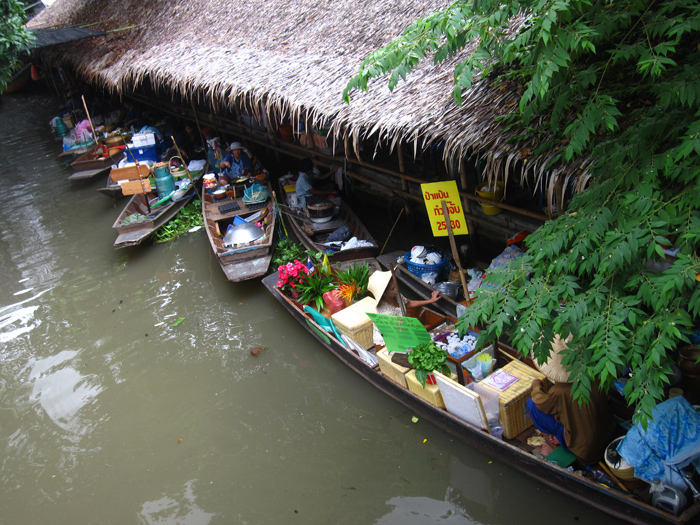 NOTE: Unfortunately due to my busy traveling schedule, I've had to discontinue food tours on this website. For more information, please refer to the blog or the Eating Thai Food Guide.
Three Bangkok floating markets in a single day!
Bangkok was once known as the Venice of the East, a vast network of canals and rivers formed the framework of the city. Local people used canals for transportation and even conducted business directly from their boats!
Today, with the modernization of Bangkok, floating markets are not as authentic as they used to be – however, there are a number of leisure floating markets set up each weekend for shopping and delicious food.
What We've Got For You
On this Bangkok floating market tour you'll get to visit not just one, but three different local floating markets!
Shopping, eating Thai speciality snacks and watching vendors cook and serve food straight from their boats is the joy of visiting a floating market.
As of now, we are only able to offer private tours – so you can be assured they will be laid back, flexible, and catered to suit your own interests!
Please email [email protected] for further inquires and booking requests.
Where Will We Go?
1. Khlong Lat Mayom Floating Market
We'll begin the day off by visiting the lovely Khlong Lat Mayom floating market, a little oasis nestled amongst thick vegetation.
The majority of the market is sheltered by grass thatch roofing, but there are quite a few vendors that still serve delicious food right from their boats.
After walking around and enjoying the scenery we'll eat a delicious bowl of noodles while seated on the banks of the canal.
2. Taling Chan Floating Market
Located on the outskirts of Bangkok, Taling Chan is one of the most locally popular floating markets in town. From house plants to high quality fruit, the market is packed with interesting finds.
Taling Chan includes a number of boat vendors that each specialize in their own delightful dish. Every weekend hundreds of Thais head to Taling Chan for a great Bangkok escape and time of relaxation.
3. Don Wai Market
Don Wai is the ultimate market for Thai food lover's.
While there aren't vendors selling things from their boats (like the other two markets we'll visit), the buzzing weekend market is conveniently situated adjacent to the river.
The market offers an overdose of fresh and cooked food and a plethora of snacking delights! At Don Wai we'll eat at a floating restaurant where we'll enjoy a huge Thai feast!
What's Included?
Transportation by private van
Khlong Lat Mayom floating market (noodles)
Taling Chan floating market
Don Wai market (full Thai feast)
Return to Bangkok
Note: Noodles and a full Thai meal will be included in the price, but all other snacks are not included in the price.
Bangkok floating market tours are only available on the weekends.
Please email [email protected] for prices and details.
Who Are We?
EatingThaiFood.com was founded in 2009 to be a resource for Thai food lovers. Over the years we've published restaurants reviews in Bangkok, tips on Thai food dining and lots and lots of delicious Thai food photos!
In 2011 we published the Eating Thai Food Guide – a compilation of over 2 years of Thai food photos, useful eating tips and places to eat in Bangkok.
Thai food is our passion!
If you'd like to know more about arranging a floating market tour, please email us at [email protected].
– Eating Thai Food Crew!