Duck Deliciousness in Bangkok at Zong Pet Paloe (ซ้งเป็ดพะโล้)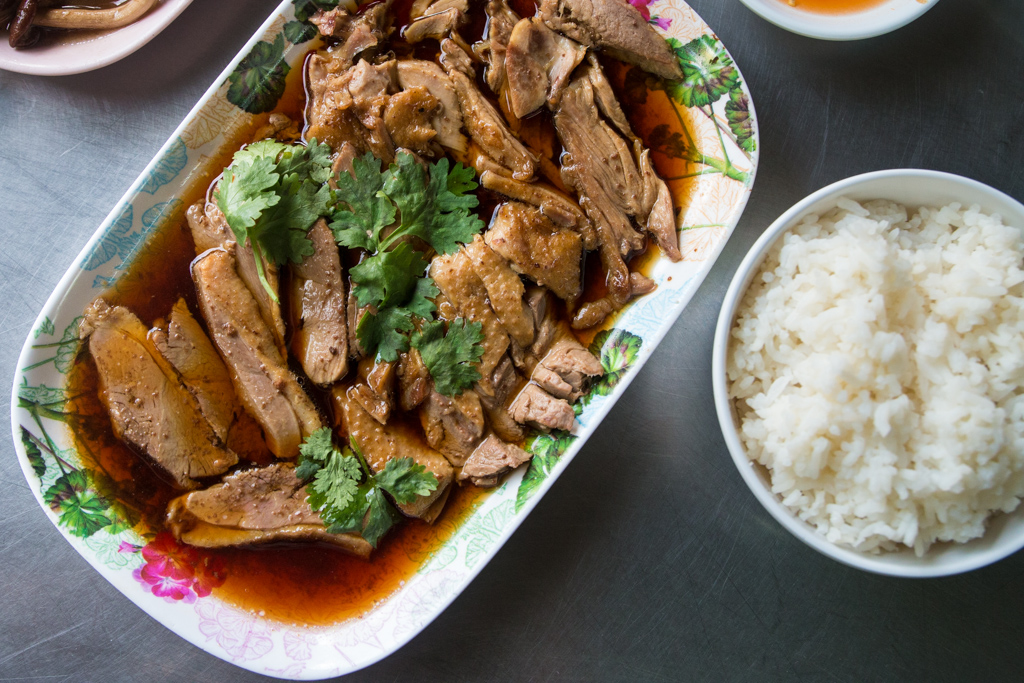 Zong Pet Paloe (ซ้งเป็ดพะโล้) is one of the many well known restaurants located in the northern part of Bangkok, in Lat Phrao (but I'm talking deep into Lat Phrao – no access by MRT or BTS).
In my years of living in Bangkok, I haven't spent a lot of time in Lat Phrao, or in northern Bangkok (just due to living location), but when I do go to the area, I always try to stay and eat somewhere on my never ending "to eat" restaurant list.
This time, Zong Pet Paloe (ซ้งเป็ดพะโล้).
Walk into Zong Pet Paloe (ซ้งเป็ดพะโล้) restaurant, and you'll immediately know they take food seriously.
The glass closet full of boiled ducks and geese, like a trophy cabinet, greets you at the front of the restaurant.
Step inside and you'll discover a dozen or so pots of unknown liquid brewing slowly, all releasing duck aromas that will make your taste buds start reacting with an unbelievable desire to start eating.
In the background, you can hear the clanking of the woks, as a crew of chefs stir fry dishes in a frenzy.
They use some seriously high pressure gas and ignite dishes, stir frying entire meals in mere seconds.
Zong Pet Paloe (ซ้งเป็ดพะโล้) has a huge menu of different Thai dishes, mainly stir fried dishes, and the most famous of them all, their pet paloe (เป็ดพะโล้), or duck boiled in spices (you can probably tell from the first photo).
The menu was actually really nice, laid out neatly with nice photos of each dish.
I'm not sure if they had an English menu, but if you don't read or speak Thai, you can look at the photos to make an order.
Walk into the dining room of Zong Pet Paloe (ซ้งเป็ดพะโล้), and it looks like you're at a gym, it's HUGE.
They can accommodate giant groups of people and serve massive parties, and there's an army of cooks and ducks, waiting to be ordered.
Pet paloe (เป็นพะโล้)
At Zong Pet Paloe (ซ้งเป็ดพะโล้) they have both duck and goose, and many people walk up and order a whole duck or goose for takeaway.
We chose to order just a plate of pet paloe (เป็นพะโล้), duck, which came sliced up and on a plate drowned in the beautiful duck juices.
Price – 100 THB
Zong Pet Paloe (ซ้งเป็ดพะโล้) made a name for themselves from their pet paloe (เป็นพะโล้) for a reason, it's incredible stuff.
The meat of the duck was incredibly succulent, meaty and tender, and just pure duck delicious. This style of duck preparation is boiled in a broth seasoned with five star anise and cinnamon, among other seasonings.
It was slightly sweet, salty, and the duck just retained all its meat juices; It was a very good plate of pet paloe (เป็นพะโล้).
The only thing I don't like about pet paloe (เป็นพะโล้) in general, just like khao man gai, is that the boiled skin isn't that good, so I normally just peel off the skin.
Maybe it's just me, but I don't see a point in eating skin if it's not crispy!
Nevertheless, the meat of the duck was delicious.
Pet kra pao (เป็ดกระเพรา)
Sticking with our theme of eating duck, I saw pet kra pao (เป็ดกระเพรา) on the menu, and there was no holding me back.
Pad kra pao, or any choice of meat stir fried with basil, is one of the standards of Thai street food dining, a dish outrageously tasty, and that can be found nearly everywhere throughout Bangkok.
The dish is awesome with shrimp or chicken, but cooked with duck… things can hardly get better.
Price – 150 THB
The pieces of duck were first deep fried I believe, which gave them a nice crispy crunch right from the beginning.
It was then fried, in a wok over a volcano hot flame, with lots of chilies and garlic, soy sauce, and oyster sauce, and a handful of Thai holy basil.
The result was spectacular, chunks of sweet crispy duck meat, coated in garlic, chilies, and soy sauce, and peppery from the basil.
The duck was a little dried out compared to the pet paloe (เป็นพะโล้), but I think that's just the way it was from the duck being deep fried and then stir fried.
It was still amazing.
Kha gai super (ขาไก่ซุปเปอร์)
Along with all things duck, Zong Pet Paloe (ซ้งเป็ดพะโล้) is famous for its version of kha gai super (ขาไก่ซุปเปอร์), Thai super chicken feet soup.
I looked around at other tables of people eating around us, and it seemed like this soup was the standard, a given order no one could resist.
Price – 180 THB
I like to eat just about any Thai food available – there are very few things I'm not a fan of – but I have to admit I'm not a huge chicken feet kind of guy.
They don't taste bad, but there's just not that much to them, other than a wrinkly piece of fatty skin.
Most of the time, kha gai super (ขาไก่ซุปเปอร์) will come in sweet and sour broth that sort of tastes like Thai "sauce seafood," but at Zong Pet Paloe (ซ้งเป็ดพะโล้), the soup tasted like the same juice from the duck.
The broth was ducky and had a lovely flavor of star anise, plus some nice chili heat to it.
The broth was amazing, the chicken feet… well, they were chicken feet.
Luckily my wife absolutely loves chicken feet, and she handled the entire flock of feet.
Yam pla duk foo (ยำปลาดุกฟู)
Yam pla duk foo (ยำปลาดุกฟู), crispy catfish fluff served with a side of sour mango salad, is one of my wife's favorite dishes, and she was in the mood for a plate.
Overall, it wasn't the best version I've had. I think they over fried it, to the point where it was too crispy, and oily. I prefer the version here, it's nice and lightly fluffy and light in color.
The green mango salad was good, nice and sour and not too sweet, but the actual catfish foo (ฟู), or fluff, wasn't very good. I wouldn't recommend it.
Price – 120 THB
Hed khon nam man hoy (เห็คโคนน้ำมันหอย)
Finally, in order to balance out all the duck, we ordered a plate of hed khon nam man hoy (เห็คโคนน้ำมันหอย), mushrooms stir fried in oyster sauce.
The mushrooms included loads of garlic, and again, they were stir fried on volcanic heat, so they were seared, but remained crisp and fresh. Delicious.
Price – 100 THB
Conclusion
Zong Pet Paloe (ซ้งเป็ดพะโล้) is a famous restaurant in Lat Phrao, and they serve up a marvelous plate of pet paloe (เป็นพะโล้), duck boiled in Chinese spices.
The other stir fried dishes are also excellent, and if you're a chicken feet fan, don't miss out on the kha gai super (ขาไก่ซุปเปอร์).
Overall, it's a nice open air restaurant, with extremely tasty food.
Zong Pet Paloe (ซ้งเป็ดพะโล้)
Address: 11/58 Soi Lat Phrao, Wang Hin, Bangkok, Thailand 10230
Phone: 02-570-4080
Open hours: 4:30 pm – 4 am daily
Price: About 100 – 200 THB per person
ซ้งเป็ดพะโล้
ที่อยู่ 11/58 ซอย ลาดพร้าว ใกล้สี่แยกวังหิน กรุงเทพมหานคร 10230
โทร.02-570-4080
เปิดให้บริการ 16.30-4.00 น
How to get there:
Zong Pet Paloe (ซ้งเป็ดพะโล้) is not very close to the MRT or the BTS. The closest BTS station is Mo Chit, but from there, it's easiest to jump in a taxi directly there. Alternatively you could probably take a bus, but I haven't explored the options yet. The restaurant is not too far from Yusup Pochana, another stunner.
Here's a map to get there:

View Bangkok Eating Thai Food Map in a larger map