Ba Mee Jub Kang (บะหมี่จับกัง) – Big Bowls of Old Skool Egg Noodles in Bangkok's Yaowarat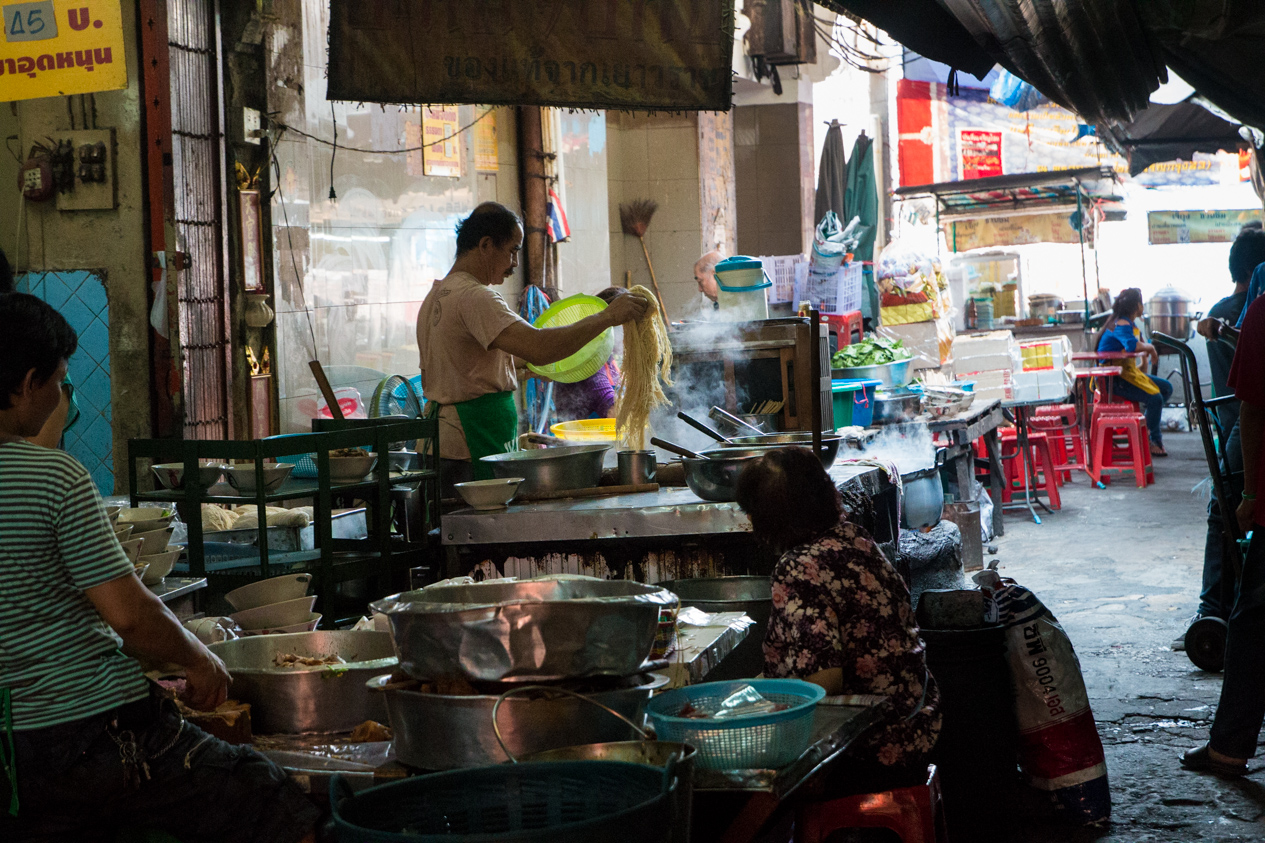 When you see a rustic old-skool restaurant like Ba Mee Jub Kang (บะหมี่จับกัง), you know they have a food story to tell.
It's located in a dungeon dark and damp alley, just off the always busy Charoen Krung road in Bangkok's Chinatown, and just a short distance from one of my favorite curry stalls in town.
They have been serving hungry workers for years, and the street food wear and tear is good enough evidence of their success.
As I'm told, they didn't even have a restaurant name for the longest time, they were just there.
Ba mee (บะหมี่), is the Thai word for yellow egg noodles, and jub kang (จับกัง) is a word used to describe people who work really hard – basically any kind of laborer – a constructions worker, a delivery man, a cart pusher, tuk tuk driver… you get the idea.
So put the two together, and Ba Mee Jub Kang (บะหมี่จับกัง) is a Thai street food stall that serves hungry hard workers.
And what do hard laborers need more than anything?
You guessed it… pig portions.
Anyway, before we get started on the food, I just want to quickly give you a tour of the kitchen.
It's not cleanest place in the world.
There are a couple of simmering pots of liquid puffing away on one side, and a couple of tables, all a little lopsided and appearing as if they could topple over with a few too many bowls of noodles on top.
Nevertheless, you don't exactly come to Ba Mee Jub Kang (บะหมี่จับกัง) for the ambiance (I'm sure you can tell).
For cooking they exclusively use charcoal, which adds an extra dimension of smokiness to the flavor of their noodles, as well as a nice smoky aroma that fills the entire alley like a sauna.
I thought there might be a tandoor hiding somewhere in the kitchen (reminded me of the awesome street food in Kolkata)!
The egg noodles are blanched in massive portions, and then divided into bowls at rapid rates to accommodate meal rushes.
The menu is pretty straight forward.
You've got the choice of ba mee nam (บะหมี่น้ำ egg noodles in soup) or ba mee haeng (บะหมี่แห้ง egg noodles dry). I ordered the regular version, but they also have a piset bowl (พิเศษ special), which probably includes even more noodles.
I had the soup version, and Ying had the dry version, both coming with a bowl full of ba mee (บะหมี่) noodles on the bottom, topped with some steamed Chinese mustard greens and a handful of pork on top.
Not the prettiest, but that's the real deal!
From the photos of the bowls of ba mee (บะหมี่), it's kind of hard to get a perspective of how much noodles are hiding down there, so here's one that shows a little better.
Not an absurd amount (but this is just the regular bowl, not the special, which I assume is a bunch more noodles), but it does equal to about 3 – 4 bowls of ba mee (บะหมี่) at a normal Thai street food stall.
Of course, all the normal seasoning were available, stored within well used spice cups.
While a lot of Thais like sugar in their noodles, I pass on that, and only go for chili flakes and chili vinegar.
Ying, my wife actually had most of this bowl of the dry version, and I had the soup one, but we sort of each shared – ok actually, I ate about my bowl and 1/2 of hers too.
Here's the video…
(If you can't see it, watch it here: http://youtu.be/C-Ypi90JNDs)
How were the noodles?
Overall, quite good. It wasn't the best bowl of ba mee (บะหมี่) I've ever had, but the noodles were fresh and tasty, and the pork was tender and sweet.
You don't exactly come to Ba Mee Jub Kang (บะหมี่จับกัง) for the best food or the cleanest ambiance, you come for the big portions and the cheap prices.
That entire bowl of noodles cost just 35 THB ($1.08)!
The Bottom Line
Pretty decent bowl of Thai ba mee egg noodles (บะหมี่), and a truly wonderful street food environment – but just be warned this place is pretty local – and you've got to really be a street food fan to come here.
Ba Mee Jub Kang (บะหมี่จับกัง)
Address: 38 Charoen Krung Soi 23, Yaowarat, Bangkok
Phone: 02-2226769 , 02-2255975
Open hours: 9 am – 8 pm daily (but usually closed on the 15th and 30th of each month)
Price: 35 THB ($1.08)
ที่อยู่ : 38 ซอยเจริญกรุง 23 ใกล้กับวัดมังกรกมลาวาส ถนนเจริญกรุง แขวงเยาวราช เขตสัมพันธวงศ์ กรุงเทพฯ
โทร.02-2226769 , 02-2255975
เปิดทุกวัน เวลา 09.00 – 20.00 น. หยุดทุวันที่ 15,30 ของเดือน
บะหมี่ธรรมดา 35 – บะหมี่พิเศษ 45-
How to get there:
The nearest mass transit station is Hua Lamphong on the MRT, or you can take a taxi. Once you're in Yaowarat, you've got to navigate your way over to Charoen Krung road and find Soi 23 (just a motorbike / walking soi), and the stall is right down the soi about 20 meters or so. They are doing some construction now, so things can be a bit tricky, but you'll find it.

View Bangkok Eating Thai Food Map in a larger map