Authentic Iranian Food Restaurant in Bangkok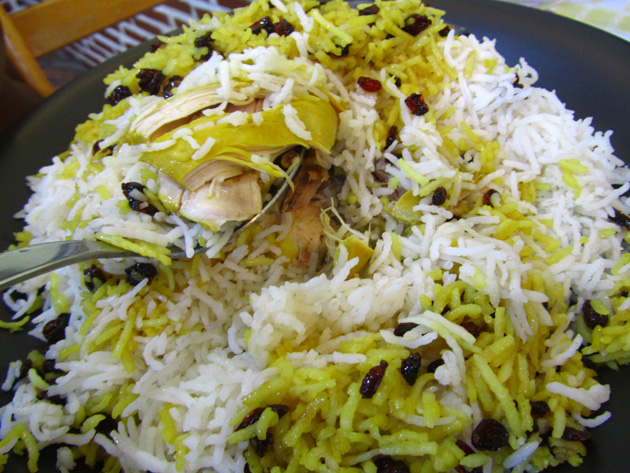 I had never eaten Iranian food before.
Walking down a soi (small street) in Bangkok one day, Dwight (co-foodie at Eating Thai Food) and I stumbled into a restaurant that we couldn't pass-up, partly because it was a cuisine neither of us could ever remember eating.
We stepped inside the "Persia Food, Iranian Restaurant." It was quiet, clean, and welcoming.
The menu included the selection of universal Middle Eastern grill dishes, things like lamb barbecue (150 THB) and kofta kebabs (180 THB). I'm sure these grilled meats would have been delicious at this Iranian Food restaurant in Bangkok, but this time around I went with food I had never seen or heard of before – dishes that looked pretty authentic Iranian.
We started out with a plate of Iranian bread. It wasn't exactly the pita-ish bread that I was expecting – but I shouldn't really have been expecting anything (since I'd never eaten Iranian food before).
It was thin like a tortilla but much more chewy and stretchy. It was a bread that you sort of have to chomp down and then yank a bit to get the bite off successfully.
We didn't know it was one of the national dishes of Iran at the time of ordering, but either we were plain lucky or destined to order the Gormeh Sabzi (150 THB).
On the menu it was described as meat with parsley, coriander, and a few other vegetables. It slightly reminded me of something like an Indian palak paneer – a puréed spinach paste mixed with paneer cheese. The Gormeh Sabzi didn't include the paneer, but included meat and a few other vegetables like kidney beans instead.
It was good, slightly sour, very mild, but an overall pleasant earthly flavor that was accented with a pungent aroma of parsley.
The barley soup was decent, it was good for what it was. It had a good home cooked flavor, however it seemed a little plain, there's wasn't enough taste embedded within the soup. I squeezed in a lime for a jolt of bite!
The last dish we ordered for the Iranian food feast showdown in Bangkok was the Barberry rice with chicken (200 THB). It emerged from the kitchen as a fluffy heap on a plate.
At first I thought the chicken may have been forgotten.
Those solemn feelings were shattered as soon as my fork plunged into the pile, coming back up with an abundance of bone tender chicken.
The barberry rice was quite good, a combination of fluffy white basmati rice, yellow fragrant rice, a sizable portion of chicken that literally slid off the bone, and some small raisin like sweet currants on top.
So the overall verdict of the Iranian Food Restaurant in Bangkok is very positive as an authentic place to get Persian favorites. The food tastes like it is home cooked and I very much enjoyed sampling dishes I had never had before – especially the Gormeh Sabzi.
However, the food in general seemed a little plain to me, not a lot of spice or flavor added to any of the dishes, similar to what I would say about mashed potatoes and roast. Don't get me wrong, it was delicious and I thoroughly enjoyed it, but from living in Asia for so long, I like my food to explode in my mouth. Then again, perhaps my tongue has been demented by an overdose of chilies.
If you have never sampled Iranian food before, Bangkok has an authentic Persian restaurant! Go check it out and see what you think!
Where can I find Iranian Food in Bangkok?
The restaurant is located in the Silom area of Bangkok, right down the street from the Hindu temple known as Sri Maha Mariamman or Wat Kaek. It's on Silom, Thanon Pan

View Iranian Food Bangkok in a larger map