An Affair at the Loving Hut: Bangkok's Healthy Go Veg Restaurant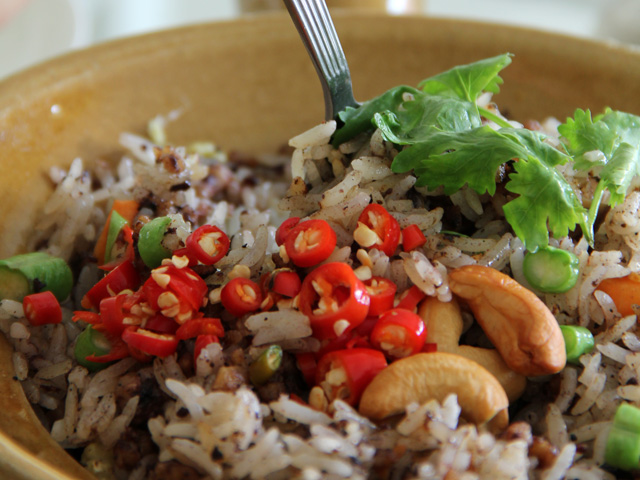 Associating love with food is something that should not be taken lightly.
The all vegetarian Loving Hut Restaurant has a few branches around Bangkok, but the closest location to my house was the one at the Marriott Village little shopping plaza on Charoen Nakhon road.
On Day 28 I decided to check it out.
The menu is extensive.
It's a giant picture album of international vegetarian dishes that looked almost identical to their meat copying counterparts.
On the menu you'll find enticing items like chicken red wine hot pot, spaghetti carbonara, Hong Kong style sausage and even a full on New York steak and fries.
The modern interior of the restaurant is decorated clean with white sofas, chairs, glass tables and a flat screen TV mounted on the wall.
After the usual confusing process of trying to figure out what I was going to order I settled on a few items.
The spicy tofu dish was pretty good. It included big meaty chunks of tofu that were fried up and then bathed in a sweet coconut  creamy chili sauce. It was a little on the mild side for my personal taste but good otherwise delicious.
Price – 100 THB
Recommended by the waitress, I ordered the baked olive oil fried rice. It came out from the kitchen piping hot and fragrantly smelled of seared olive oil.
I added the provided cashew nuts, chopped fresh red chilies and squeezed on the wedge of lime to maximize the flavor. The dish was excellent, a very earthly flavor of glorified fried rice. Within the rice were small bits of protein which I could have easily mistaken for ground beef.
Price – 100 THB
If I'm going to be honest, in the end it all comes down to durian. Smoothies made from the sweet pungent fruit are hard to screw up (unless overly sweetened) because it's the fruit that should speak for itself.
The durian smoothie was light and fluffy, and I'll admit that the durian used was the perfect ripeness. A durian smoothie affair indeed!
Price – 80 THB
The Bottom Line
The Loving Hut is a decent restaurant if you are looking for Thai vegetarian food and other Asian inspired all-vegetarian dishes served in a clean and modern atmosphere.
In my opinion the food was a bit overpriced and all dishes were toned down a couple notches of flavor from what I prefer. I would recommend the olive oil fried rice.
The Loving Hut Bangkok
Address: 257/1-3 Royal Garden Plaza Bangkok,Ground Floor Shop 11,Charoennakorn Rd.,Samrae,Thonburi Bangkok 10600
Open Hours: Daily from 11:00-21:30
Phone Number: 02 476-9781,02 476-6220
Website: http://lovinghutthailand.com/
How to Get There:
The Loving Hut has a number of locations in Bangkok, but this particular one that I ate at is at the Marriott Hotel Village shopping plaza. You have the option of getting to Saphan Taksin BTS station and waiting for the free boat shuttle to take you there, or you can get on a bus heading south on Charoen Nakhon road until you reach the plaza.

View Eating Thai Food Map in a larger map