5 Ways to Find Awesome Thai Food Outside of Asia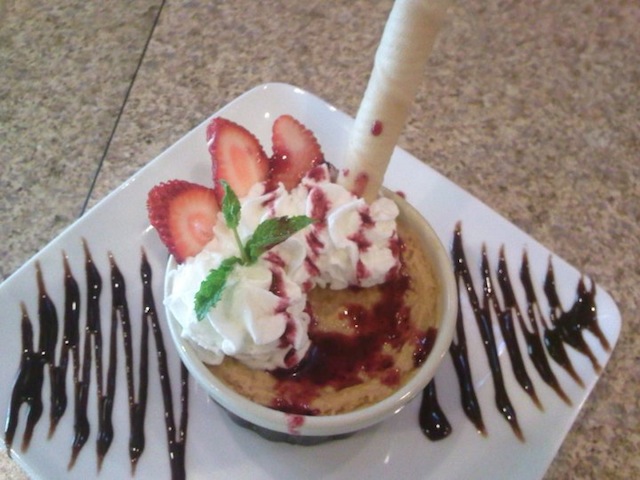 I didn't become a Thai food fanatic in Thailand.
No sir-reee, I caught jungle-curry fever while I still lived in the US.
So I admittedly felt a little dissed when some people took our article on the 9 Differences Between Thailand's Thai Food and the US's Thai Food as if we were bashing Thai restaurants abroad.
So what's wrong with Thai food cooked on foreign soil?
"$11 or more for a plate of Thai food is expensive!" – Holy hell that's a whole $1,189 cheaper than the average round trip flight to Thailand!
"Not fishy or pungent." – Translation: Bummer, your date will still kiss you and you may unfortunately still have friends at the end of the day.
"It's sweeter." – Yes and thank you for reminding me to order a liter of Thai tea.
"The portions are bigger." – So then we agree it's awesome?
"But, but —but it's not authentic!" – You mean you didn't sweat enough to ruin your clothes while it was cooking on the street? The restaurant doesn't smell like ass? You didn't rush home or ruin any furniture because you caught a case of rectal rocket later?
"Was it good?" – Hell yeah.
"Was it authentic?" – Who cares, it was good!
We can argue about authenticity all day because often people make taste, which is largely subjective, the most important factor.
But one person's idea of authenticity isn't necessarily required for you to enjoy a great Thai meal.
Here's five other ways you may not have considered to help find or create awesome Thai food experiences outside of Asia.
1 – Make Friends in Tasty Places
If you're smart and hungry you should make it a point to make friends with the folks that run your local Thai spot. They're the key to you getting your authentic demands or discovering how little you know about Thai cuisine altogether.
This means seeking out your new aunt and uncle who run a humble shop without the word 'bistro' (code for expensive) in the title.
This may require ass kissing, a copy of the Rosetta stone for small talk (never underestimate how much your poor pronunciation may impress someone), and earning a frequent flyer card at the eatery.
BUT if you're genuine and polite you're sure to score points with the owner, the chef, the waitress, all the aformentioned's kids, the exchange students at your university and many other potential new foodie friends.
Whether it's a special birthday dessert from Sala Thai in downtown Washington DC, giant smiles and endless questions at The Real Chow Baby in Atlanta or shocking Thai employees in the Grand Canyon's canteen, I've had so many experiences connecting with people over Thai food!
Tip: If you can't find a new Thai restaurant family, make a visit to every other South East Asian restaurant in your area. I ate some killer spicy Laotian food in Sacramento with a family who came to the US as refugees thirty years earlier!
2 – Keep an Eye Out for Adventurous Thai Restaurant Menus
Slowly but surely people are getting bored of the pad thai their office orders every second Thursday of the month. But are people encouraged to venture far away from the yellow curries, heaps of chicken satay and spring rolls?
Boring? Unauthentic? Whatever you think of these dishes, they're the gateway drugs of Thai food.
Restaurants have to be conscious of not only supplying these staple items, but of trying to educate their customers about other dishes for those who may not ever explore further on their own.
They ones that do, you've probably already heard about in your neighborhood!
Tip: Find a thai joint with sampler dishes, specials of the day, and you may even come across owners who actively looking for opinions about dishes they're working on. Don't forget to go high tech and use Foursquare to see which places are creating a buzz.
3 – Cherish Availability of Healthier, Locally Sourced Ingredients
If health, diet or allergies are major concerns you're sure to be more comfortable on foreign soil than Thailand.
Vegans and vegetarians should love Thai food. Endless stir fry combinations and always in sauce so tasty you could eat shoes and socks from it!
Going gluten free also isn't a big deal and I spotted a gluten free menu at Sophia's Thai Kitchen in Davis, California.
Look for more Thai health food inspiration in our Vegetarian Thai Food Guide.
4 – Think Outside the Bento Box
Some of the best Thai food experiences may not happen in Thai restaurants at all.
They could happen at Thai temples abroad, food festivals, farmer's markets (Los Angeles is experimenting with it's first Asian night market soon), and special Thai holidays like the upcoming Thai new year.
Think outside the box and find out if there's a mobile Thai kitchen in your town like Minneapolis's Gai Gai Thai!
5 – Delight in Dessert Crescendos
Gotta love a place that goes out of their way to impress you with their desserts. Thailand has an endless list of desserts, but few people know more than the now infamous mango and sticky rice.
Who would expect to see a beautiful rendition of sang kayaa custard all the way out in Covington, Georgia?
Bonus: A restaurant gets extra points if it has addictive Thai inspired drinks. Thai tea's on your radar, but how many Thai style cocktails have you tried?
Seek out great Thai food experiences, make friends, eat well, and report back!