Yuutaro Restaurant – Japanese Lunch Specials at Central Embassy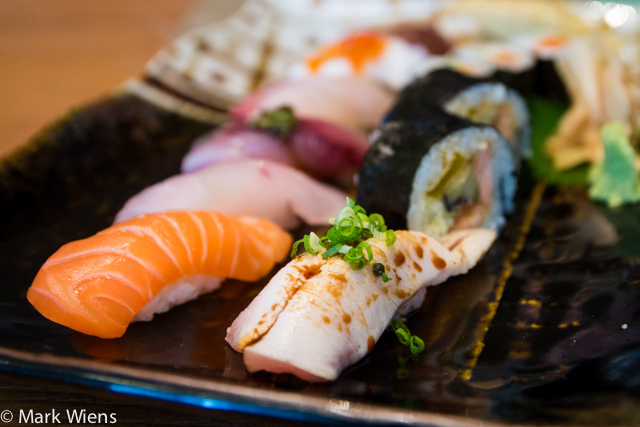 I've probably mentioned this numerous times, but when I'm not eating Thai food, my wife and I like to go out for Japanese food in Bangkok.
My latest venture was to Central Embassy, the brand new high end shopping mall right off Ploen Chit BTS station.
There are a number of Japanese restaurants on the 5th floor (I think), some of them that looked way out of my price range.
But Yuutaro, had some nice lunch specials on their menu display, so we decided to them a try.
All the lunch specials came with a salad and a cup of steamed egg for starters.
Between the two of us, we couldn't fully decided what to order, so in the end we ended up getting 3 lunch specials for the 2 of us – we tend to do things like this when we eat out.
The salad was good, nothing special. The steamed egg was great, lightly salty, and with a nice shrimp and piece of mushroom in the mix. I waited to eat most of my egg until the rice came as it tastes so good with hot rice.
Negi-toro don
One of my favorite Japanese ingredients is negi-toro, or minced tuna belly.
I hadn't eaten negi-toro before going to Japan, but in Tokyo I had it for the first time and fell fully in love.
When I saw the negi-toro don, basically minced tuna belly over a bowl of rice, I couldn't resist ordering it.
At 550 THB it was the most expensive lunch special at Yuutaro, a few hundred Baht more than the others on the menu, but I thought it was worth it.
The tuna was beautifully soft and tender, the rice was cooked perfectly, and the garnishes were wonderful.
Price – 550 THB
Sushi lunch special
I also got the sushi lunch special.
It came with a good selection of pieces, 12 pieces to be exact, and a good 6 or 7 of them were covered in nice slabs of fresh sashimi.
Just like in Tokyo, the ratio of rice to fish was perfect, not too much rice for the amount of fish.
Price – 380 THB
I'm not even sure what all the pieces of fish were, but I thoroughly enjoyed every single piece.
For the price, I was quite pleased with the value of the sushi lunch special. I thought it was a nice selection of fish, and the fish was very fresh.
There were a couple of rolls included, a few that had salmon tempura stuffed inside.
There were also a few pieces of Japanese sweet omelet, as well as a piece of squid topped with salmon roe.
Tonkatsu cutlet
Finally, for our third lunch special, one of my wife's favorite, we ordered the tonkatsu.
Tonkatsu is a piece of pork, breaded, then deep fried to a crisp.
The tonkatsu at Yuutaro was very good, but just normal. The sauce, and the wasabi mustard that it was served with, were excellent.
The tonkatsu also came with a bowl of rice on the side.
Price – 280 THB
All the lunch specials at Yuutaro at Central Embassy come with a choice of either ice cream or fruit for dessert.
My wife had the ice cream, which she said was very good, and I chose the fruit (actually my wife got ice cream and fruit, since we had 3 lunch specials).
A small plate of refreshing cool fruit was a great way to end our very satisfying lunch at Yuutaro.
Here's the total bill, for three lunch specials at Yuutaro, our amount came to 1,425 THB, which is included service and VAT.
And we did have 3 lunches between 2 of us, and I ordered the most expensive lunch special too, so our bill could have been much less.
Conclusion
I enjoyed our Japanese lunch specials at Yuutaro in Central Embassy. The sushi was fresh and good quality, and the prices were quite decent.
If you're craving good quality Japanese food for lunch, and don't want to break the bank like at many of the Japanese sushi bars in Bangkok, Yuutaro at Central Embassy is a good option.
Yuutaro Japanese Restaurant, Central Embassy
Address: 1031 Ploenchit road, Pathumwan, Bangkok
Open hours: 10 am – 10 pm daily
Prices: 300 – 500 THB, this is for the lunch specials only
How to get there: Take the BTS skytrain to Phloen Chit station, then exit following the signs for Central Embassy. Once you're in Central Embassy, navigate your way to the 5th floor and you'll find Yuutaro.