Yusup Pochana (ยูซุปโภชนา) – Grab a Napkin, You're Going to Drool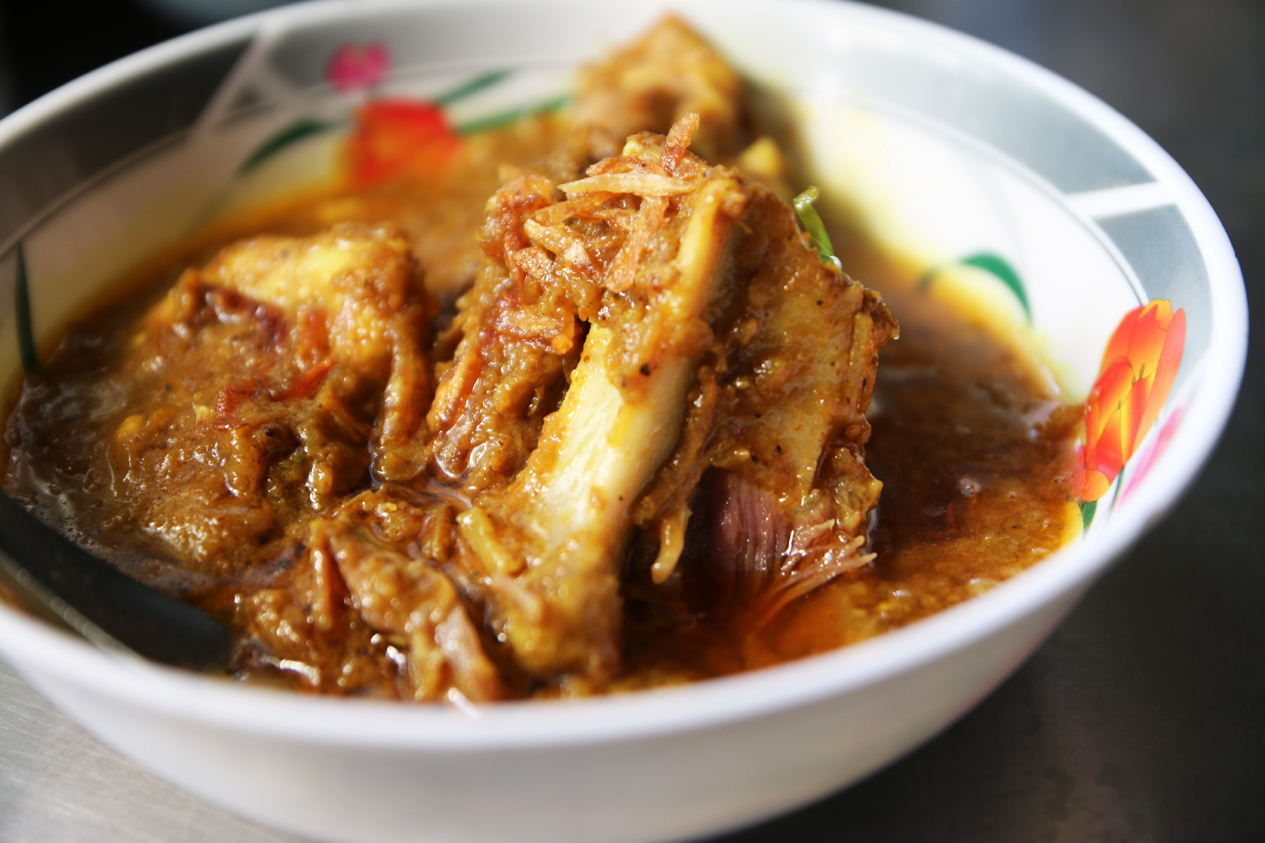 My mouth is beginning to water even as I write this post about Yusup Pochana (ยูซุปโภชนา).
You better believe it… the food was that good!
This famous northern Bangkok Thai Muslim restaurant will serve you a meal you won't forget, and a few of their dishes left me in tears of joy.
The restaurant is in sort of a big garage like dining room, with big iron rafters covered in cobwebs and shiny metal tables and chairs.
After checking out the menu, I'm not ashamed to admit we went a little crazy by ordering all out – mostly because I was so excited to try everything!
They have a few different house-made juices available which were sweet and refreshing.
All good Thai Muslim meals should begin with a roti mataba, a kind of stuffed roti that's fried in lots of oil.
I ordered the mataba pla (มะตะบะปลา), a roti stuffed with a mixture of fish, egg, and spices. It was served with a sweet and sour vinegar filled with red onions, chilies, and cucumber.
This mataba was one of the best I've had so far in Thailand.
Price – 40 THB
Khao mok, or Thai style biryani, is one of the classic Thai Muslim dishes, and at Yusup Pochana (ยูซุปโภชนา) they have their recipes down to perfection.
I used to think the version over at Aisa Rote Dee was good, but I've got to say, all three of the plates I had here were multiple times better.
Khao mok neua (biryani with beef ข้าวหมกเนื้อ) came as a gigantic chunk of boneless and tender beef, sunken below a pile of rice that was topped with fragrant fried shallots. The sauce was also perfect, just the right sourness and spiced with mint.
Price – 80 THB
Goat is not always available in Bangkok, so when I see it on the menu, I go for it.
At Yusup Pochana (ยูซุปโภชนา) they only make goat dishes on Tuesday, Saturday, and Sunday – so if you're looking for a dose of this good stuff, come on one of these days.
The khao mok peh (biryani with goat ข้าวหมกแพะ) was also amazing, the goat was extremely tender. Due to supply and demand, the goat version was quite a bit more expensive than the beef or chicken.
Price – 185 THB
Finally the khao mok gai (biryani with chicken ข้าวหมกไก่), the cheapest version of all of them, included the same glorious rice with a meaty drumstick on the side.
Excellent again, but my vote was for the red meat versions.
Price – 50 THB
Everything I ate at Yusup Pochana (ยูซุปโภชนา) was incredible, but the kuay teow kaeng gai (ก๋วยเตี๋ยวแกงไก่) wasn't my favorite of the meal. The rice noodles were beneath a creamy rich coconut curry and layered with all sorts of goodies.
The curry sauce was a little on the sweet side for my taste, but I'd still recommend it. However… I was a little more occupied by my goat curry (see below).
Price – 40 THB
One of the real bonuses I love about eating at Thai Muslim Halal restaurants is that beef is available, and I nearly always order the soup neua (ซุปเนื้อ), or just beef soup.
The broth was sour and spicy, with a tinge of tomato, lots of garlic and onions, lime juice to make it sour, and big meaty cubes of fall apart tender beef.
Price – 70 THB
You don't always need noodles in noodle soup, sometimes you just want all the goodies that comes with the noodle soup, and that's when you order kow lao neua (เกาเหลาเนื้อเปื้อย). Again, it was packed with luscious beef broth, chunks of beef, and beef meatballs.
Price – 40 THB
Kaeng kari gai (กะหรี่ไก่), is a Thai curry flavored with curry powder and turmeric and thickened with creamy coconut milk. Their version was mild yet had a real comforting taste to it.
Price – 40 THB
Alright, finally the moment you've been waiting for… on to the ultimate dish of the meal, and what I can safely say was one of the best dishes I've ever tasted in my entire life – for real!
This piece of goat, known as kuruma peh (กุรุหม่าแพะ) on their menu, is a complex Muslim Thai dish that includes a mix of flavors and spices from India, Myanmar, and Thailand.
Note: Only available on Saturday and Sunday.
Cinnamon, cumin, turmeric, and garam masala all in a rich oily curry sauce saturated the meat, which was so tender it just flaked apart with a chew from my lips (not even my teeth).
The flavor was outrageously good, one of those dishes where all you can do is chew and close your eyes, hardly unable to believe the level of delicious.
Price – 170 THB (and remember mutton is only available on Tuesday, Saturday, and Sunday)
The Bottom Line
I really have nothing else to say other than the food at Yusup Pochana (ยูซุปโภชนา) is insanely delicious. You will not ever regret eating here.
Yusup Pochana (ยูซุปโภชนา)
Address: 531/12 Kaset Nawamin Road (Tawmaw 97), Lat Yao Chatuchak, Bangkok | 531/12 อาคาร บริเวณสี่แยกเกษตร ถนนเกษตร-นวมินทร์ (ตอหม้อ 97) แขวงลาดยาว เขตจตุจักร กรุงเทพฯ
Phone: 08-1659-6588
Open Hours: 8:30 am – 3 pm daily (closed on Monday and Tuesday of the 3rd week of every month)
Prices: Normal Thai prices, about 50 – 100 THB per dish
NOTE: Goat is only available on Tuesday, Saturday, and Sunday and the Kuruma Peh is only available on Saturday and Sunday.
Want to see the video? Click here.
How to get there:
There's no real easy way to get to Yusup Pochana (ยูซุปโภชนา) other than taking a taxi or personal vehicle. If you go by taxi, it's sometimes even hard, so I would recommend printing off the address and name of the restaurant to show the driver. The restaurant is located on the side of Prasert Manukitch Road, in the northern part of Bangkok, about 10 or 15 minutes north of Chatuchak.
Note: There are 2 restaurants next to each other, make sure you veer right on the little bridge.

View Bangkok Eating Thai Food Map in a larger map