Yoy Pochana (ร้านย้อยโภชนา) – Classic Thai Chinese Food in Phuket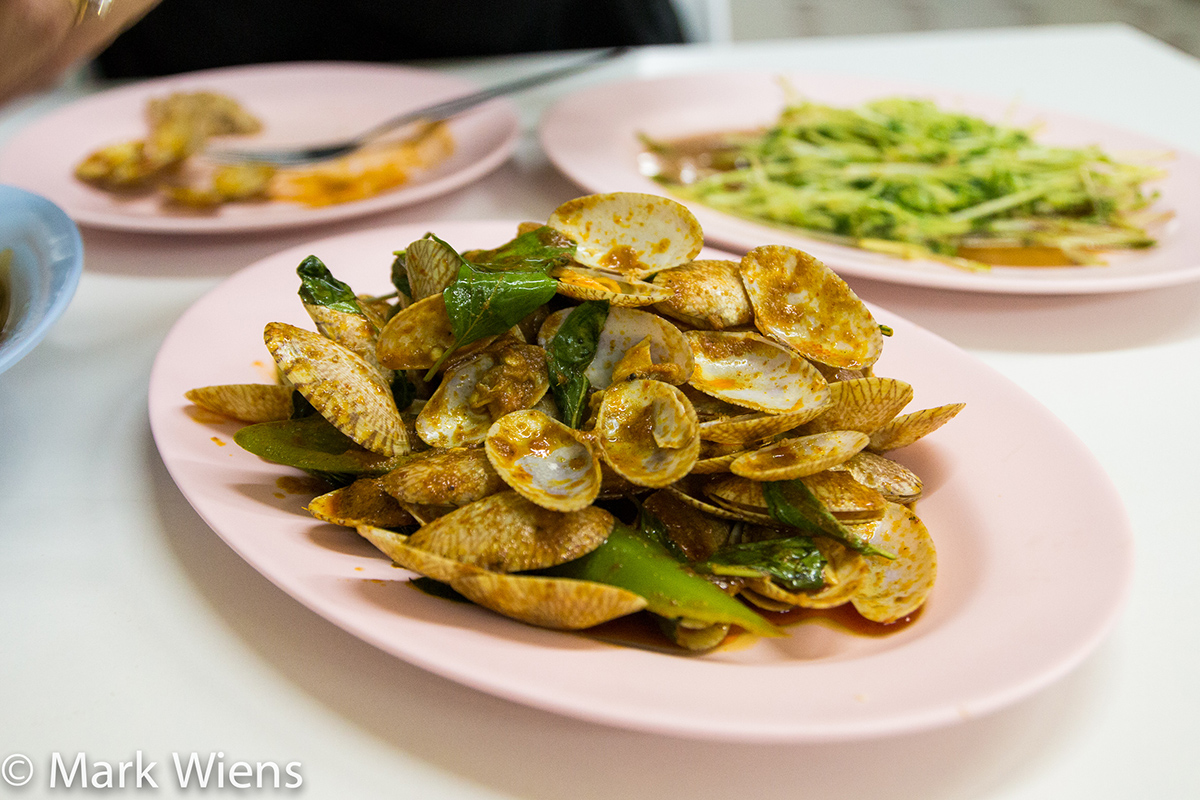 On my first night in Phuket town, I was just walking around Old Town, and though it was quiet and not much was happening, we stumbled into a restaurant called Yoy Pochana (ร้านย้อยโภชนา).
Located right across the street from Phuket's museum and slotted in an old Sino-Portuguese building, I immediately liked the looks of the restaurant.
And although it was just a normal weekday evening, it was packed out too – a few people were even waiting for a table.
The restaurant reminded me of eating in Malacca, both the Portuguese and Chinese influence in the atmosphere and food.
There were tables set up inside throughout the restaurant, along with a few tables scattered around the outside and down the sidewalk, and even a few tables across the street on the sidewalk outside the museum.
I wanted to get a table outside on the dimly lit sidewalk to enjoy the lovely Phuket evening breeze, but in the end we chose a table inside the restaurant.
The menu, which I think was only in Thai (I didn't notice an English menu), included all sorts of different dishes, a mixture of both classic Chinese and many Chinese adapted local southern Thai dishes.
It was a tough choice, and like just about every restaurant I visit, I wanted to taste everything.
As you walk into Yoy Pochana (ร้านย้อยโภชนา), you'll see a number of pre-cooked dishes, most of them slow braised Thai Chinese dishes.
Most of the dishes at the front are on the menu, but alternatively you can go up to the front, see what's available and choose something as well.
Tom jab chay (ต้มจับฉ่าย)
From the front of the restaurant I ordered a bowl of tom jab chay (ต้มจับฉ่าย), a very popular Thai Chinese dish of vegetables, this time including carrots, daikon radish, and greens, cooked until fall apart tender, with just some very mild spices.
Rather than being a very flavorful dish, it's more of a soothing, and very easy to eat dish.
Their version of tom jab chay (ต้มจับฉ่าย) included some big hunks of pork skin, which I wasn't a fan of, but the overall flavor and the vegetables was delicious.
Pad dow meaw nam man hoy (ผัดโต้วเหมี่ยวน้ำมันหอย)
I wasn't totally sure what vegetable I was going to get when I ordered the pad dow meaw nam man hoy (ผัดโต้วเหมี่ยวน้ำมันหอย), but I decided to give it a try anyway, hoping to try something knew.
After getting it, I realized they were pea shoots.
Sunflower sprouts(ยอดอ่อนทานตะวัน) are starting to become more popular on Thai menus, but I hadn't seen peas hoots too often.
The pea shoots were stir fried in a wonderful blend of soy sauce, with just a hint of oyster sauce.
They had a nice garlic flavor, and though the sprouts themselves were a little on the chewy side, the way they were cooked and the flavor was marvelous.
Hoy lai pad ped (หอยลายผัดเผ็ด)
The hoy lai pad ped (หอยลายผัดเผ็ด), Thai surf clams, stir fried in southern style curry paste, had amazing flavor.
It was spicy, salty, packed with chilies and turmeric, and with a nice basil flavor.
My only complaint was that the actual quality of the surf clams wasn't very good – there were many broken shells, and the clams themselves were very small.
That being said, the dish wasn't very expensive, so that's alright.
Apart from that, the flavor was again top notch.
Goong pad sauce makam (กุ้งผัดซอสมะขาม)
When Ying and I ordered this plate of goong pad sauce makam (กุ้งผัดซอสมะขาม), shrimp stir fried with tamarind sauce, I wasn't totally sure how well I'd like it.
In the south, dishes stir fried with tamarind can sometimes be sweet, which I'm not huge on, and other times not so sweet, which I do enjoy.
This version at Yoy Pochana (ร้านย้อยโภชนา) was absolutely wonderful.
The shrimp were big and meaty, and the tamarind sauce was sour and tangy, and lightly sweet and fruity. It was topped with a handful of crispy garlic and cilantro which made it even better.
The goong pad sauce makam (กุ้งผัดซอสมะขาม) was probably my favorite dish of the meal.
Conclusion
Yoy Pochana (ร้านย้อยโภชนา) is an evening only, neighborhood Thai Chinese restaurant located right in the heart of Phuket Old Town.
I didn't get to try even a fraction of all the dishes on their menu, but the dishes I ordered were all very good. Some of the ingredients could have been better quality, like the surf clams, but the flavors were wonderful.
Probably my favorite dishes of the meat here was the goong pad sauce makam (กุ้งผัดซอสมะขาม), shrimp stir fried with sour tamarind sauce.
Along with serving delicious food, it's in a perfect and convenient location.
Yoy Pochana (ร้านย้อยโภชนา) – Phuket
Address: 33 Thanon Krabi, Phuket Old Town
Open hours: 5 pm – 1 am daily
Phone: 076-212-022
Prices: Dishes are quite reasonably priced, about 50 – 100 THB for most dishes
ที่อยู่ 33 ถนน กระบี่ (ร้านย้อยโภชนา อยู่ตรงข้ามพิพิธภัณฑ์ไทยหัว) ตลาดใหญ่ เมืองภูเก็ต
โทร. 076-212-022
เปิดบริการ ทุกวัน 17.00 – 01.00 น.
How to get there:
Yoy Pochana (ร้านย้อยโภชนา) is located right across the street from Thai Hua Museum, right along Krabi road, just west of Yaowarat Road.
For the map, scroll down to "Southern Thailand," then click on "Yoy Pochana."