Yee San (ร้านยี่สาร) – Traditional Thai Food, Lovely Atmosphere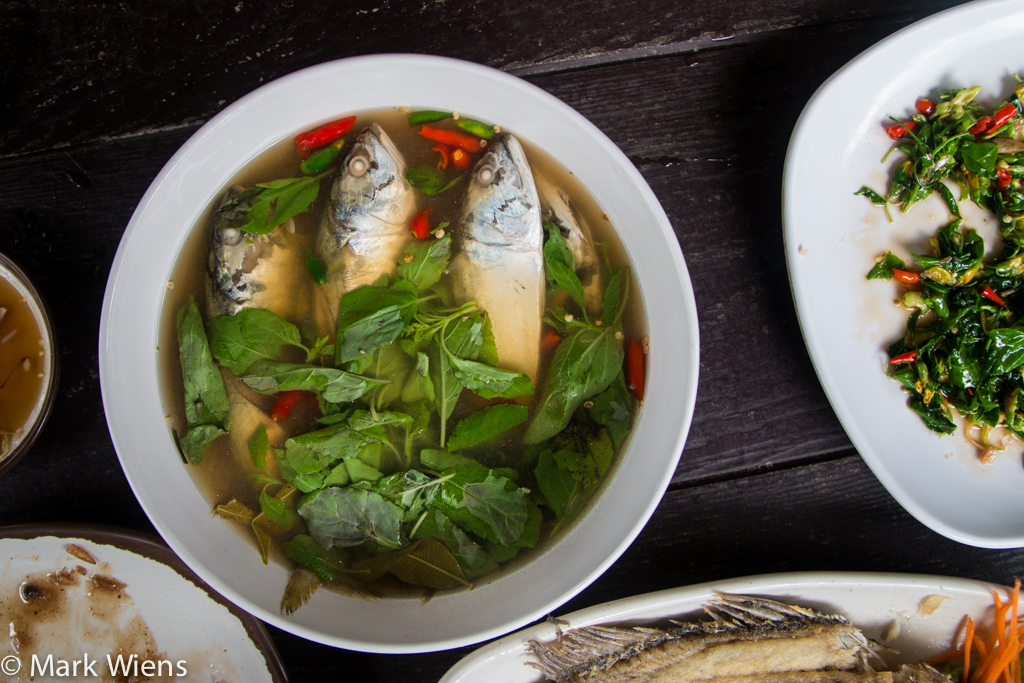 Krua Baan Yee San (ครัวบ้านยี่สาร) is a restaurant, located in Nakhon Pathom (about an hour outside of central Bangkok), that serves traditional Thai food.
I actually had a chance to eat here during a scene when we were filming a Thai food show, where I learned the royal art of Thai fruit carving and also got to eat some delicious salads.
Luckily, there was also time to eat a full meal.
One of the most famous things on the menu at Krua Baan Yee San (ครัวบ้านยี่สาร) are a number of Thai dishes prepared with a pak chakram (ผักชะคราม), something I had never heard, seen, or eaten before in Thailand.
I think in English it's a type of seepweed, and it's used in traditional Thai food, but i's very rare – like I said – this was my first time to have it.
It was sort was like pine needles, only soft like miniature green beans.
We ordered a dish called nam prik kapi pak chakram (น้ำพริกกะปิ ผักชะคราม), Thai nam prik chili sauce made from fermented shrimp paste, served with the vegetable made into little bite sized balls and topped with a dab of coconut cream.
It was fantastic, I loved the vegetable, partly because it was my first time to eat it, and I'm always a huge fan of nam prik kapi.
Price – 80 THB
The nam prik kapi (น้ำพริกกะปิ) was quite excellent, and paired with the vegetable, it was even better.
A great way to begin our meal at Krua Baan Yee San (ครัวบ้านยี่สาร).
Along with the little balls of pak chakram, we also ordered the salad version of the little green leaves, known as yam pak chakram (ยำผักชะคราม).
The leaves were combined with big jumbo prawns, chilies, peanuts, and fried shallots on top, with a delicious dressing of coconut cream and roasted chili sauce (prik pao).
Price – 150 THB
It was a little sweet, but I loved the vegetable again, and the meaty prawns, as well as a fantastic fried chili flavor.
Also, the rich coconut cream based dressing was wonderful.
The yam woon sen talay (ยำวุ้นเส้นทะเล), mung bean noodle salad with mixed seafood, was alright, but quite normal. What made it good was the good quality ingredients, and lots of fresh lime juice and chilies.
Price – 150 THB
One of my favorite dishes of meal was pla meuk kapi prik tai dam (ปลาหมึกกะปิพริกไทยดำ), squid stir fried with fermented shrimp paste and black pepper.
Wow, this dish was a true stunner, I loved it.
Price – 150 THB
The squid was so fresh, and had the perfect texture – not too soft and not too rubbery – and it was stir fried in just the right amount of subtle shrimp paste, garlic, and coarsely ground black pepper.
I thoroughly enjoyed every piece of squid on the plate. If you ever eat at Baan Krua Yee San (ร้านยี่สาร), this is one of the Thai dishes you don't want to miss.
The boo kai nor mai dong kaeng som (ปูไข่หน่อไม้ดองแกงส้ม), a Bangkok style kaeng som soup, made with crab and its eggs and pickled bamboo shoots, was alright, but not my favorite.
Bangkok style kaeng som is kind of like sweet and sour soup, which I'm not a huge fan of, I like the southern Thai version of kaeng som. It was a little sweet, but it was at least spicy to go with it.
Price – 350 THB
The pla tod nam pla (ปลาทอดน้ำปลา), a barramundi fish deep fried to a crisp, was alright. Unfortunately it was deep fried and then drizzled in a syrup sweet sauce, which I didn't really care for.
The fish itself was delicious and it was deep fried perfectly, but next time I would ask for it without the sweet syrup sauce on top.
Price – 350 THB
But Krua Baan Krua Yee San (ร้านยี่สาร) answered right back with another winning dish, pla too dom ma dan (ปลาทูต้มมะดัน), a sour and fiery clear soup, filled with mackerel and packed with holy basil.
Along with the squid dish, this was my favorite dish of the meal. It was sour, filled with herbs, and spicy.
I'm not sure of the price because this is one of the dishes the video team ordered.
Pad mee boran (ผัดหมี่โบราณ), translates to old style fried noodles, and it was pretty good. The noodles kind of had a sweet and sour, plus saltiness to them, and they were fried with a nice mix of egg, green onions, dried shrimp, tofu, and bean sprouts.
I thought the pad mee boran (ผัดหมี่โบราณ) was quite tasty, and definitely had a real Thai flavor, mix of sweet, spicy, and sour, flavor to them.
Price – 80 THB
Wrapping up our meal, we also had pad dok kajon (ผัดดอกขจร), stir fried cowslip creeper flowers. Again, this was a dish that the team ordered, so I forgot to get the price.
It was very good, the flowers stir fried up with some other type of leaf as well, and plenty of chilies.
Just outside the entrance of Krua Baan Krua Yee San (ร้านยี่สาร), sort of part of the restaurant, but occupying its own little building, is a cafe.
After such a feast, there were only two things I could do – take a nap, or drink coffee – and since we had work to do, I had coffee.
So make sure to grab a coffee on your way out.
One of the best things about eating at Krua Baan Krua Yee San (ร้านยี่สาร) is the atmosphere.
The restaurant is housed in a 200 year old traditional Thai wooden house, which is in great condition, and which is owned by the family of the owner, who is also the chef.
The ambiance and decoration are fantastic, with some antiques around the restaurant, as well as displays of fresh Thai vegetables and fruit.
Conclusion
If you're ever in Nakhon Pathom and looking for a nice restaurant to relax at and eat some traditional Thai dishes and also some unique Thai dishes (like pak chakram (ผักชะคราม), Krua Baan Krua Yee San (ร้านยี่สาร) is a fantastic restaurant.
Overall, I thought the food was wonderful. A few of the dishes, which I mentioned above, were a little on the sweet side, but apart from that, there were some real winning dishes.
The owner of the restaurant and head chef as well, is extremely kind and friendly as well.
Krua Baan Yee San (ครัวบ้านยี่สาร)
Nakhom Pathom, Thailand
Address: Sala Thamasop 25, Tawiwathana, Bangkok, Thailand 10170
Open hours: 11 am – 10 pm daily
Phone number: 02-889 7325, 085-162 3901, 085-019 5512
ที่อยู่ ศาลาธรรมสพน์ 25 ทวีวัฒนา กรุงเทพมหานคร 10170
โทร. 02-889 7325, 085-162 3901, 085-019 5512
เปิดบริการ ทุกวัน : 11:00 – 22:00 น.
How to get there:
To get here, you either have to take a taxi or private vehicle – it's a bit off the beaten path, in Nakhon Pathom. Here's the map to get there:

View Bangkok Eating Thai Food Map in a larger map