Vegan Food Porn: Hummus and Avocado Laced Veggie Monger at Bangkok Bagel Bakery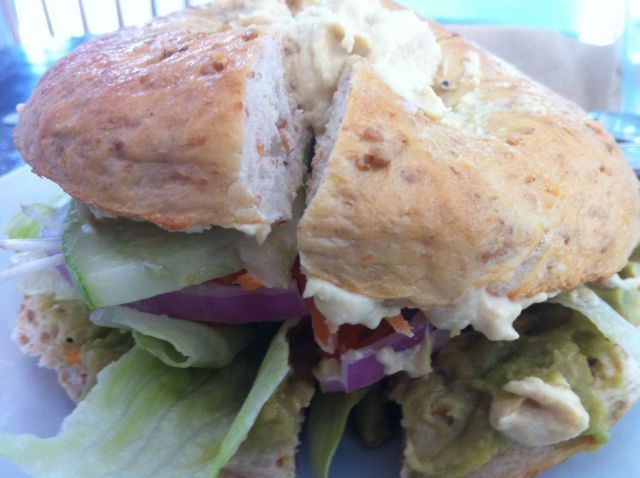 Vegans rejoice! This is a sloppy mouthful of fresh and delicious veggies. In this closeup you can see the likeness of a volcano of hummus pouring out of the top of the top of the bagel and avocado spread overflowing from the bottom. That's the way I like it! I don't want to believe that this wasn't done especially for my hard to please appetite, but I know the other bagel sandwiches are also stuffed full. I chose to have my 'Veggie Monger' Bagel (150 THB or $5) on a toasted whole wheat bagel, but it's rumored also to be delicious if you have it on the shop's poppy seed bagel.
Here's a cross section of this bagel sandwich which you'll find surely tough to hang on to. We proudly made a mess.
To find it, go to the Bangkok Bagel Bakery which is located at the Chitlom BTS Station (the shop is at the base of the Maneeya Building on the side closest to the Renaissance Hotel).
There's still another post coming later— with you guessed it, more hummus!