Vanishing Vegetarian: Silom Soi Convent's Hidden Street Food À la Carte Stand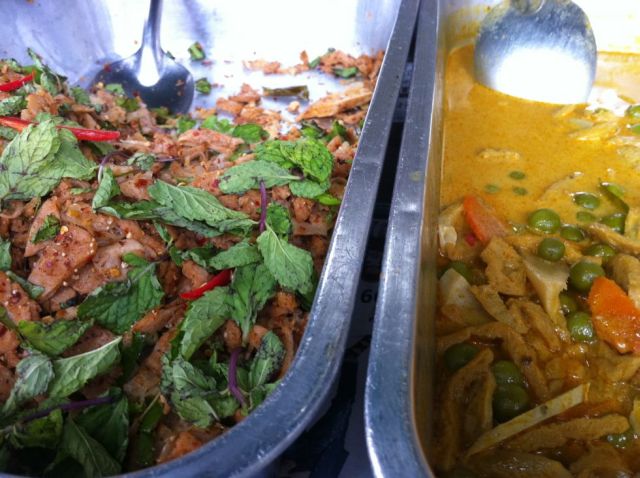 This place must be a secret. I don't know how you would know about it any other way. You would have had to have gone there to know how to find it because we haven't seen it anywhere on the web and the signs to lead you this place are pretty bad. To make matters worse there are even obstacles (i.e. super popular and meat filled street food stands along the way) to overcome if you're not a confident vegetarian. To summarize, it's a trek deep in a small street that you may make while hungry and will need to pretend to be ignorant to some serious lunchtime munching stalls that are sure to tempt you along the way. Not an adventure for the weak.
That's right, this is the Cinderella of vegetarian Thai street food places. Like many food stalls in Silom's business districts if you show up for a late lunch the place may have already vanished! Also, like many Silom street eateries, it doesn't help to tell you the name of the restaurant (Tai Sin) as we're sure even regulars don't know. What you can expect is a brief lunch period where the woman above appears in front of an old house with tons of curries and typical Thai dishes that have been made with tofu or mushrooms instead of meat.
You can pick a two item plate for 30 THB or $1. I was a big spender with the 3 item plate which costs 45THB. This place is cheap and tasty. Would be better with some brown rice, but if you're in the area and you want some good flavors with even some deep fried options, then I recommend this stand. You can go crazy here and won't be able to spend much over $2. Just don't show up too long after the lunch hour, because the closer you come to 1pm, the more likely it will be that the food has sold out and the chummy seller has begun her packing up rituals.
My Plate Clockwise (with my sketchy English translations): Spicy curry with morning glory (ผักบุ้งผัดพริกแกง), a spicier yellow curry with coconut shoots (ยอดมะพร้าวผัดพริก), and mild banana leaf curry (ต้มข่าหัวปลี).
To find this vegetarian you place (and you gotta really want to) use our map to lead you to into Soi Convent (closest to BTS Sala Daeng) and then into Soi Pipat 2. You will know you're on the right track to the vegetarian stand if you see a sign for 'Sam's fish and chips' or smell a stack of grilled meat at the front of the even smaller soi. Stay focused! Walk into the soi and look to your right you'll find food waiting—or not!

View Eating Thai Food Map in a larger map