Traditional (and Exceptionally Delicious) Thai Food at The Local Restaurant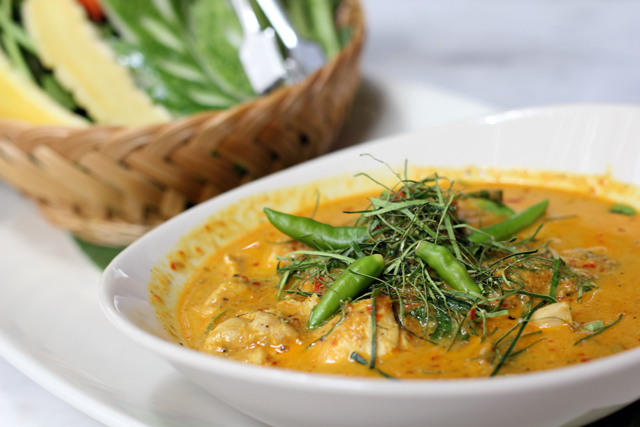 What is traditional Thai food?
Restaurant owner and Chef Cann explains that for himself, traditional Thai dishes are the flavors and combinations he remembers from his childhood, the dishes his mom prepared and served at home.
Using the comforts of home cooked traditional Thai food along with a few recipes from the ancient archive of the royal Thai kitchen, Chef Cann aims to preserve Thai culture through his menu.
At The Local Restaurant you'll find over 70 different dishes, many of them traditional and noticeably different from modern day Bangkok fare.
We began the meal with a gorgeous appetizer mixed plate known as Ruam Kam Aroy (รวมคำอร่อย).
Included on the plate was a coconut shell bowl filled with creamy khao soy surrounded by a number of other dainty tidbits like lemongrass shrimp and pandanus wrapped fried chicken (green triangles on the right).
Price: 250 THB
Something about eating flowers is always exciting to me, I guess it's the fact that for so long we've seen flowers as pretty things to look at, but not to eat.
I was particularly interested in the beautiful bite sized purple lotus pedals. Chef explained that the green and white lotus flowers are not edible, but only the purple pedals.
The sweetness of toasted coconut, the flavorful red onion and shallots, and the zest of lime peel all piled into a lightly sweet lotus flower made it a single bite of complex goodness.
Along with balancing flavors to perfection, another fundamental aspect of Thai cooking is not overcooking the ingredients. The mixed vegetable dish known as Pad Pak Pun Baan (ผัดผักพื้นบ้าน) was cooked so it was still crisp and not at all limp or over done.
It was a mixture of 5 different things including ivy gourd leaves and flower buds. The combination was fresh, fragrant with garlic, and it made a great accompaniment to the other curries and flavors of the meal.
Price: 180 THB
Another prized item on the menu is the traditional Thai Gaeng Run Juan (แกงรัญจวนเนื้อ).
The fantastic dish included fresh strips of thinly sliced beef flank steak lightly cooked and combined into almost what I'd call a meat salad curry.
Here's more of a close up shot of the dish. Can you see the finely shaved slices of lemongrass, the whole baby cloves of garlic and the whole chillies?
Those ingredients along with a lime and shrimp paste dressing made it wholly flavorful and simply a joy to eat!
It was one of those dishes that as soon as I sampled it, I just couldn't help from closing my eyes and savoring every vibrant component.
Price: 240 THB
Simple yet remarkably flavorful is how I'd describe the Pak Miang Pad Kai.
Pak Miang is a rare leafy vegetable, it's difficult to find in most Bangkok markets, so I was delighted to see it on the menu of traditional Thai food at The Local Restaurant.
Sometimes when you order vegetables stir fried with egg it is served watery because the heat and oil are not at the exact perfect temperature. At The Local, the dish was stir fried with just the right amount of oil and precise heat so all the flavor remained on the leaves and egg without being drained out by extra liquid.
The egg was lightly crunchy on the outside and the leaves were seared. The combination is  something I could probably eat everyday!
Price: 180 THB
One of the signature traditional Thai food dishes served at The Local is their Pla Ta Pien Tom Kem (ปลาตะเพียนต้มเค็ม).
Simmered for over 20 hours in a secret blend of sugar cane juice and ginger, this beauty was delivered to the table with a halo of food glory around it (Ok, maybe that was in my imagination) – it really was that magnificent.
As you can see from the photo above (and video to come soon), there's already a chunk removed from the lefthand side of the fish… it was cooked for so long that we could just slice through the bones and eat its entire carcass!
It was so soft and tender that every bite melted in my mouth and because it was simmered for so long, the flesh was saturated like a sponge full of luscious juices.
Price: 380 THB
The last dish we sampled was the Gaeng Kua Gai Bai Som Pan Kee Maa (แกงคั่วไก่ใบส้มแป้นขี้ม้า), and it was one of those home-run kind of dishes!
The rich coconut cream was loaded with turmeric and chillies, and to me it had a smooth nutty flavor.
What I really liked is that it wasn't overly sweet like some Thai curries, but instead there was a hint of bitterness – not a medicine flavor, but just a tiny hint of subtle bitterness that really worked well with the other ingredients. The shaved orange leaves and whole bird's eye chilies on top added the final perfect touch.
I'd highly recommend this curry!
Price: 280 THB
At The Local restaurant they've done a great job of creating an elegant yet traditional Thai atmosphere. The front part of the facility includes a small antique museum as well as a number of private dining rooms.
Outdoors there's a garden with a full bar and finally the main dining room is located in the back. Just moments from busy Asoke road in Bangkok, The Local is a quiet and relaxing environment.
The Bottom Line
Traditional Thai food served in a wonderfully blissful environment is what makes The Local such a special dining experience. It's a great family sit-down restaurant or a fantastic place to come with your friends to enjoy an authentic Thai feast.
For the high quality of the food and the care of the ingredients used in the cooking, the prices are very affordable. I might add that the service is also exceptional.
The Local Thai Cuisine
Address: 32-32/1 Sukumvit 23, Klong Toey Nue, Wattana, Bangkok, Thailand 10110
Hours: Lunch and Dinner
Phone: 02-664-0664, 02-664-3360-1
Website: The Local and also check out their Facebook Fanpage
Prices: 300 – 600 THB per person
How to Get to The Local
The closest BTS station is Asoke, which is about a 10 minute walk away. Alternatively you can catch a taxi.
Here's the map:

View Bangkok Eating Thai Food Map in a larger map
Be sure to stay tuned, we'll be bringing you a VIDEO of this feast very soon!