Tonkotsu Kazan Ramen – Tasty Ramen in Bangkok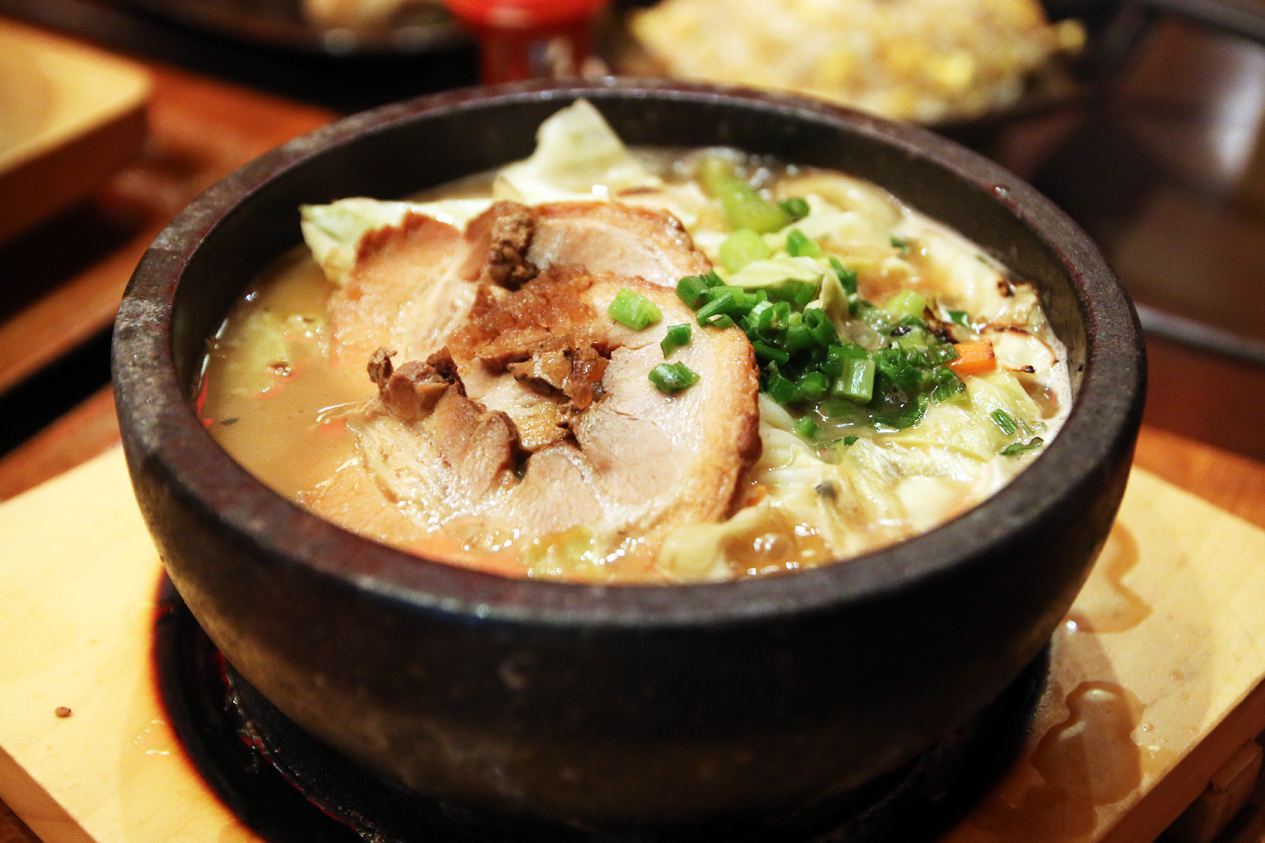 I was invited into the newly opened Tonkotsu Kazan Ramen, and being a lover of Japanese Ramen, I couldn't resist.
Tonkotsu Kazan Ramen is originally from Osaka, and they recently opened their first branch in Bangkok.
Walking into the restaurant, you feel like you're in Japan – the staff greets you in Japanese – and I think about 90 percent of the other diners when I was there were Japanese.
They of course specialize in ramen, but they've sort of pioneered their own unique version of ramen using a Korean food style earthenware bowl, which keeps the soup hot for your entire meal.
I first ordered their classic dish, the Kazan Shoyu ramen in the earthenware bowl.
The noodles, topped with cabbage, and a few slices of house-made chashu pork, came smoking hot. The waiter then poured in the soup as steam came pouring out, and then covered it with a volcano shaped cover.
A few moments later, my bowl of signature Tonkotsu Kazan Ramen was perfectly ready to be consumed.
Can you see that pork on the top?
Those were my favorite few bites of the entire meal. They make the chashu at the restaurant, using good quality pork belly and curing it to perfection. It was so tender and flavorful that I didn't have to chew it, it just melted.
The soup was slightly creamy, and I could definitely taste the pork filled broth. The noodles were also excellent.
We had the small version (199 THB), and it was pretty big. The normal size (249 THB) is even bigger!
Also, it's worth mentioning that along with all the ramen, you also get a bowl of rice on the side. The menu says that after you finish all the noodles, you can then add your bowl of hot fresh rice to the soup for round 2. Not a bad idea!
You probably already know that I have a soft spot for the comforts of Japanese curry, so along with the classic Kazan Shoyu, I decided to sample the Kazan Japanese curry noodles.
It was about the same mixture of ramen noodles, cabbage, and chashu, but instead of the creamy pork bone soup, it came with thick golden Japanese curry.
It was such a hearty bowl of curry, and the flavor was awesome.
Price – Again, 199 THB for small (which is quite big), 249 THB for large
The menu at Tonkotsu Kazan Ramen also includes all sorts of ramen options that are served in normal bowls (not the scorching earthenware bowls), as well as quite a few sides.
I wasn't dreaming about fried rice going into a ramen restaurant, but the fried rice happened to be surprisingly delicious. The rice was fried with egg, and lots of bits of chashu – that's what gave it the incredible flavor!
Price – 99 THB
Another side dish you won't go wrong with at Tonkotsu Kazan Ramen is the chicken karaage, or Japanese fried chicken. It was coated in just the right amount of batter, deep fried to a crisp, and served with light Japanese mayo to dip.
Price – 119 THB
Update July 2014:
Recently Tonkotsu Kazan opened a second branch in Bangkok, this time in Silom at the far end of Patpong. Dwight and I went in to try a few of their new menu items.
In addition to all the other classic Tonkotsu Ramen dishes served in hot eathernware bowls, Hinomaru Tomato Kazan was added to the menu.
It was a tomatoey soup, filled with bean sprouts and ramen noodles on the bottom. To me it sort of tasted like tomato gravy and noodles, and it lacked a good meat flavored broth.
It was alright, but nothing special for me, and I would probably prefer the normal Tonkotsu broth version.
Price – 270 THB
We also had a bowl of classic Tonkotsu Shio Ramen, this time not served in a hot earthenware bowl, but just normal style. I thought it was quite good, not too oily or rich, but the broth was nice and milky from those pork bones.
This was my favorite ramen of the meal, and along with a few squeezes of fresh garlic, it was quite tasty.
Price – 180 THB
An extra side plate of their chashu, cured pork, was pretty good. The meat was nice and tender and just the right saltiness.
Finally for dessert, Tonkotsu Kazan has developed a line of volcano nam kang sai style sweets.
We got the Volcano Ice Kazan Mango, a mound of shaved ice and ice cream with pieces of mango.
When served, the dish was filled with dry ice in the center (within a metal device in the center like a maw fai), so the dry ice created a pretty cool show.
Overall, I'm not a sweets fan, but my wife thought it was very good.
Price – 190 THB
The Bottom Line
Tonkatsu Kazan Ramen is purely authentic, and they not only serve ramen, but also delicious Japanese side dishes. I really enjoyed the classic Shoyu Kazan, the fried rice and fried chicken, and that glorious pork chashu.
Great food, big sizes, and prices are pretty decent for the high quality of food.
If you're craving Japanese ramen, check out Tonkatsu Kazan Ramen at Asoke.
Tonkatsu Kazan Ramen – Bangkok, Thailand
Website: https://www.facebook.com/tonkotsukazanthailand
Open hours: 11 am – 11 pm daily
Address: 2 jasmine Tower,Soi Prasarnmitr (Sukhumvit 23), Sukhumvit Rd, Klongtoey-Nua, Wattana, Bangkok 10110 (Asoke)

View Bangkok Eating Thai Food Map in a larger map
Disclosure: We did not pay for our meal at Tonkotsu Kazan, but all thoughts and opinions are my own.