Tong Tem Toh (ต๋อง เต็ม โต๊ะ) – Excellent Northern Thai Food in Chiang Mai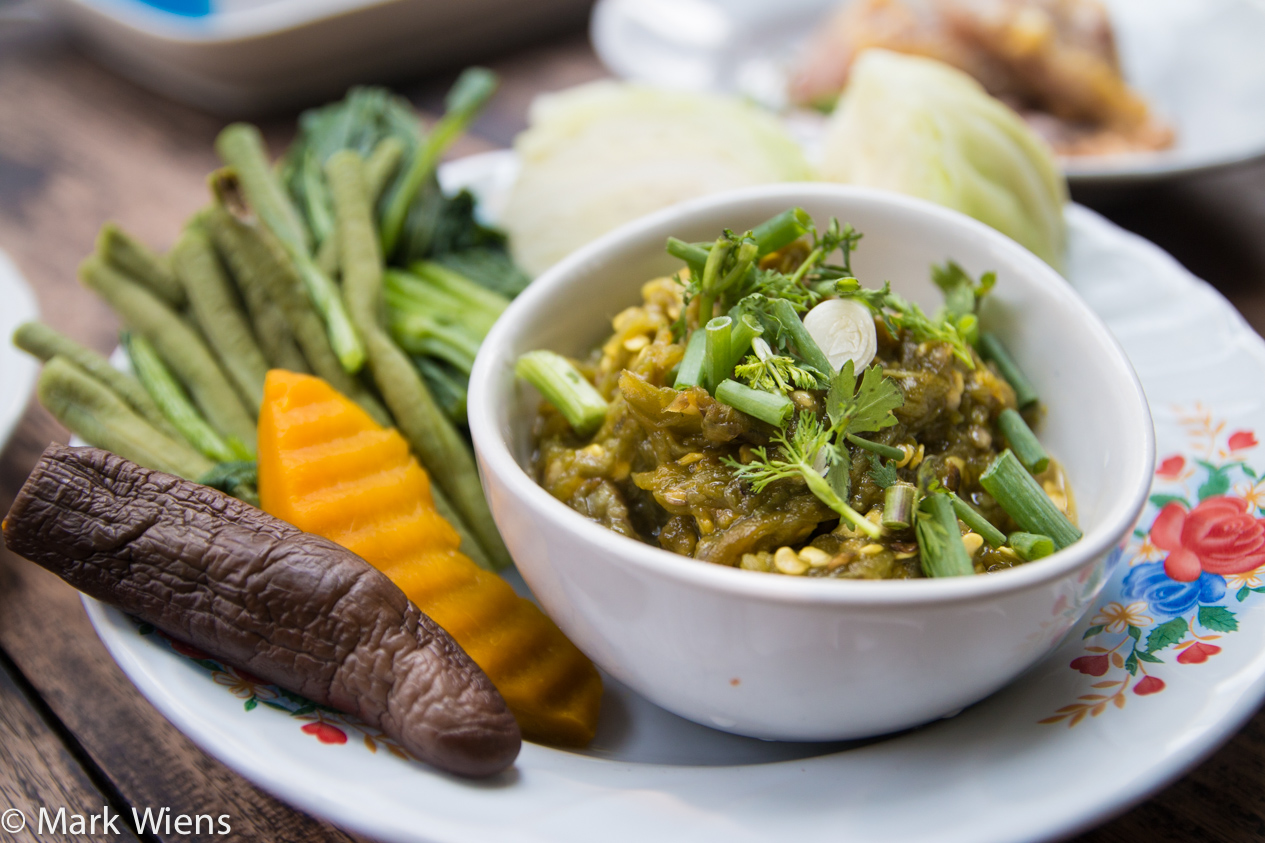 In Chiang Mai there are a number of well known restaurants that specialize in northern Thai food (Lanna cuisine).
Tong Tem Toh (ต๋อง เต็ม โต๊ะ) is sort of a trendy type of Thai restaurant.
They've upgraded from normal Thai street food or classic restaurants with the Pepsi or Maggi tablecloths, and instead they have dark wooden benches and tables, mist machines to keep diners cool, and Bruno Mars playing in the background.
Often I'm sort of turned away from this type of restaurant in Thailand as they try to attract the trendy upscale Thais, and the food is nothing worth raving about.
But just to let you know, despite the trendy atmosphere, I thought the food was excellent.
The menu at Tong Tem Toh (ต๋อง เต็ม โต๊ะ) is extensive and packed full of an array of typical northern Thai dishes.
It's worth mentioning, that if you go for lunch, they don't have grilled items – you have to go for dinner to get food that's grilled. But at lunch you can still get sausages and things that have been pre-grilled (or maybe made on the stove).
Beverages are served in old style Thai metal cups known as kan nam (ขันน้ำ), a nice touch to the ambiance.
They even serve bottled water and juice in plastic bottles branded with their restaurant label!
All well rounded northern Thai meals should include a version of Thai nam prik (chili dipping sauce) and I'm a huge fan of nam prik noom (น้ำพริกหนุ่ม), a chili sauce made from roasted banana peppers.
The peppers are char roasted over fire, then pounded up with some extra chilies for heat, shallots and garlic, and fish sauce.
Nam prik noom (น้ำพริกหนุ่ม) almost reminds me of a Mexican style green salsa, but instead of eating it with tortillas or meat, it's eaten with an array of boiled vegetables.
I like to take some of the nam prik noom (น้ำพริกหนุ่ม) and eat it with spoons of rice, but you can also just grab pieces of vegetables and dab on some of the goodness before taking a bite.
Great stuff, I loved it!
Price – 57 THB
Kaeng hang lay (แกงฮังเล) is one of the most famous northern Thai foods, a curry or stew, typically made with pork, in a gravy made from a mixture of spices, sour tamarind juice, peanuts, garlic, and ginger – there are more ingredients than this, but you get the picture of the spectrum of flavors.
A fatty cut of pork, normally chunks of pork belly, are used to make kaeng hang lay (แกงฮังเล).
The kaeng hang lay (แกงฮังเล) here was quite good as well, a nice well rounded and balanced flavor, plus it wasn't as oily as some other versions I've had.
It was sour from the tamarind, not too sweet, and the pork was tender and succulent.
Price – 72 บาท
This was my very first time to try a northern Thai food known as jeen som mok kai (จิ๊นส้มหมกไข่), a fermented pork and egg sausage.
Mostly fat and pig skin was mixed with salt and garlic, and in this case an egg, wrapped in a banana leaf, and fermented for a few days before grilling it.
The jeen som mok kai (จิ๊นส้มหมกไข่) was served with a handful of roasted peanuts, whole cloves of sweet garlic, and chilies on the side.
Eat a bite of the sausage, and chase it with garlic and chilies and a few peanuts.
It was awesome, quite similar to naem (แหนม). I liked the flavor, but overall, it was intensely pig fatty – can't eat this stuff too often!
Price – 52 THB
Northern Thailand is a meat lovers paradise, and in Chiang Mai, sai ua (ไส้อั่ว) is one of the most famous and beloved foods.
The pork sausage includes a wonderful mix of herbs and spices like galangal, lemongrass, kaffir lime leaves, and chilies.
I thought the sai ua (ไส้อั่ว) at Tong Tem Toh (ต๋อง เต็ม โต๊ะ) was a little on the fatty side, but I loved the nice punch of herbs and spices mixed into it.
Price – 67 THB
Finally to round out our northern Thai food meal, we ordered kaeng pak wan kai mode daeng (แกงผักหวานไข่มดแดง), a soup made with sweet leaves, glass noodles, and ant eggs.
In Thai, the vegetable is known as pak wan (ผัก), scientifically known as sauropus androgynus. It has a pleasant sweet flavor to it, and it's a wonderful vegetable.
The soup was delicious, fresh from the vegetables, and those wonderful ant eggs like little morsels of butter mixed in.
Price – 92 THB

The Bottom Line
I thought the food was wonderful – it's a great restaurant to eat northern Thai food when you're in Chiang Mai. The dishes I order were packed full of flavor and heavy on the spice – I had a great experience.
Though I haven't tried the same dishes at both places, overall, I'd prefer to eat at Tong Tem Toh (ร้านต๋อง) over Huen Phen.
Warning: Just to warn you, the food at Tong Tem Toh (ร้านต๋อง) is quite spicy, so if you're sensitive to chili heat be careful.
Tong Tem Toh (ต๋อง เต็ม โต๊ะ) – Chiang Mai, Thailand
Address: 11 Nimman Haeminda Soi 13, Mueang Chiang Mai, Chiang Mai 50200
Phone: 053-854701
Open hours: 11 am – 11 pm daily
Price: Our total bill was around 450 THB, and we feasted. So expect to pay about 200 – 300 THB per person max.
ร้านต๋อง
ที่อยู่ : ซ.นิมมานเหมินทร์ 13 เมืองเชียงใหม่ เชียงใหม่
เวลาเปิด : ทุกวัน 11.00-23.00 น.
เบอร์โทรศัพท์ : 053-854701
How to get there:
Tong Tem Toh (ต๋อง เต็ม โต๊ะ) is located in the Nimman area of Chiang Mai. Walk down Soi 13, and you'll see the restaurant on your right hand side about 100 meters off the main Nimman road.