Today Steak Restaurant: Bangkok Carnivores Rejoice!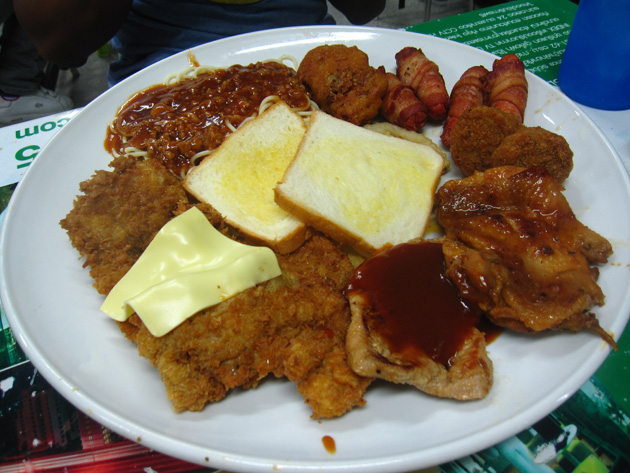 It's always a good sign of a restaurant when the menu is covered in previous grease; you don't gracefully flip through the pages of the menu at Today Steak, they sort of stick to your fingers as you navigate the feast you will order.
But if you are looking for the best steak in Bangkok, there's not even a need to look further than Today Steak, at the Sam Yan Market (just behind MBK shopping mall).
I began the feast with a normal (but still big) beef steak plate (only 80 THB!), covered in pepper barbecue sauce. The sauce in particular (as we can expect in Thailand) was exceptional, a sweet tang with a bite of black pepper.
It's always fun to have a sizzling platter emerge from the kitchen, knowing that what's cooking is coming your way!
The bottom of this dish was a selection of mixed vegetables (though they are somehow hidden by meat in the picture). Over the veggies was a pork steak, an egg, some hot dogs and a piece of buttered toast. I asked for some more of the pepper barbecue sauce!
Price: – 100 THB
The pork steak was the most tender of all the steaks, barely needing a knife to cut into this guy. The medium cooked egg added an extra touch to the already delicious meat.
Price: 70 – 80 THB
This could easily be the definition of everything unhealthy on a single plate. There was enough deep fried-ness to supply oil for a small army. We actually observed a dude trying to impress his girlfriend by ordering this mega-platter, and I thought that was a pretty macho-move; we followed in his footsteps.
Price: 250 THB
The little bacon-wrapped hot dogs were slightly frightening as were the pieces of processed cheese slopped on top.
Even though I'm not the biggest fan of spaghetti (especially the kind where there's not a hint of REAL tomatoes), this version was instead noodles with barbecue meat sauce – and it was actually quite tasty, albeit being slightly over sweet.
It was an involuntary move, Dwight and I saw the waitress ushering in something that looked like a deep fried pigeon carcass. After a few moments of confusion, we ordered it. Turned out to be the Thai version of Chicken Cordon Bleu, quite appetizing!
Price: about 150 THB
So if you are in the mood for great steak (or Thai street meat), a vibrant atmosphere, and affordable prices, head straight over to Sam Yan Market and reserve a seat today at Today Steak Bangkok!
Address
Today Steak
Sam Yan Market, Chula, 2nd Floor
Tel. 0-2214-1001, 084-4500597
Today Steak
ตลาดสามย่าน จุฬา ชั้น2
โทร. 0-2214-1001, 084-4500597
How to Get There
It's possible to walk from the Siam area of Bangkok. Closest train stations are Sam Yan MRT and National Stadium BTS.

View Eating Thai Food Map in a larger map