Thonglor Ekamai: Restaurants and Bars, According to the Area's Guru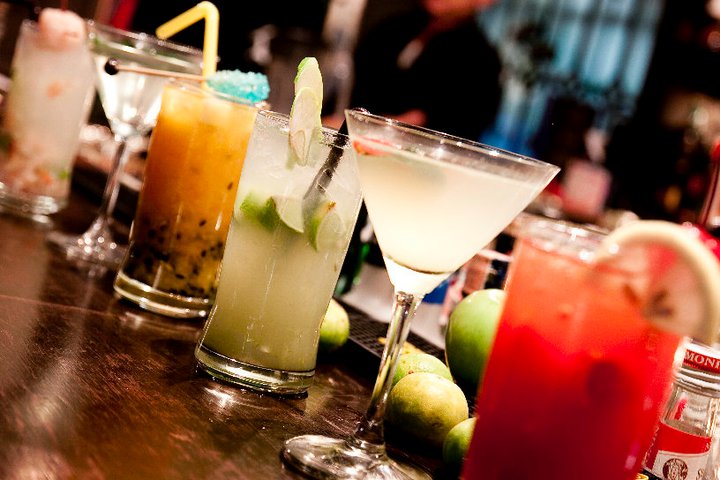 The Thonglor-Ekamai area is easily one of Bangkok's most trendy and fashionable districts. Think daytime shopping and eats, evening drinks and partying. But there's much more character to the area than what most of the us know. Today we sit down with Sapphira, the area's chief know-it-all foodie. Her dedication to eating good and having fun in Thonglor-Ekamai has led her to champion the creation of a free Nancy Chandler guide map to the area.
Let's get right to the food and restaurants in the Thonglor and Ekamai areas. Where would you take us to impress us with Thai food?
Sapphira: That's funny; we were asked exact question on our Facebook page last night.
Our personal favorite, hands down, is Sabai Jai Gai Yang (สบายใจ ไก่ย่าง) in Ekamai soi 1. We always bring visiting guests to feast at this authentic Thai and Isarn restaurant. They are famous for the Grilled Chicken with Fried Garlic but we usually order their Tom Yum Chicken, Morning Glory and Chicken Larb. Prices are reasonable and we love to eat there when we're in a big group.
Another favourite is Soul Food Mahanakorn in the beginning of Thonglor Street. The prices are more expensive, but we enjoy the fresh quality of their ingredients. The two dishes we always order are the Thai Chicken Samosas and Smoked Duck Larb.
We love those places too! We'll have to go back and try some of the dishes you suggested.
Ok, let's talk from one Bangkok fatty to another. What's the place you go to really indulge?—by that we mean something that's going to make you feel so guilty that you avoid your personal trainer for a few days.
That's easy – 3 places come up to my mind instantly:
BonChon Chicken (Seenspace 13 Thonglor) – their succulent and juicy (bone or boneless) Chicken Wings are to die for. I personally like their Garlic Soya dressing (it's the closest thing to Honey Garlic sauce in Thailand) and their original Gyoza, Seasoned Fries and definitely their Strawberry Soju. I am salivating just thinking about it.
When I crave comfort food, I crave Italian. I would recommend Beccofino (Thonglor 4) for their excellent antipasti buffet lunch deals starting at 290 baht ++. For dinner, my new favourite is diVino's in Penny's Balcony Thonglor 16. There are a few pasta dishes that I want to try, paired with their recommended wines.
Last and definitely not least are the cupcakes at Sparkles, (Sukhumvit soi 53). Whilst my all-time favourite is the Red Velvet cupcake, I adore their Peanut Butter and Maple Syrup Cupcake and their Espresso-Chocolate Cookies.
And you know the ironic thing is? It is a huge indulgence but I don't feel guilty after stuffing my faces at the above at all. I treat them as special places for special occasions, and convince myself that I deserve it!
Here's a hypothetical–we just got to Bangkok and don't know where to go for a good night out. Someone recommends bars in Thonglor or Ekamai, can you help us and map an ideal night?
After dinner, we would bar hop from Iron Fairies (Thonglor 14) to check out the ambiance, Fat Gut'z (Thonglor 12) to check out the live jazz music. Blue Velvet (update: now closed) is a great place to finish off at as they have killer drinks and good tunes.
If they want a chilled night, I would suggest heading to Tuba (Ekamai 21) for their Happy Hour special from 5pm – 8pm and then to Café de Bangkok (opposite Ekamai 21) for some cozy and chilled out environment, also with a live band. We can converse and actually hear each other at these two places.
If they want a big night, I would recommend the big clubs such as Nunglen (Ekamai 5), Funky Villa, Demo and Muse (all in Thonglor 10 and walking distance). After hours club? No problem – head straight to Whip in Liberty Place (above Thonglor 20).
Sweet, now all the ETF fans will know where to find you partying!
Thanks Sapphira we're a fan of what you're trying to do in your hood and hope to spend some more time there. Keep sharing the great eats and places to hang!
Sapphira is the mastermind behind Thonglor-Ekamai.com where you can find the most comprehensive map of the area. Keep track of her food tips and cool events like we do by following @ThonglorEkamai on twitter and facebook.
Note: Sparkles & Blue Velvet images courtesy of Thonglor-Ekamai.com