Theo Mio: One of the Best Italian Restaurants in Bangkok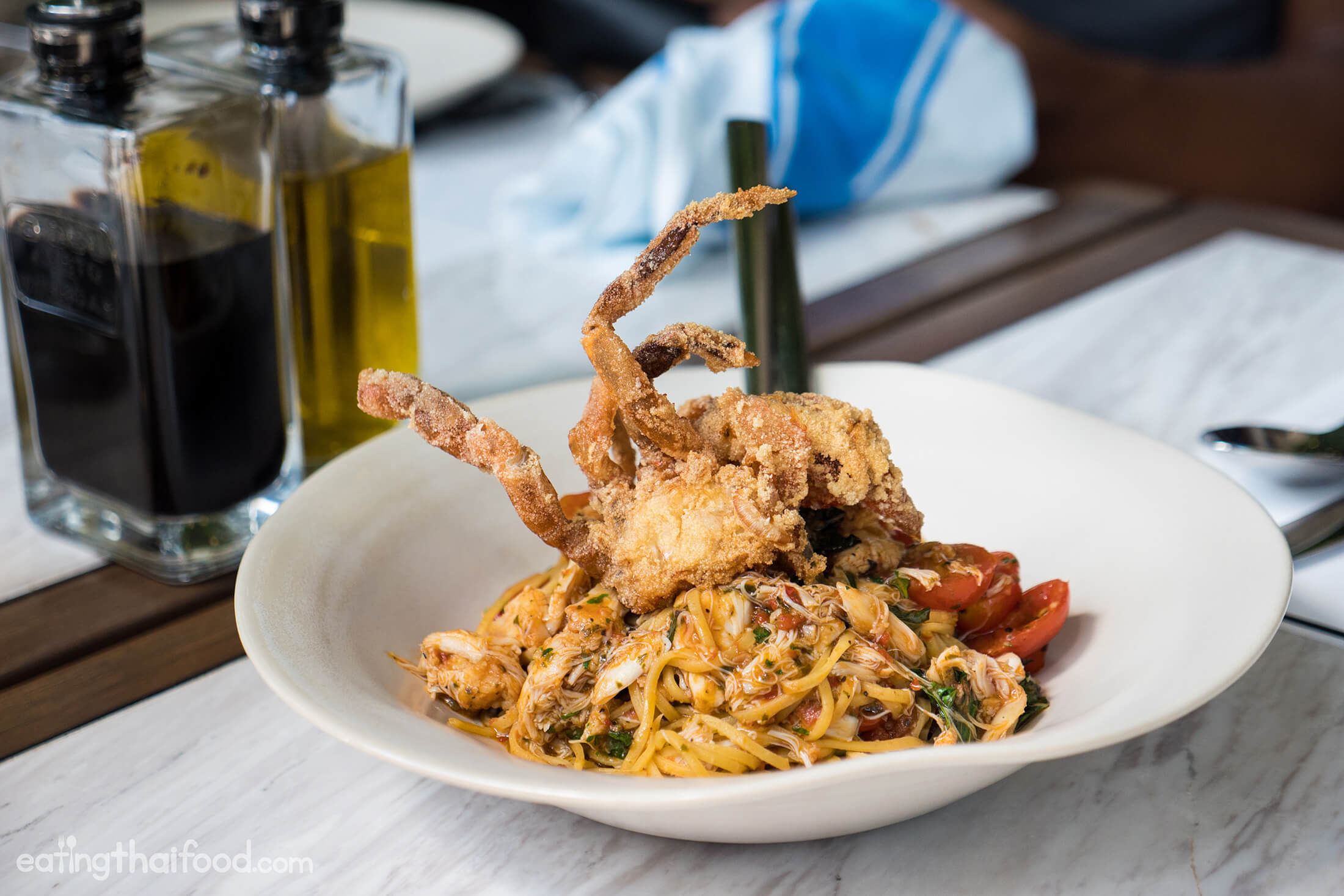 Bangkok has an excellent and growing presence of international restaurants.
And while I tend to mostly eat Thai food because I love it so much, I do enjoy branching out to other cuisines occasionally as well… like Italian food!
Theo Mio, located at the Intercontinental Bangkok, is an Italian restaurant opened by Chef Theo Randall, a Michelin starred chef known for his excellent Italian cooking.
My wife Ying and I, along with Dwight, were invited to eat at Theo Mio for lunch, and I was excited to eat Italian food for a change.
Theo Mio – Italian Restaurant
Located just down the steps from Chit Lom BTS station, and right at the major Ratchaprasong intersection, I've walked past InterContinental Bangkok hotel countless times, but never been inside.
Right in the front of the hotel, in that glass covered area, is where Theo Mio is located. And as soon as I stepped in, I really liked all the natural light… it was inside, yet the giant glass walls letting in all the natural light really made the restaurant have a patio atmosphere.
Chef Theo Randall
Chef Theo Randall is a British chef who specializes mainly in Italian food. His flagship Italian restaurant, Theo Randall, located at the InterContinental in London, has received numerous awards for outstanding Italian food.
It's pretty cool that Chef Theo Randall decided to open a branch of his Italian restaurant, this time called Theo Mio, in Bangkok.
Although he's not typically in Bangkok, he set up the restaurant and chefs, and the menu consists of his dishes.
The Menu
I'll be honest and say I don't know much about Italian food, although I'd like to learn more.
Looking at a menu, I hardly knew what any of the Italian names meant or even what the dishes might include. Luckily, I asked our waitress to recommend some of the signature Italian dishes at Theo Mio, and she quickly suggested a dish from almost every section of the menu.
The menu was extensive, but not overwhelmingly so. There were many choices, but not overdone, which I liked.
We tried to order a range of different dishes, a different dish from most of each of the sections.
Ok, let's move on to all the food.
Arancini di Tartufo
For my very first bite at Theo Mio, I had an arancini di tartufo, a rice ball, flavored with a hint of truffles, and fried until golden crispy.
As opposed to the stronger, more pungent (maybe more salty), flavors of Thai food that I'm normally used to, the arancini di tartufo were a little plain at first…. but as I kept chewing, I really enjoyed them.
I'm not sure if there was cheese inside, but to me they had a hint of a cheese flavor, the rice, and a faint, yet noticeable truffle essence, all wrapped in a crunchy golden skin. Off to a good start.
Price – 150 THB
Burrata e Pepperoni Piemontese
Burrata e Pepperoni Piemontese is an Italian dish I had never tried before eating it at Theo Mio, and this was my first time to ever try burrata, a type of cheese made with mozzarella and cream.
The burrata came along a side of red bell peppers, filled with tomatoes, capers, and anchovies. In order to eat it, I sliced a bite of the red pepper, and scooped on some of the cheese.
On first bite, the cheese tasted like creamy yoghurt, but then I got strings of the fresh mozzarella, with that slight stringy / rubbery texture – and it was so creamy and rich, but not salty.
To contrast the cheese, the red pepper was naturally sweet, tart from the tomatoes, and very lightly salty.
The Burrata e Pepperoni Piemontese turned out to be one of my favorite dishes and combinations of the entire meal.
The flavors complemented each other so well, and that cheese was heavenly.
Price – 450 THB
Carpaccio di Manzo
Thin slice of raw beef
Carpaccio di Manzo
Any time I see the word raw beef, I get excited.
For another starter, we tried the Carpaccio di Manzo, a dish of thinly sliced beef fillet, decorated with pine nuts, rocket, parmesan cheese, and drizzled in a very light dressing of balsamic vinegar and olive oil.
It was a really beautifully presented dish, with a bottom crust of raw beef and all the beautiful fresh toppings.
The beef, being fillet, wasn't tender, but it was really good, and had a slight aged taste to it, combined with the freshness of the rocket, and the mild flavor of the dressing.
Price – 600 THB
Puntarelle alla Romana
Using the center of the puntarelle, this salad was seasoned with capers and dressed in a creamy anchovy dressing.
If there's one Italian dish that could be slightly compared to Thai food, it would be this.
The fishy flavor was approaching som tam pla ra (papaya salad with fermented fish sauce), but it was lighter on the fishiness, and more creamy. The puntarelle, was nice and crisp, and to me it tasted similar to raw bok choy.
I'm a huge lover of fishy flavors, and you definitely need to enjoy fishy flavors to enjoy this one. I thought it was excellent.
Price – this was a chef special, he just brought it out for us to sample
Taglierini al Granchio
For the main dishes, I'll start with the pastas. And there were four of us eating, and we all decided just to order a few dishes and share everything.
They had both small and large sizes for the pastas, and I ordered the small size.
The first pasta I tried was the Taglierini al Granchio, fine pasta, flavored with anchovy, lemon, bottarga, parsley, and finally jumbo lump crab meat. The pasta was also tomato based, and decorated with a deep fried crispy soft shell crab in the middle as the trophy.
Boneless (or shell-less) crab is one of the finest things in the world… and this bowl of pasta was stuffed with stringy sweet crab, all folded into the bed of noodles.
The noodles had just a slight anchovy flavor, without being over-powerful, a hint of the parsley, and tart tomatoes.
It was excellent pasta, and definitely the highlight for me were those nuggets of crab.
Price – 680 THB
Cappelletti di Vitello
One of the signature most famous dishes at Theo Mio is the Cappelletti di Vitello – this is the dish that won the 2014 best dish in the UK award from Tatler.
The Cappelletti di Vitello included a type of stuffed pasta, filled with veal, and topped with porcini mushrooms, and submerged in a butter cream sauce.
Along with the burrata, this was one of my favorite dishes of the meal.
The cappelletti were big, almost to the size of won ton or jiaozi dumplings, and they were filled with shredded veal. The insides of the stuffed pasta didn't taste salty to me, but just really good quality ingredients.
Most of the flavor came from the sauce, a mixture of mushrooms, cream, and butter I think. The mushroom flavor came through nicely, while the sauce was buttery and rich, but not too heavy.
It was the type of dish that, after you finish all the stuffed pastas and all the mushrooms, it makes you want to grab a piece of bread and wipe up all the sauce until your plate is shiny clean.
Price – 420 THB
Costine di Agnello
For the meat main course at Theo Mio, I went with the Costine di Agnello, lamb ribs in a red wine sauce, paired with a few slices of potato and peas on the side.
The meat of the lamb was incredibly tender.
I actually made a video (coming soon) and on my first bite, I had a bone with meat on it, and I took a bite, not expecting all the meat to just slide off the bone, but as I took my first bite, the entire piece of meat came off.
It was so tender.
The sauce was mild, but very good, a red wine reduction, with just very light seasoning – maybe a bit of salt and pepper.
The lamb ribs were delicious, simple, yet such good quality, and such amazing lamb.
Price – 850 THB
Prosciutto di Parma
Lastly, for our main course, I was happy to try a pizza, and our waitress recommended the prosciutto di Parma.
The pizza came topped with tomato sauce, thin transparent slices of prosciutto, mozzarella, and a nice thick layer of rocket and parmesan to top it off.
It was an incredibly delicious pizza.
The crust was crispy, yet slight gooey towards where the cheese was. The tomato sauce popped with flavor, kind of sour and tart, yet sweet and tomatoey at the same time. The mozzarella and prosciutto sort of blended together – a creamy and salty harmony, and the rocket made the pizza even better with that fresh pepper greenness.
I thought the pizza was fantastic, and it had been a very long time since I had eaten pizza.
Price – 450 THB
Dessert
I'm not a huge desserts guy, but we decided to try a few desserts and share them among all of us at our table.
The first dessert we tried was the Tiramisu. Their version was heavy on the cream, with just a thin slice of coffee soaked wafer (or cake layer), and dusted with chocolate. It was quite rich, but I did enjoy a couple bites to go along with my espresso.
Price – 200 THB
We also tried the Torta di Cioccolato, an extremely soft chocolate cake served with a side of crema di marscapone (my first time to ever try it).
The chocolate cake was unbelievably soft and silky, and when I took a bite, it just collapsed with fine texture in my mouth – it wasn't grainy or crumbly at all, but silky. The chocolate was also very rich and deeply chocolatey.
Price – 200 THB
For my personal dessert at Theo Mio, I had a double shot of espresso, which to me, is the perfect way to end a meal, especially an Italian meal.
Price – 150 THB
Conclusion
What I liked most about Theo Mio was the quality of ingredients, and the simple, yet well balanced pairing of ingredients. The ingredients were fresh, the herbs and vegetables stood out, and what I liked was that nothing was over salted.
Cappelletti di Vitello, the signature veal pasta dish, was definitely one of the highlights of the meal, but I also really enjoyed the lump crab pasta, and the pizza.
Overall, I think Theo Mio in Bangkok is an excellent restaurant for Italian food, and along with serving delicious food, the atmosphere is elegant, yet still laid back.
Theo Mio is one of the best Italian restaurants in Bangkok that I've tried so far.
Theo Mio – Italian Kitchen, Bangkok
Address: 973 Phloen Chit road, Pathum Wan, Bangkok 10330 Thailand
Open hours: 7:30 – 24:00 daily
Prices: I'd say about 1,000 – 1,500 THB per person for a well rounded meal, could get by with less or more depending on how many dishes you order and how many drinks you have.
Website: http://bangkok.intercontinental.com/best-italian-restaurant-theo-mio
How to get there: Take the BTS to Chit Lom Station, and exit towards InterContinental Bangkok, located very close to Ratchaprasong intersection.
*Note: I was invited to eat at Theo Mio, so this was a complimentary meal. However, all photos, thoughts, and opinions are all my own.