Try the Water Mimosa Noodles at Saw Nah Wang (ร้าน ส.หน้าวัง)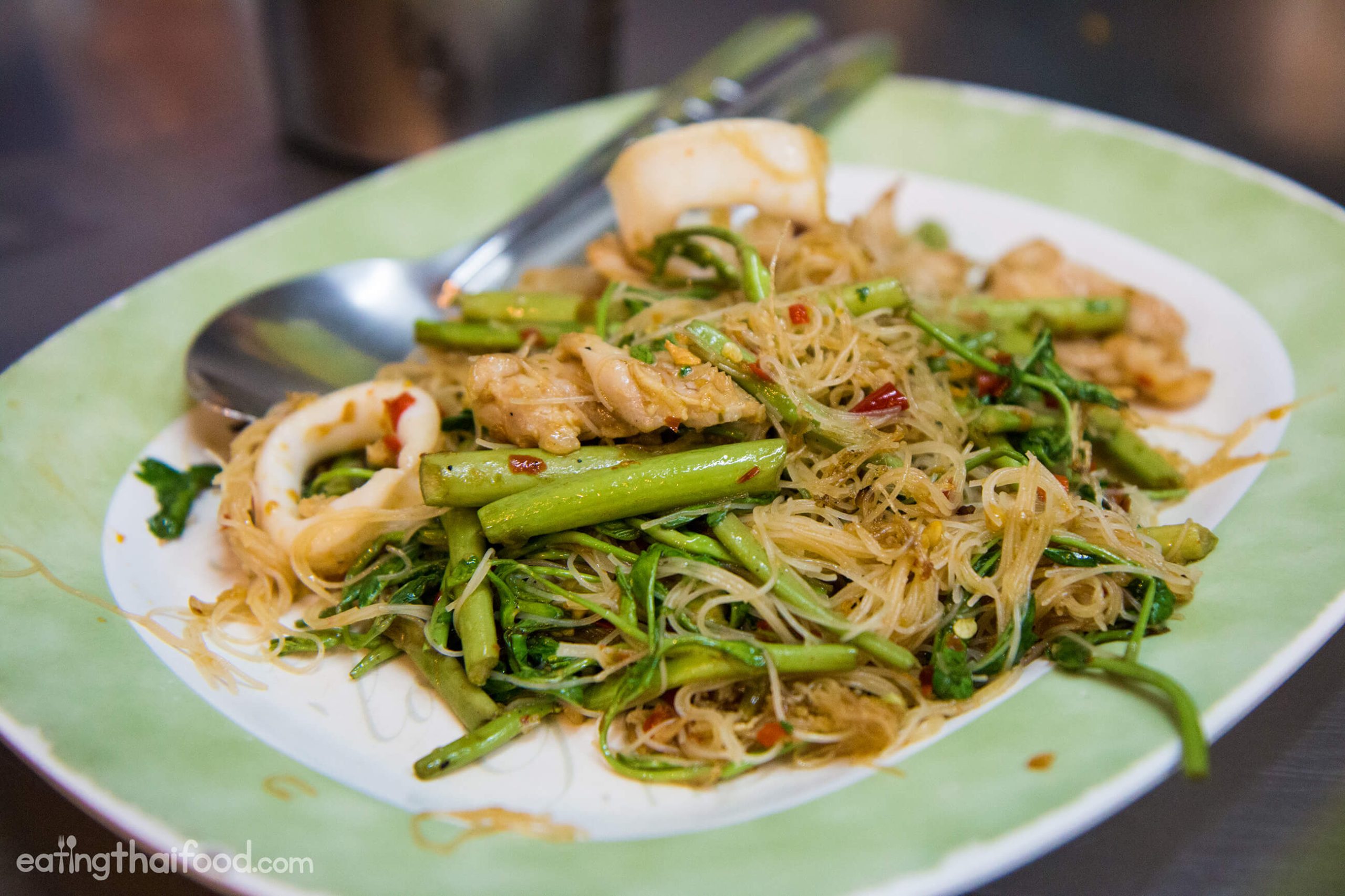 For a long time now, one of my favorite go-to vegetables in Thailand has been pak krached (ผักกระเฉด), known in English as water mimosa.
You can also call it sensitive neptunia, another pretty cool name for the vegetable.
Water mimosa is not a leafy vegetable, but it's rather quite tangly and very crisp, sometimes a bit tough. It's the texture that I really enjoy.
While water mimosa in Thailand is most often used in salads or stir fried, Saw Nah Wang (ร้าน ส.หน้าวัง) is an old school restaurant in Bangkok that specializes in pad mee krached ruam (ผัดหมี่กระเฉดรวม), water mimosa stir fried with thin rice noodles.
Walk inside of Saw Nah Wang (ร้าน ส.หน้าวัง), and it's like you're entering a Royal Thai museum.
The kitchen and most of the cooking is done at the front of the restaurant, and the dining room at the back is small, but decorated with dozens of photos and Royal Thai memorabilia, giving it a real charm and character.
The Aunties at the restaurant are all really friendly too.
Inside the restaurant there are only about 4 tables available, and it's pretty compact back there, but it's well worth grabbing a table.
From what I understand, they often set up tables outside on the sidewalk in the evening and at night (I haven't been there at night yet, but if you check it out, let me know), but if you come for lunch, you'll need to grab one of the tables inside.
The menu
While the most famous dish at Saw Nah Wang (ร้าน ส.หน้าวัง) is pad mee krached ruam (ผัดหมี่กระเฉดรวม), they also have a menu full of other classic Thai dishes.
Along with the stir fried water mimosa noodles, we also got a bowl of tom yum, and a bowl of suki.
Pak krached (water mimosa)
Water mimosa is, as the name suggests, grown in water. And it's really more like a weed than a vegetable.
It comes in big long strands, like vines, mostly including stems, but there are also small leaves that look like acacia tree leaves to me.
In order to prepare the water mimosa, there's a white film like substance that needs to be peeled off – it kind of feels like styrofoam.
After that, the water mimosa is broken by hand into bite sized pieces. To prepare water mimosa before it's ready to be cooked takes a bit of time.
At Saw Nah Wang (ร้าน ส.หน้าวัง), they had a designated table in the back where they were just constantly washing and preparing water mimosa.
Pad mee krached ruam (ผัดหมี่กระเฉดรวม)
I have to admit that I was excited to eat this, but I wasn't really thinking it would be that great – it just sounded like noodles stir fried up with water mimosa – nothing too amazing.
Contrary to what I was thinking in the back of my head, my first bite of their pad mee krached ruam (ผัดหมี่กระเฉดรวม) completely blew my taste buds – I could hardly believe how flavorful it was.
Included in the noodles was mostly chicken and squid, which were stir fried in hot oil, before being combined with the thin rice noodles (sen mee), and finally the water mimosa, and seasoning.
The pad mee krached ruam (ผัดหมี่กระเฉดรวม) had an incredibly smokey flavor from being wok fried on an extremely hot fire with the oil at just the right temperature.
The noodles were soft and crispy at the same time, and the pieces of chicken and squid were juicy, yet had crispy deep fried edges.
And finally the water mimosa made the entire plate of noodles even more delicious.
Sometimes when you eat water mimosa at Thai restaurants you get a plate of it where the vegetable is too old, which makes it tough and chewy, and sometimes you can't even fully chew it so you have to spit it out.
This water mimosa was extremely tender, so I believe they selected only the young shoots of the water mimosa to use at their restaurant, ensuring it was crisp and chewable.
Overall, even though it was a bit on the oily side, the flavor was superb.
[cta]It's one of those dishes you could eat in a few seconds without even thinking, and then immediately order another plate.[/cta]
Another reason the pad mee krached ruam (ผัดหมี่กระเฉดรวม) was so good to me was because of the prik nam pla (พริกน้ำปลา) they served on our table.
It wasn't just the typical Thai street food prik nam pla (พริกน้ำปลา) that includes fish sauce and diced chilies.
This prik nam pla (พริกน้ำปลา) included potent and aromatic bird's eye chilies, fish sauce, raw shallots, and a hit of fresh lime juice.
Pouring the sauce all over my plate of noodles gave it even more flavor. It was amazing.
Tom yum kai jeow nam khon (ต้มยำไข่เจียวน้ำข้น)
Saw Nah Wang (ร้าน ส.หน้าวัง) is kind of an old school Thai restaurant, but at the same time they do some unique and modern Thai food combos as well.
One of the dishes Ying really wanted to try was their tom yum kai jeow nam khon (ต้มยำไข่เจียวน้ำข้น) – tom yum with an omelet, and the creamy version made with evaporated milk.
Our bowl of tom yum kai jeow nam khon (ต้มยำไข่เจียวน้ำข้น) came, and it was so thick and colorful, it looked almost like a curry rather than a soup.
The soup was thick and creamy, and there must have been about 10 eggs made into a Thai style omelet and tossed inside.
The omelet soaked up all the soup. The soup was sour, fragrant with lemongrass, and quite sweet as well.
While I'm not usually a fan of Thai tom yum made with evaporated milk, I'll admit this was pretty good.
Just a few buildings down the street, at Mit Ko Yuan, they make one of my favorite versions of tom yum in Bangkok, but this was good too – but in a much different style.
This was kind of the Thai party version of tom yum.
Price – 100 THB
Suki nam ruam (สุกี้น้ำรวม)
Finally, Ying and I tried their suki nam ruam (สุกี้น้ำรวม), a dish of mostly vegetables and a mix of meat and seafood in soup.
The suki came with napa cabbage, cabbage, and water morning glory, simmered with chicken and squid, and an egg. It had a charred flavor in the broth, like it was smoke infused.
The suki nam ruam (สุกี้น้ำรวม) wasn't anything special like the pad mee krached ruam (ผัดหมี่กระเฉดรวม) but it was still pretty good, and I enjoyed it.
Price – 80 THB
Conclusion
Saw Nah Wang (ร้าน ส.หน้าวัง) is a restaurant in the old district of Bangkok, located on Thanon Dinso road.
From the outside it almost just looks like a takeaway food stall, but step behind the kitchen, and you'll enter a museum like dining room.
Their signature dish is pad mee krached ruam (ผัดหมี่กระเฉดรวม), stir fried thin rice noodles with water mimosa. The taste and combination exceeded my expectations. It was crazy good.
Even on and around Thanon Dinso, where there are so many good restaurants to choose from, Saw Nah Wang (ร้าน ส.หน้าวัง), mainly for their water mimosa noodles, is a must-eat.
Saw Nah Wang (ร้าน ส.หน้าวัง)
Address: 156/2 Dinso Rd, Sao Chingcha, Phra Nakhon, Bangkok 10200
Phone: 02-622-1525
Open hours: 10 am – 11 pm daily
Prices: Most dishes are in the price range from about 80 – 100 THB, and you could be satisfied with just one dish, but eating a couple dishes is even more satisfying.
ที่อยู่ 156/2 ถนนดินสอ เสาชิงช้า พระนคร กรุงเทพ 10200
โทร. 02-622-1525
เปิดบริการทุกวัน 10.00-23.00 น.
How to get there: From Bangkok's Democracy Monument, walk down Thanon Dinso, andSaw Nah Wang (ร้าน ส.หน้าวัง) is on the right hand side of the road, opposite Bangkok Metropolitan City Hall.