Ancient Street Dining, Fantastic Rice and Curry at Bangkok's Nang Loeng Market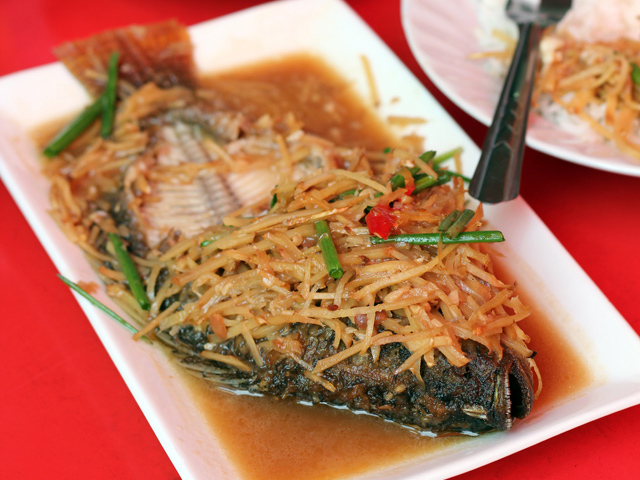 It's exactly what you want to see when you go to a Thai-Chinese rice and curry (khao gaeng) restaurant.
If you removed the swarms of lunchtime visitors, the restaurant would either look like a haunted house or an old barn, in my opinion, one of the perfect atmospheres for the making of a delicious meal.
Khao Gaeng Ruttana (ข้าวแกงรัตนา) has character.
The ancient wobbling fan, the stacks of useless junk, the straw hats… there are cobwebs in the corners and the entire building is an antique in and of itself (similar decor to khao mok gai at Khao San) – and all of this makes for a great dining experience.
Now before we start getting into the food at this restaurant, be warned that like most rice and curry restaurants or stalls in Thailand, the dishes vary by day. However, I can assure you that everything I've eaten at Khao Gaeng Ruttana (ข้าวแกงรัตนา) has been fantastic.
If you eat here, you just have to see what's available and try it!
I started things off with a dish I've rarely eaten, called Lun Boo (หล่นปู), a dish that really kind of tastes like a cross between New England clam chowder and a bowl of Zanzibari mix.
The sauce was rich and creamy, laced with tender white onions and fragrant red spur chillies.
Veggies are trumped by pork and coconut creamy curries, so to get a little green I ordered the pad pak gatdong sai kai (ผัดผักกาดดองใส่ไข่), which is pickled mustard greens stir fried with egg.
A little bit sweet, nicely sour and rich with egg, it went really well with my plates of rice!
The real highlight of the show was this guy, a fried fish piled high with ginger, chilies and green onions.
While ginger in large amounts can sometimes be bitter or tough, these shreds were sweet and tender.
I could have honestly settled for less fish and more of the wonderful ginger topping – but the combo was pretty good too. The sauce was kind of oily and an equal balance of sweet and sour.
A couple plates of rice later I was rubbing my belly and leaning back with a grin of satisfaction. After working up the energy to move I made my way around the corner to order and guzzle down one of Bangkok's best fruit shakes.
The Bottom Line
This is a popular and very local place to eat rice and curry in Bangkok. It's a nice historical location and because it's in the sleepy Nang Loeng Market, it's quiet and comfortable.
I really enjoy just about any dish available, it's one of those places you don't really need to know the name of the dish, even if you do know the name, you just see what looks good and order it.
Khao Gaeng Ruttana (ข้าวแกงรัตนา)
Address: Located within Bangkok's Nang Loeng Market
Hours: 10:30 am – 13:30 pm. Go earlier rather than later though because like any khao gaeng restaurant, the best dishes go the quickest. I normally go for lunch, anytime between 11 am to 12 pm.
Phone: 02-282-6150
Prices: About 50 – 100 THB per person
How to get there:
Taxi is the easiest way to go to Nang Loeng Market, walk in the corridor entrance and the restaurant is right on the corner.
Here's the map:

View Bangkok Eating Thai Food Map in a larger map