Delicious Southern Thai Food in Koh Samui
Ran Lan Saka (ร้านลานสกา) is a local restaurant in the Mae Nam area of Koh Samui that serves excellent, and very local style, southern Thai food.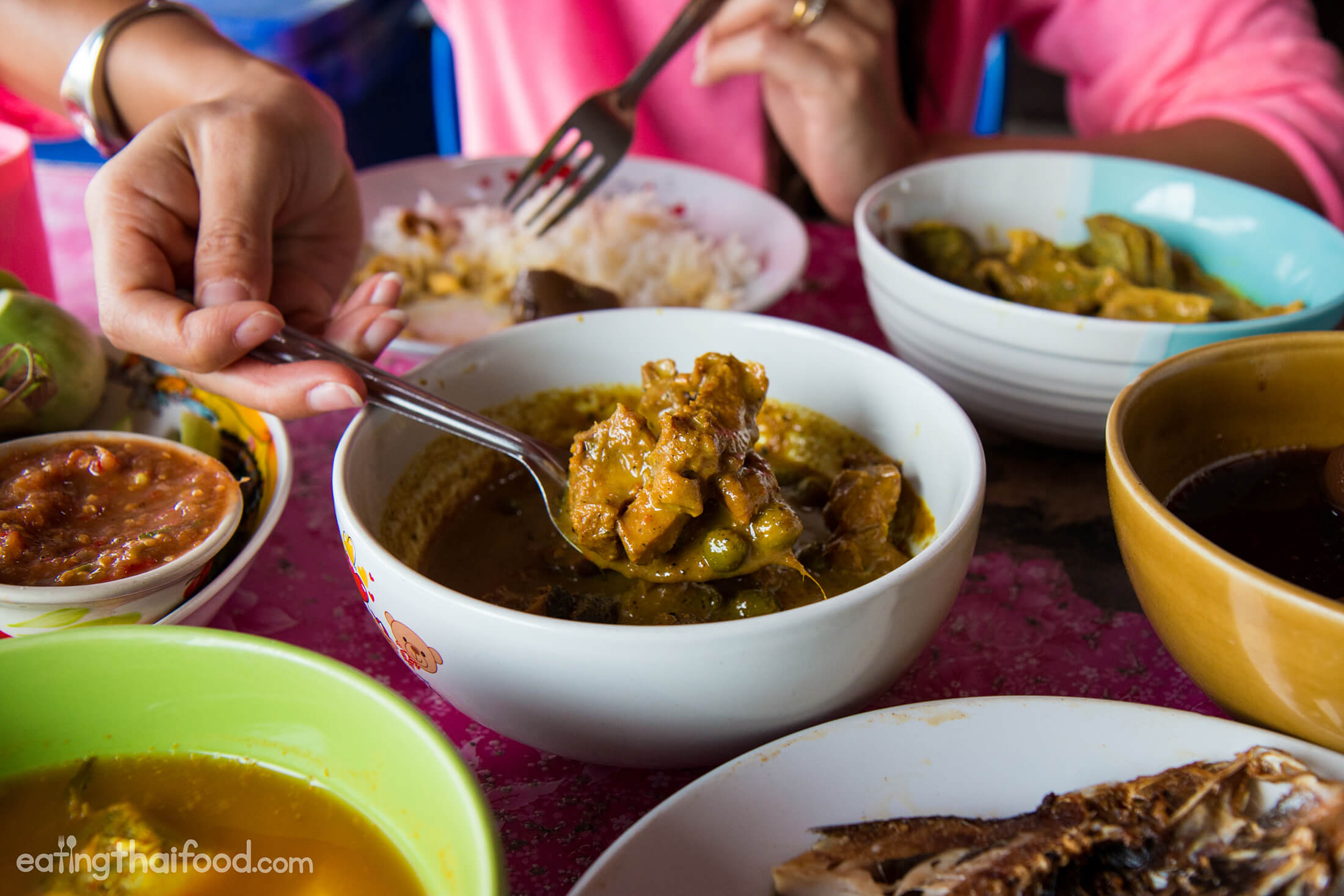 For the first couple of days on my latest visit to Koh Samui, my wife and I stayed at the luxurious Santiburi Resort on the Mae Nam beach of the island.
The resort was one of the nicest I've ever been to, but even while staying at a fancy resort, I still want to get out and explore the local food available.
One day for lunch, we walked down the street to a restaurant called Ran Lan Saka (ร้านลานสกา).
This local Thai rice and curry meal in Koh Samui was probably my favorite meal of our quick trip.
Ran Lan Saka (ร้านลานสกา) Restaurant
Ran Lan Saka (ร้านลานสกา) is just a very typical, side-of-the-road rice and curry restaurant in Koh Samui, a style of restaurant very common throughout Thailand.
All the dishes are pre-prepared and sitting at the front of the restaurant and to order you simply take a look at what's sitting in the pots, and point and choose.
At all of these types of Thai rice and curry restaurants you can either order directly on top of a plate of rice (rad khao ราดข้าว) if you want a smaller portion or you can order separate (gap khao กับข้าว) for bigger portions.
I like to go for gap khao (กับข้าว).
Nam prik kapi and pak naw (น้ำพริกกะปิกับผักน้อ)
Along with my love for rice and curry, especially southern Thai style, another thing I love is that in the south of Thailand you always get a plate of fresh vegetables and herbs and a nam prik chili sauce (น้ำพริกกะปิ) on the side.
The plate included Thai eggplant, cucumbers, and a handful of random leaves. The nam prik was similar to nam prik kapi (น้ำพริกกะปิ shrimp paste dip) but had a little more of a fruity taste to it, perhaps they added some tamarind to the mix as well.
You can either eat the nam prik along with the vegetables, or add a bit onto your rice as you eat the different curries.
Gaeng som pla sabarot (แกงส้มปลาสับปะรด)
Whenever I eat southern Thai food, one of the first dishes I have to order is gaeng som (แกงส้ม), southern style sour curry.
I've been talking a lot about gaeng som (แกงส้ม) lately, mostly because I love to eat it so much and could eat it everyday.
This version was made with fish and pineapple, so it had a sweet and sourness from the pineapple, paired with the pungency of fresh chilies and turmeric. The gaeng som (แกงส้ม) at Ran Lan Saka (ร้านลานสกา) tasted very similar to my mother in-law's version.
Gaeng gai baan (แกงไก่บ้าน)
When we arrived to this Koh Samui street food stall restaurant, it was right at lunch time, and they had already been serving food since the morning.
One dish in a pot was gaeng gai baan (แกงไก่บ้าน), a curry made with country style chicken. The curry looked extremely good, and although the pot was almost finished we managed to get the last helping.
I'm glad we got it too, it was one of my favorite dishes of our meal.
Different from other versions of southern Thai curry, this particular version of gaeng gai baan (แกงไก่บ้าน) had an extremely strong black pepper flavor, along with the typically southern Thai curry paste and coconut milk gravy.
It was rich and creamy, the chicken was a little boney (like it typically is), and the flavor of black pepper enhanced it even more.
Excellent dish.
Pla som tod (ปลาเค็มทอด)
Pla som (ปลาเค็ม) is a Thai style of a pickled preserved fish, and it's often very sour and salty. Sometimes it's prepared raw, just cooked from the preservation, and other times, like this, it was deep fried to give it a nice crispy texture.
I'm not sure what type of fish this pla som tod (ปลาเค็มทอด) was, but it was incredibly delicious – crispy all the way through so you could eat the bones, and nice and salty.
When you eat pla som tod (ปลาเค็มทอด), the texture is mostly crispy and you can eat some of the bones as well. There was a little meat on the inside of the fish that wasn't crispy, but it was still really firm and dry like tuna.
Along with just eating the pla som tod (ปลาเค็มทอด) straight with rice, one of my favorite ways to eat it is to put a piece onto my rice and add a spoon of nam prik to it – that's the icing on the cake.
Kai paloe (ไข่พะโล้ top right) and gaeng moo (แกงหมู top middle)
Since I was so happy about this meal in Koh Samui, I didn't manage to get individual photos of all the dishes, but along with what I mentioned above we also ordered a bowl of kai paloe (ไข่พะโล้ pictured top right), Chinese style braised eggs and pork, and gaeng moo (แกงหมู pictured top middle), a pork curry.
The kai paloe (ไข่พะโล้) was a little on the sweet side for me, but it was alright and the gaeng moo (แกงหมู) was very similar to the chicken curry and had a fantastic rich curry flavor.
Along with pork in the curry, there was some sort of starchy ingredient in it that I didn't know what it was at the time of eating – I thought it was cassava or sweet potato.
But after publishing a video (video is also below), many commenters mentioned it was green banana. Another great curry.
Anytime I can be peeling raw stink beans (the little green colored beans pictured above) and eating delicious flavorful southern Thai curries, I'm extremely happy.
Video of the meal
If you have a few minutes, be sure to watch the video above for the full overview of this delicious restaurant in Koh Samui.
Conclusion
Ran Lan Saka (ร้านลานสกา) is a very typical local southern Thai food restaurant in the Mae Nam area of Koh Samui.
While staying at Santiburi, Ying and I strolled over for lunch one day, ordered a beautiful spread of local style curries, and enjoyed one of the best meals we had in Koh Samui.
I especially liked the gaeng gai baan (แกงไก่บ้าน), local chicken curry, and the pla som tod (ปลาเค็มทอด), deep fried pickled fish.
You'll find many similar Thai rice and curry restaurants like this throughout Koh Samui and if you're looking for an authentic taste of the food in Koh Samui, this is the type of place you'll want to check out.
Ran Lan Saka (ร้านลานสกา)
Address: Mae Nam Beach, Koh Samui,
Open hours: about 7 am – 2 pm daily
Total price: 225 THB (for everything we ordered), it's a pretty good price, quite a bit cheaper than in Bangkok for the amount of food we ordered
For the map, scroll down to "Koh Samui" and click on Ran Lan Saka (ร้านลานสกา) to get the position: