Thai Fishball Noodles at Khlong Toey Market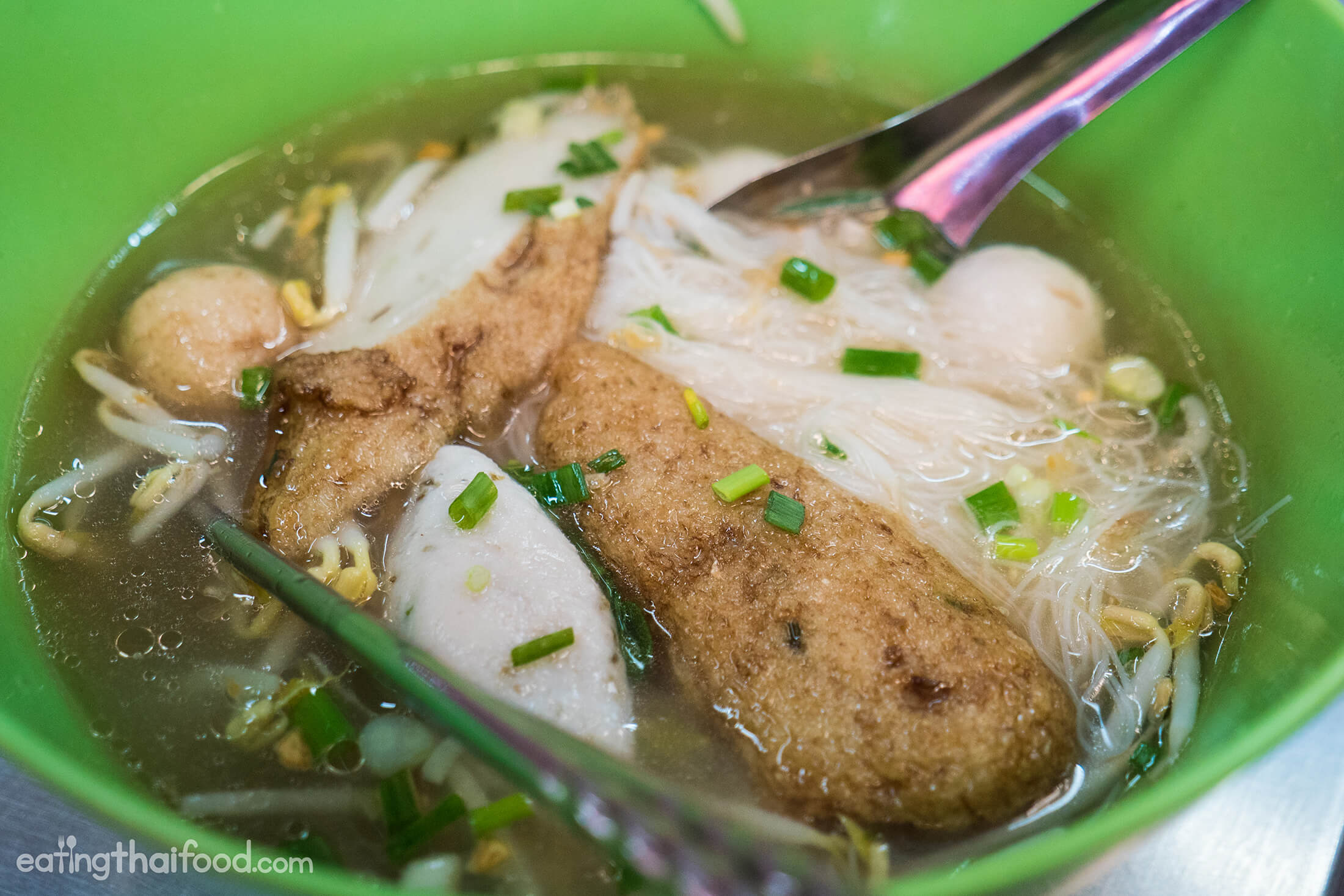 When I first came to Thailand, I wasn't all that impressed with fishballs, or meatballs in general.
I think partly why I never really enjoyed them was because I'd eat them off the street, where they were factory produced, just pureed meat mixed with flour and salt.
However, the more meatballs I've eaten, the more and more I've come to appreciate them – especially the good quality fish or meatballs that use 100% meat.
Lao Sa (ร้านเล่าซา) Restaurant is a Thai fishball noodle restaurant, located on the corner of Khlong Toey Market, that serves pure fishballs, and when you take a bite, you can tell.
Lao Sa (ร้านเล่าซา) – Fishball noodles
Lao Sa (ร้านเล่าซา) is a simple restaurant located on the corner of Rama 3 road and Sunthon Kosa road, just a few block down the road from an excellent beef soup restaurant.
I think it can be considered a street food restaurant, as there are table along the side walk, and the indoor section is open air with kind of a makeshift, permanent tent-like structure.
It's a restaurant where people go to eat one thing in a variety of forms: fishballs.
I met up with Dwight from BKKFatty and from Amber and Eric of With Husband in Tow for this little meal, and we all came ready for fish balls.
The menu
On the menu they mainly had two different types of soup – the regular version, and the tom yum soup version.
From there, you could choose your type of noodle, everything from egg noodles, to multiple thicknesses of rice noodle, to fish noodles.
Finally, the last choice is to order the regular size, or to get the larger sized bowl, known in Thai as pisayt (พิเศษ).
Popiah Sod Jeun Jeun (ปอเปี๊ยะสดเจินเจิน)
Before we start with the fishball noodles, another common thing to order, which is not actually part of the restaurant, but from a stall that sets up on the side walk, is a stall called Popiah Sod Jeun Jeun (ปอเปี๊ยะสดเจินเจิน), serving fresh Chinese spring rolls.
Popiah sot (ปอเปี๊ยะสด), fresh spring rolls that are originally from the Fujian province of China, have never been my favorite thing to eat.
The thin pancakes were filled with lots of crisp bean sprouts, sweet Chinese sausage, cucumber, and slices of omelet. The final touch was a big scoop of sauce to drench the rolls.
The sauce is always sweet, and that's part of the reason I'm never a huge fan of it. But a few pieces to share were good.
Price – 30 THB
Kuay teow sen pla (ก๋วยเตี๋ยวเส้นปลา)
One of the interesting things you can order at Lao Sa (ร้านเล่าซา) are not only all the different fishballs, but also noodles made from fish.
We ordered a couple bowls of fish noodles and fishballs, kuay teow sen pla (ก๋วยเตี๋ยวเส้นปลา). The noodles were thick, and had a texture similar to bean curd, but I believe they were all fish.
The soup was clear, not overly salty or flavorful, but it tasted very fresh and because it was so plain, the green onions, bean sprouts, and fried garlic, came out in flavor and texture very nicely.
The assorted fishballs, I thought, were all pretty good. There were the main round fishballs, which were very bouncy and smooth all the way through. Plus slices of fish cake, and a couple of other shapes and sizes of fish.
Price – 45 THB
Sen mee kuay teow tom yum (เส้นหมี่ก๋วยเตี๋ยวต้มยำ(พิเศษ)
For my main bowl of noodles, I got sen mee kuay teow tom yum (เส้นหมี่ก๋วยเตี๋ยวต้มยำ(พิเศษ), thin angel hair sized rice noodles, in tom yum soup, with all the assorted fishballs.
The soup, although tom yum, was pretty mild in the tom yum flavoring, with perhaps just a bit more of a sour taste than the regular version.
I'm a bit of a chili addict, and so when I eat noodles in Thailand, I can't resist a few scoops of chili flakes to enhance it.
The chili added so much flavor and heat to my bowl of noodles. I also added in a few scoops of vinegar to get that spicy sour taste combination.
Again, the fishballs had a wonderful fresh taste and texture to them. You could tell they were pure fish, although they didn't have any kind of fishy taste to them.
My favorite part from the bowl was the fish cake, which I believe was fried to give it that golden skin. Rather than being completely round and smooth like the fishballs, the fish cake was more spongy and less bouncy.
Price – 45 THB
Conclusion
Fishballs in Thailand are one of those things that can be pretty mediocre if they are cheaply mass produced, but they can be pretty good if they are pure fish or meat and made with care.
Lao Sa (ร้านเล่าซา) Restaurant, located on the corner of Khlong Toey Market in Bangkok, serves a pretty decent bowl of Thai fishball noodles.
If you enjoy fishball noodles, this place is worth checking out when you're in Bangkok.
Lao Sa (ร้านเล่าซา) Restaurant
Address: 9 Thanon Sunthon Kosa, Khlong Toey, Bangkok
Open hours: 8 am – 5 pm daily
Prices: 35 – 45 THB per bowl
ที่อยู่ 9 ถนนสุทรโกษา แขงคลองเตย เขตคลองเตย กรุงเทพ
เปิดบริการทุกวัน 8.00-17.00 น.
โทร. 02-2491847 , 089-7776959
How to get there: The restaurant is located on the corner of Sunthon Kosa road and Rama 3 road. You could walk from either Khlong Toey MRT or Queen Sirikit MRT station in about 10 – 15 minutes. Otherwise your best option is a taxi directly there.