Raw Crab Egg Salad at Khao Tom Bawon (ข้าวต้มบวร)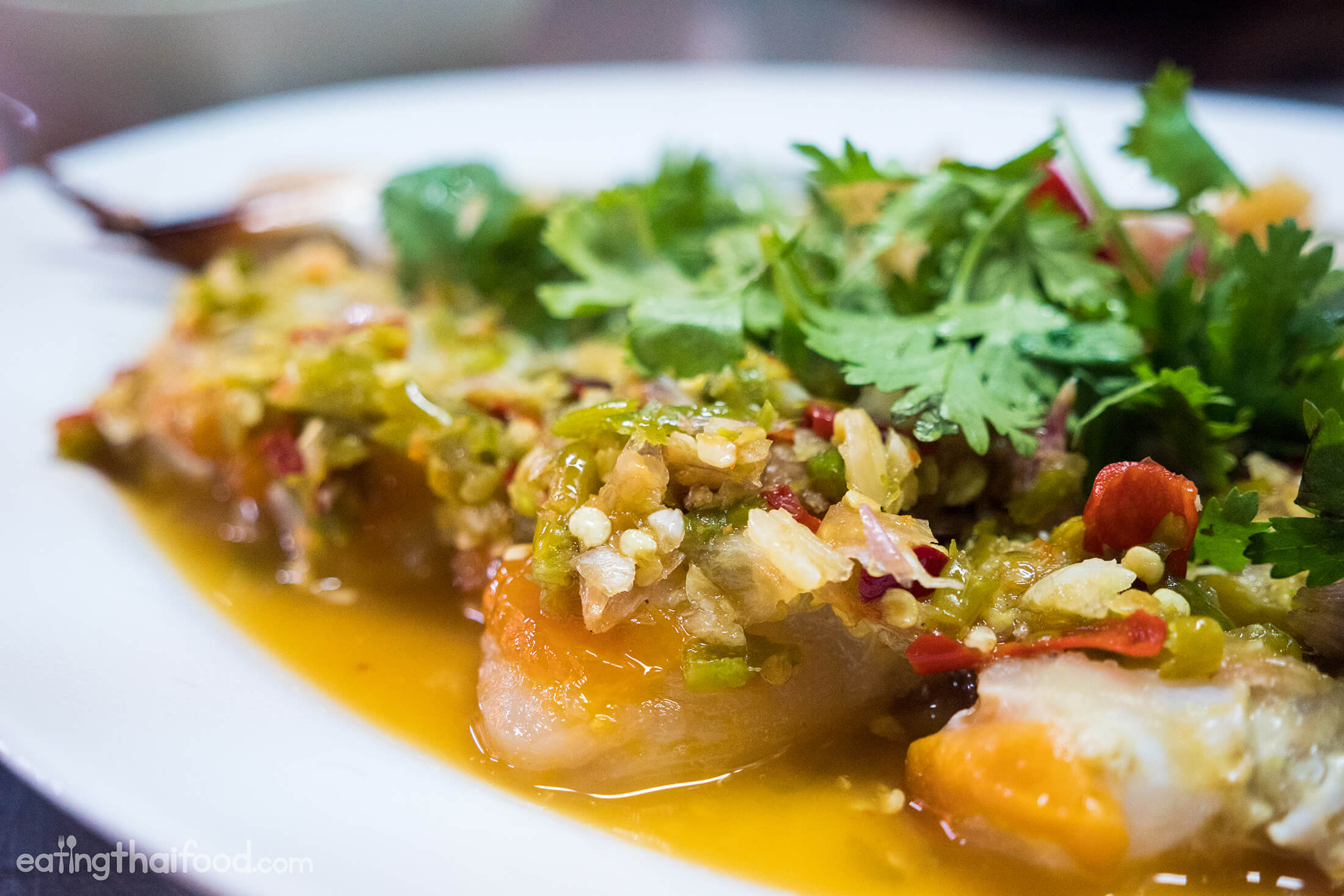 I've probably mentioned this before, but khao tom (ข้าวต้ม), typically stir fried Thai Chinese style dishes served with either rice soup or steamed rice, is one of my favorites styles of dining in Bangkok.
Located just a stones throw from the famous Khao San backpacker area of Bangkok is Khao Tom Bawon (ข้าวต้มบวร), a long standing Thai Chinese khao tom restaurant.
Ying and I ate there one night for dinner, and tried a few of their signature dishes.
In this blog post, I'll share everything we ate.
Khao Tom Bawon (ข้าวต้มบวร)
Khao Tom Bawon (ข้าวต้มบวร) is located right on Samut Phrahan Road, just north of Khao San Road, but even though its so close to the famous backpacker area, it feels like you're completely removed and within the old part of Bangkok.
The restaurant is one of those restaurants that you could easily walk right past on the sidewalk, and pass off just as someone's home – maybe with a catering business? It's not really very visible what they serve from the outside.
But step inside, and even though it still feels like you're at someones home (which you are), it really opens up, and there are a bunch of tables and dining rooms scattered throughout the compound.
You can choose to sit indoors in the AC, or outside in one of the corridors. The atmosphere at Khao Tom Bawon (ข้าวต้มบวร) is fantastic, it feels like you are back at a school cafeteria.
The Menu
The menu is extensive with all the typical Thai Chinese khao tom stir fried dishes, so you can get all sorts of stir fried vegetables, meats, and some Chinese braised dishes as well.
But the front page of the menu also has a full page of what in Thai is called "ahaan yawd niyom" (อาหารยอดนิยม), which means the restaurant specialities.
So Ying and I ordered just from that front page – wanting to taste a few of their recommended dishes.
After eating our meal, I wish Ying and I had been eating with a few friends as we could have ordered more stir fried dishes as well, all of which looked extremely good.
Let's begin with the food now.
Boo kai dong yam (ปูไข่ดองยำ)
On the speciality section of their menu I saw boo kai dong yam (ปูไข่ดองยำ), and it's something I immediately had to order without thinking about it.
For the boo kai dong yam (ปูไข่ดองยำ), it started with blue swimmer crabs, which were raw, then marinated in Thai dressing with a heap of crushed chilies and garlic on top.
In the name, they also said something was pickled, but I couldn't determine what was pickled, as to me it tasted more like a typical lime juice Thai seafood sauce.
Price – 350 THB
Boo kai dong yam (ปูไข่ดองยำ)
All those chilies and garlic!
The crab was served cold, almost icy, and though it was a bit slimy from being raw, it wasn't a sticky slimy, but an excellent creamy slimy.
The abundance of garlic and chilies reminded me of the pla goong at Soei, packed so much delicious flavor.
The dressing was sweet and sour, and if there's just one thing I could change about the boo kai dong yam (ปูไข่ดองยำ), I would have made it a little less sweet.
When it comes to blue crabs, they have both with crabs with eggs and without eggs.
The eggless version of blue crabs is what we bought when we had a Thai seafood feast, but for this salad they used boo kai (ปูไข่), blue crab with eggs.
But anyway, it was excellent, and definitely one of the prized dishes that we ate for dinner at Khao Tom Bawon (ข้าวต้มบวร).
Pla jaramed neung nam daeng (ปลาจาระเม็ดนึ่งน้ำแดง)
I did my best to make the photo of this pla jaramed neung nam daeng (ปลาจาระเม็ดนึ่งน้ำแดง) look good, but with the goopy brown gravy sauce and the deep fried hunk of a tail of the fish, I'm not sure if it's possible to take a photo that looks too attractive.
Price – 140 THB
Pla jaramed (ปลาจาระเม็ด) is the Thai word for a golden pomfret or pompano fish, which is one of my favorites. For this dish, we got the tail end of the fish, and it was first deep fried and then combined with a thick saucy gravy.
The gravy was very mild in flavor, with a slight oyster sauce and shiitake mushroom flavor. Despite the quantity of ginger, it was very mild ginger, but gave the gravy and fish a light ginger fragrance.
Gai doon fak manao dong (ไก่ตุ๋นฟักมะนาวดอง)
We also ordered gai doon fak manao dong (ไก่ตุ๋นฟักมะนาวดอง), a Chinese Thai style soup that included a drumstick (hiding below the surface in the photo), winter melon, and pickled lime.
This was one of those dishes sitting at the front of the restaurant, constantly sitting in the steamer, keeping hot and slow cooking until ordered, so it was served piping hot.
The soup was overall quite plain, but what really shined was the pickled lime, that tasted almost medicinal. It wasn't overly strong, but very pleasant, and the soup had a concentrated chicken stock flavor as well.
The pieces of both the winter-melon and the chicken were absolutely fall apart tender from the slow continuous cooking process.
Price – 40 THB
Pak boong fai daeng (ผักบุ้งไฟแดง)
For our final dish, we ordered a plate of classic pak boong fai daeng (ผักบุ้งไฟแดง), stir fried water morning glory.
The tangly bundle of water morning glory was stir fried with quite a lot of fermented soy bean sauce, so it had that wonderful extra salty cheesy flavor to it, and some good garlic in there as well.
I wish Ying and I would have ordered more stir fried dishes when we ate at Khao Tom Bawon (ข้าวต้มบวร), because I'm sure they would all be good. But since it was just two of us, we tried mainly the salad and some braised dishes.
Price – 40 THB
Total bill
It was just Ying and I eating dinner this time, and our total bill for 2 came to 615 THB, including everything pictured in this restaurant review.
The most expensive thing we ate, that made up half our bill, was the crab salad. But well worth it.
If you have a few minutes, watch this entire meal on video.
Press play below:
(Or you can watch it on YouTube here)
Conclusion
Khao Tom Bawon (ข้าวต้มบวร) is a long standing restaurant in Bangkok, popular among everyone from celebrities, to those looking for good classic Thai Chinese food.
Ying and I ordered a couple of their speciality dishes, including boo kai dong yam (ปูไข่ดองยำ) a crab with eggs salad, and pla jaramed neung nam daeng (ปลาจาระเม็ดนึ่งน้ำแดง), pompano in a thick gravy.
The food was good, and what I really enjoyed was the atmosphere – laid back, and Thai family feasting style. There were so many other things on the menu I wish I would have tried as well, but there's always next time.
Khao Tom Bawon (ข้าวต้มบวร) is also open late, until 3 am each morning, so this is a Bangkok restaurant you can stop in for a late night feast.
Khao Tom Bawon (ข้าวต้มบวร)
Address: 243 Phra Sumen Rd, Wat Bowon Niwet, Phra Nakhon, Bangkok 10200, Thailand
Phone: 02-629 1739
Open hours: 4 pm – 3 am daily
Prices: Out total bill came to 615 THB for 2 of us, including all the dishes in this blog post
ที่อยู่ ถนนพระสุเมรุ (ตรงข้ามวัดบวรนิเวศ) บวรนิเวศ , พระนคร , กรุงเทพมหานคร 10200
เบอร์ติดต่อ 02-629 1739
เปิดบริการทุกวัน 16.00 – 03.00 น.
รวมบิล – 615 THB