Superb Thai Chinese Food in Ubon Ratchathani (ร้านตี๋อำนวยโชค)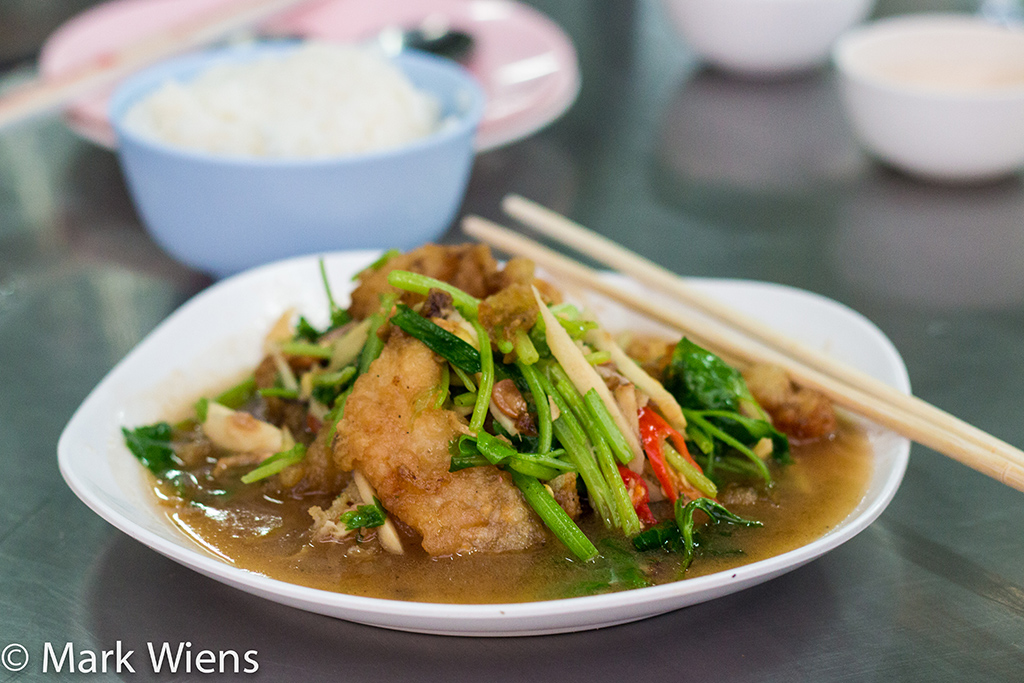 Ubon Ratchathani, located on the very eastern edge of Thailand, is known for its Isaan food like grilled chicken and papaya salad, and I think Ubon has some of the best I've had in Thailand.
But along with amazing Isaan food, there's also some wonderful Thai Chinese food available, specifically from a large and hugely popular restaurant called Dee Amnuaychok (ร้านตี๋อำนวยโชค).
Dee Amnuaychok (ร้านตี๋อำนวยโชค) was one of those local restaurants, that I walked past a few times, and judging by the scale of the restaurant, the amount of people they served, and the gorgeous display of meat and vegetables decorating the outside of the restaurant, I knew I needed to eat there.
During my couple week stay in Ubon Ratchathani, I ended up eating at Dee Amnuaychok (ร้านตี๋อำนวยโชค) quite a few times – not only because it was in a perfect location just down the street form where I was staying, but also because the food was outstanding.
The following review includes dishes from a couple of different meals my wife and I ate here.
Dee Amnuaychok (ร้านตี๋อำนวยโชค) is a huge restaurant, almost the size of a small gym.
Although Ubon Ratchathani is just a small city, this restaurant is giant, and it fills up with customers almost every single night.
If you arrive early enough in the evening, you can get a table out on the sidewalk, but if you come too late, those tables are usually taken.
The Menu
The restaurant didn't have an English menu, but they basically have any kind of stir fried dish available.
Along with ordering off the menu, you can alternatively take a trip over to the front of the restaurant, to have a peek at the pre-made dishes available.
Many of the dishes on display were braised dishes and Chinese stews, while the menu contained most of the stir fried dishes.
Bet pad prik haeng (เป็ดผัดพริกแห้ง)
The first dish that arrived to our table was bet pad prik haeng (เป็ดผัดพริกแห้ง), duck stir fried with dry chilies and green onions.
The duck was slightly crispy (perhaps it was deep fried first), and stir fried with a beautiful glaze of soy sauce and oyster sauce, and extremely fragrant dry chilies.
The bet pad prik haeng (เป็ดผัดพริกแห้ง) reminded me quite a bit of the glorious duck fried with holy basil in Bangkok.
Along with my bowl of rice, each piece of duck was excellent.
Price – 80 THB
Yod awn tantawan nam man hoy (ยอดอ่อนทานตะวันน้ำมันหอย)
For a vegetable dish I tried the yod awn tantawan nam man hoy (ยอดอ่อนทานตะวันน้ำมันหอย), sunflower sprouts stir fried with oyster sauce and also a few bits of crispy pork belly.
Overall, the sprouts themselves were a little on the chewy side, maybe they were a little late picked, but the flavor of the actual dish was superb – the perfect amount of saltiness, garlic, chilies, and just a bit of crispy pork belly for flavor.
Price – 60 THB
Pad naw mai jeen (ผัดหน่อไม้จีน)
On my first dinner at Dee Amnuaychok (ร้านตี๋อำนวยโชค) I wanted to order something that looked interesting, and that I hadn't eaten for a while, so I went up to the front to see what was available.
I decided to try the pad naw mai jeen (ผัดหน่อไม้จีน), bamboo shoots prepared Chinese style.
I believe the bamboo shoots were first dried, but then to prepare them, they were braised with a little pork, and probably some pork oil.
The flavor was quite plain, a little salty, but what was really good was the texture, nice and grainy and crisp.
Price – 50 THB
Toon mara (ตุ๋นมะระ)
This little bowl of soup, called toon mara (ตุ๋นมะระ), included big chunks of bitter melon, slow boiled with pork ribs, and shitake mushrooms.
The bitter melon was extremely soft, and gave the entire bowl of broth a light bitterness, but not overpoweringly so, and the ribs were tender.
I thought the toon mara (ตุ๋นมะระ) was excellent.
Price – 40 THB
Mara pad kai (มะระผัดไข่)
Mara pad kai (มะระผัดไข่) is bitter melon stir fried with egg, and I'm a huge fan of the combination.
The egg and bitter melon were fried, with little seasoning other than some salt and pepper, but it was so good, and a wonderful addition to the other saltier dishes.
Price – 50 THB
Gai pad med mamuang heemapan (ไก่ผัดเม็ดมะม่วงหิมพานต์)
I rarely ever order chicken fried with cashew nuts… not because I don't like chicken or cashew nuts (cashew nuts are actually one of my favorite snacks in the world), but because I don't usually care for the sweet and sour type of sauce the dish is normally prepared in.
But for some odd reason, one evening at Dee Amnuaychok (ร้านตี๋อำนวยโชค), I felt the urge to order it.
And I'm glad I did, because their version of gai pad med mamuang heemapan (ไก่ผัดเม็ดมะม่วงหิมพานต์) was easily the best I've ever had in Thailand.
The chicken and cashew nuts were fried until crispy, then stir fried with onions, dry chilies, and green onions, so they were dry and just coated in mostly a soy sauce reduction, without the tomatoey sweet and sour sauce.
It was smoky, crispy, and sensationally delicious.
If I ever eat at this restaurant again, chicken with cashew nuts will be the first dish I order.
Price – 80 THB
Pla pad keun chai (ปลาผัดคึ่นฉ่าย)
One of my standard dishes I frequently order at Thai Chinese restaurants is pla pad keun chai (ปลาผัดคึ่นฉ่าย), deep fried pieces of fish, stir fried with ginger and Chinese celery.
Again, just like all the other stir fried dishes at this restaurant, they got the balance of soy sauce and oyster sauce just right, paired with being cooked in a really hot flaming wok.
The fish was tender, and filled with the flavor of the sauce.
Price – 100 THB
Since Dee Amnuaychok (ร้านตี๋อำนวยโชค) is such a huge restaurant and attracts so many people at night, a number of food and snack stalls sell outside the restaurant, catering to all the customers.
After you finish your meal, you can order something from a street food stall, and they will serve you while you're still sitting at the restaurant. Not a bad deal.
Ying and I ordered some dried squid, an excellent salty snack to enjoy after a meal.
Conclusion
Dee Amnuaychok (ร้านตี๋อำนวยโชค) is a well known restaurant in Ubon Ratchathani that serves Thai Chinese food.
The restaurant is one of the most lively places in the city at night, always serving a huge dinner crowd that come for the delicious food, and nice social open air atmosphere.
Everything I ate at Dee Amnuaychok (ร้านตี๋อำนวยโชค) was excellent, and I can honestly say they serve one of the best versions of chicken fried with cashew nuts that I've had anywhere.
Dee Amnuaychok (ร้านตี๋อำนวยโชค) – Ubon Ratchathani, Thailand
Address: 377-379 Thanon Sapsit, Ubon Ratchathani
Phone: 045241809
Open hours: 3 pm – 3 am daily (but I think they normally open more like around 5 pm)
Prices: Most dishes are pretty reasonable, from about 50 – 100 THB per dish, and good sizes as well
ที่อยู่ 377-379 ถนนสรรพสิทธิ์ ตำบลในเมือง อำเภอเมืองอุบลราชธานี อุบลราชธานี
โทร. 0-4524-1809
เปิดบริการ ทุกวัน 15.00-03.00 น.
How to get there: The restaurant is located right in Ubon Ratchathani town, right along Sapsit road. If you're staying in central Ubon, you may be able to walk there, otherwise taxis are readily available in the city.
To see the location on the map, scroll down to "Isaan (Northeastern Thailand)" and click on "Dee Amnuaychok (ร้านตี๋อำนวยโชค)."