Thai Boat Noodles at Saphan Taksin BTS Station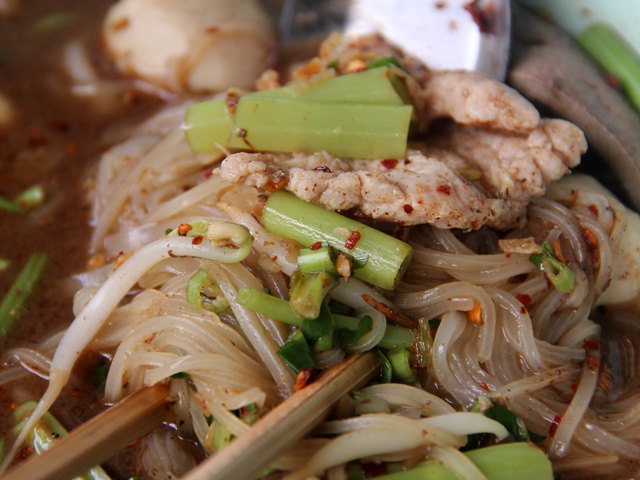 Boat noodles are among the most beloved of all Thai noodle soup dishes!
The combination of piping hot noodles and rich porky broth is simply irresistible.
While my normal boat noodle routine includes a trip to the Boat Noodle alley at Victory Monument, I decided to stop by and slurp down a quick bowl at a Bangkok street stall known as Kuay Teow Reua Moo Toon Kulab (ก๋วยเตี๋ยวเรือหมูตุ๋นกุหลาบ), located directly under Saphan Taksin BTS station.
I ordered the standard bowl of Kuay Teow Reua Moo (ก๋วยเตี๋ยวเรือหมู) which was rushed to the table in no longer than a minute.
It was a medium sized noodle portion (not the small bowls like at Victory Monument) which made for a nice snack or light meal. I chose sen lek (thin noodles), my normal choice of Thai noodle.
The soup was pretty good, but in my opinion is wasn't quite as flavorful as it could have been. The rest of the ingredients were fresh and fantastic.
The noodles were accompanied by a generous amount of pak bung (morning glory), a few slices of pork, chunks of simmered pork (moo toon), a couple of delicious pork balls, and a slice of liver. The inclusion of moo toon, or simmered pork chunks, was delightful.
Boat noodles would never make the list of healthy Thai food, but I can assure you, they are so good!
The Bottom Line
Getting off the BTS station at Saphan Taksin and need a great snack? Luckily there's a pretty decent spot located directly down the steps from the exit, seriously prime street food real-estate!
Though I didn't think the soup was quite as flavorful as it could have been, it was still delicious and in a very convenient location. If you're craving Thai boat noodles and you're in the area, be sure to stop by!
They open at 8:30 am, so you can even start the day off with boat noodles for a champions Thai breakfast!
Kuay Teow Reua Moo Toon Kulab (ก๋วยเตี๋ยวเรือหมูตุ๋นกุหลาบ)
Address: Literally right below Saphan Taksin BTS station, you won't miss it
Hours: 8.30 am – 7.30 pm, Monday – Saturday
What to order: Kuay Teow Reua Moo (ก๋วยเตี๋ยวเรือหมู) – boat noodles with pork
Prices: 35 THB per bowl
How to Get There:
Get off the BTS at Saphan Taksin station. Follow the signs to Exit #3, go down the steps, make a u-turn left, and you'll be there in about 15 steps. You'll notice the bright red chairs paired with the shiny stainless steel.

View Bangkok Eating Thai Food Map in a larger map