Takumi Japanese Buffet: Possibly Bangkok's Best Japanese Food!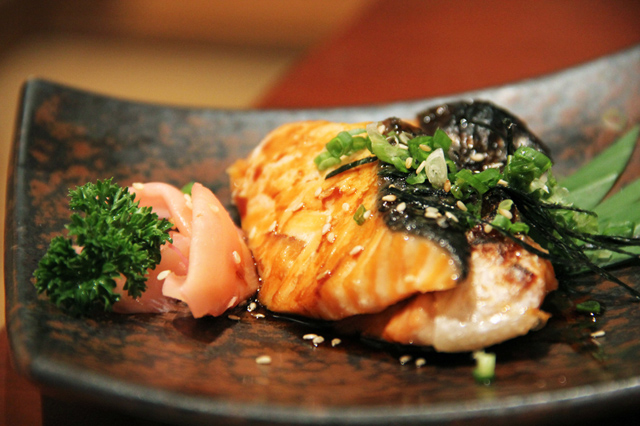 NOTE: Unfortunately the quality of this restaurant has really gone down hill, and I don't recommend it anymore. For mid-range priced Japanese food I like to go to Yuutaro at Central Embassy for their lunch specials.
I don't think there's any better cuisine to eat buffet style than Japanese food.
At Takumi Restaurant, it's all you can eat, but instead of having to waste energy by getting up to help yourself, you have the privilege of just ordering off the menu as many times as you want.
In Bangkok we are blessed with tasty cuisines from around the world, ranging from luscious Lebanese food to spectacular Japanese food.
Now at first I thought the menu was kind of small, a double sided piece of cardboard with around 80 items on the list.
I thought I could devour 1 of everything… and I did try, but it was actually a feat that I couldn't accomplish.
Don't worry, I did manage to stuff in my money's worth by inhaling countless plates of sashimi and a smorgasbord of other Japanese delights.
Takumi restaurant has a number of different hand rolls available including two of my absolute favorite: spicy tuna roll and shrimp tempura roll.
I'm a lover of octopus, but Thai seafood really doesn't include much octopus – it's all squid. Isn't it just so beautiful, like an ear ring?
Seeing the salmon fish head stew on the menu, I couldn't resist. It was marvelously tender and all the fatty Omega 3's were like butter melting in my mouth – super tender and full of salmony goodness.
I can't remember this exact fish, but it was some kind of salty and slightly dry fish. Not the best thing on the menu, but excellent nonetheless.
I couldn't get enough of these little breaded nuggets of deep fried squid, they were simply magnificent.
A Japanese buffet wouldn't be complete without a few helpings of tempura. The deep fried batter was lightly crunchy and still fluffy while the shrimp were perfectly cooked.
Okonomiyaki is a purely unhealthy Japanese seafood pancake fried in lots of oil and topped with mayo – and at Takumi it was fantastic!
After way too many plates of sashimi, I though it may be appropriate to taste the chicken and beef teriyaki. The thin slices made the meat so tender and juicy that it was almost unbelievable.
I like to think of curry katsu kind of like I think of yam pla duk foo – it's almost all deep friedness, but it tastes ridiculously delicious!
To my liking, Takumi Japanese Restaurant served their curry katsu not overly salty like many places.
The seared salmon was another award winning dish. Again, it wasn't overcooked and it was flaky, juicy and the seaweed and spring onion garnish worked perfectly.
After every few cooked dishes, I ordered a few more plates of sushi or sashimi. These "chef recommended" salty mackerel rolls were pretty tasty.
I think this was kingfish, not fully sure, but it was good as well.
Have you ever had cuttlefish? This was extremely slimy and included fermented Japanese beans giving it almost a wood apple smell. The cuttlefish was sticky and gooey.
These little female fish that were stuffed with eggs. Their eggs tasted like chicken yolks!
And when I had eaten a serious amount of seafood, I decided it was necessary to partake of some carbs. The Japanese thick udon noodles were salty and aided wonderfully by some of the tempura droppings.
The Japanese buckwheat soba noodles were chilled and refreshing.
When you're nearly stuffed to capacity from eating too much Japanese food, it's time to take a little break with a few bowls of edamame (boiled soy beans), just be careful, they are highly addictive.
Finally it was on to dessert.
This red sweet bean soup with little doughy dumplings (similar to Thai style bua loy dumplings) was wonderful – not overly sweet.
I enjoyed a few plates of fruit to ease the belly.
Takumi Restaurant in Bangkok is extremely famous for its milk and cheese pudding.
I'll have to admit, even though I'm not a big sweets fan, this stuff was killer!
It was the silkiest, creamiest, and smoothest substance that I've ever had. Imagine a cream cheese that's been thinned with milk and tastes more like pudding.
The last thing to touch my tongue was a little bowl of strong green tea ice cream.
Everything is included in a single price and you can eat as many items from the menu as possible, granted you can dispose of them all (otherwise there's a charge of 100 THB per plate if your eyes are bigger than your stomach).
The cost is 589 THB per person, but they add 10% service charge and 7% VAT so it actually comes to 693 THB per person. Our bill for 2 was 1,386 THB.
Not cheap, but worth it on a special occasion.
The Bottom Line
It's probably my favorite Japanese buffet restaurant in Bangkok. The food is high quality, extremely fresh, and truly incredible. Also, if you book ahead, you can arrange a private Japanese style room at the restaurant.
Takumi Japanese Restaurant
Address: Swissôtel Le Concorde Bangkok, 204 Rachadapisek Road, Huay Kwang, Bangkok 10320 Thailand
Phone: Tel: 66 (0) 2694 2222
Hours: Lunch: 12:00 pm – 2:00 pm, Dinner: 6:00 pm – 10:00 pm
Prices: Comes to around 700 THB per person for the buffet
How to Get There
Takumi Japanese Restaurant is located at the Swissotel Le Concorde. It's easiest to take the MRT to Huai Khwang station and the hotel is just a 5 minute walk from there.

View Eating Thai Food Map in a larger map