T & K Seafood Restaurant: Yaowarat (Chinatown), Bangkok, Thailand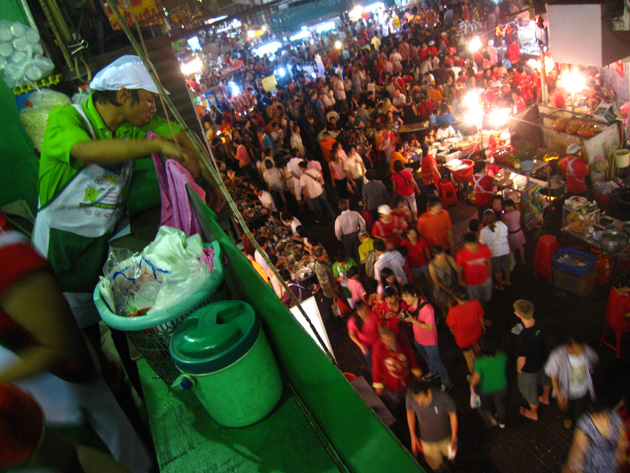 There's never a dull moment while eating at T & K Seafood. Waiters dash around the multistory complex like playing in a jungle gym, sprinting up the staircase – all in an effort to effectively deliver some of Bangkok's finest Thai seafood.
ร้านอาหาร ทีแอนด์เค ที่เยาวราช คุณไม่ต้องสงสัยเลยว่าในระหว่างที่คุณทานอาหารที่ร้านเทีแอนด์เคและจะเห็นพนักงานเสริฟวิ่งไปวิ่งมาเหมือนกับกำลังเล่นอะไรบางอย่าง ก็เป็นเพราะว่าพวกเค้ากำลังยุ่งในการเสริฟรสชาติความอลังการของอาหารไทยนั่นเอง
T & K Seafood Restaurant is located in Bangkok's bustling Chinatown district, in the area known as Yaowarat. The restaurant opens it's doors in the evening and begins to guerrilla market their seafood on the side of the road, while grilling up a storm of shrimp and fish to mesmerize those who walk by.
During the busiest times at T & K, waiters even utilize a pulley system to get orders to the various floors of the restaurant.
ร้านอาหารทีแอนด์เคตั้งอยู่ในเยาวราช ร้านนี้เปิดบริการและเริ่มย่างอาหารทะเลสดๆในช่วงเย็นๆ
ซึ้งเย้ายวนผู้ที่สันจรผ่านไปผ่านมาแถวนั่นเป็นอย่างมาก
As usual, the sizzling oyster omelet (Or Suan, ออส่วน) emerged from the kitchen in a spectacular sizzling display that made me want to give it an immediate round of applause. T & K Seafood makes a killer Or Suan, judged especially by the crispy edges.
โดยปกติแล้ว ออส่วนทำเสร็จไหม่ๆที่เสริฟบนเตาร้อนๆทำให้ผมอยากจะลุกขึ้นตบมือให้อย่างมาก
ร้านนี้เป็นมือสังหารในการทำออส่วนกันเลยที่เดียว โดยตัดสินได้จากแป้งหอมๆกรอบๆตามขอบๆของออส่วนนั่น
Directly after Khao Tom Hua Pla located in Talat Plu, T & K serves my 2nd favorite pla kapong neung manao (steamed lemon sea bass ปลากะพงนึ่งมะนาว). The combination of green chilies and chunks of fragrant garlic, made it remarkable.
นอกจากข้าวต้มหัวปลาที่ตลาดปูแล้ว ร้านอาหารทีแอนด์เคเป็นร้านที่ทำเมนูโปรดอันดับสองของผม คือ ปลากะพงนึ่งมะนาว
ซึ่งมันคือความผสมผสานความหอมของพริกสดและกระเทียมเข้าด้วยกันไปได้อย่างดี
This time I ordered Thai yellow egg curry with squid (Pla Meuk Pad Pongali, ปลาหมึก ผัดผงกะหรี่), though it can also be ordered with another form of seafood, especially crab. The curry was lightly flavored and less oily than many (which I like).
ครั้งนี้ผมสั่งผัดปลาหมึกผงกระหรี่ ซึ่งจานนี้อาจจะเปลี่ยนจากปลาหมีกเป็นเนื้อชนิดอื่นก็ได้ เช่น ปู และอื่นๆ
ร้านนี้ผัดได้ไม่มันเหมือนร้านอื่นๆที่ผมเคยชิมมา
You know a restaurant is really bad in Bangkok, if they can't manage to get the stir fried morning glory with chilies (pad pak bung fai daeng ผัดผักบุ้งไฟแดง), Bangkok's favorite vegetable correct. Don't worry here, T & K Seafood does an excellent job, and again, the big cloves of garlic were a real asset.
ถ้าอยากรู้ว่าร้านอาหารไหนไม่ควรเข้าไปกินดูได้จากการผัดผักบุ้งไฟแดงของร้านนั่นๆ
ซึ่งไม่ต้องสังสัยเลยว่าร้านทีแอนด์เคสามารถผัดผักบุ้งไฟแดงได้สุดยอดมากเลย
This was the lovely balcony view from T & K Restaurant during Chinese New Years in Yaowarat, out of harms way of the swarms of sweaty people below.
นี้คือวิวจากระเบียงของร้านในช่วงตรุสจีน ซึ่งจะเห็นผู้คนเดินกันอย่างหนาแน่น
Address of T & K Seafood, Yaowarat, Bangkok, Thailand
T & K Seafood
49-51 Soi Phadung Dao, Yaowarat Rd, Bangkok 10100, Open from 4:30pm to 2am, Tel. 01 507 5555
200 – 350 THB per person
T & K Seafood
49-51ซอยผดุงด้าว ถ.เยาวราช เขตสัมพันธวงศ์ กรุงเทพฯ 10100
โทร. 0-2223-4519 (สั่งอาหาร) 08-1507-5555 (คุณต๋อย) 08-1508-9999 (คุณคิด)
เปิด-ปิด 16.30 – 2.00 น.
Cost
The prices are slightly elevated in the popular Yaowarat so expect to pay about 300 THB per person for a hearty seafood meal!
ราคาก็เป็นราคาปกติที่คุณสามารถจ่ายได้ในที่ๆได้รับความนิยมอย่างเยาวราช คือ ประมาณคนละ 300
ต่อมื้อสำหรับอาหารทะเลสดๆ
How to Get There
The restaurant is located right on the corner of the busy Yaowarat Road and Soi Phadung Dao. It's hard to miss, and famous so everyone knows of it!
ร้านตั้งอยู่ที่หัวมุมขวามือในซอย ผดุงดาว ซึ่งหาไม่ยากและเป็นร้านที่ดังมาก ทุกๆคนรู้จักร้านนี้เป็นอย่างดี

View T & K Seafood in a larger map