SP Chicken (SP ไก่ย่าง) – Small Birds, But Flavors You'll Love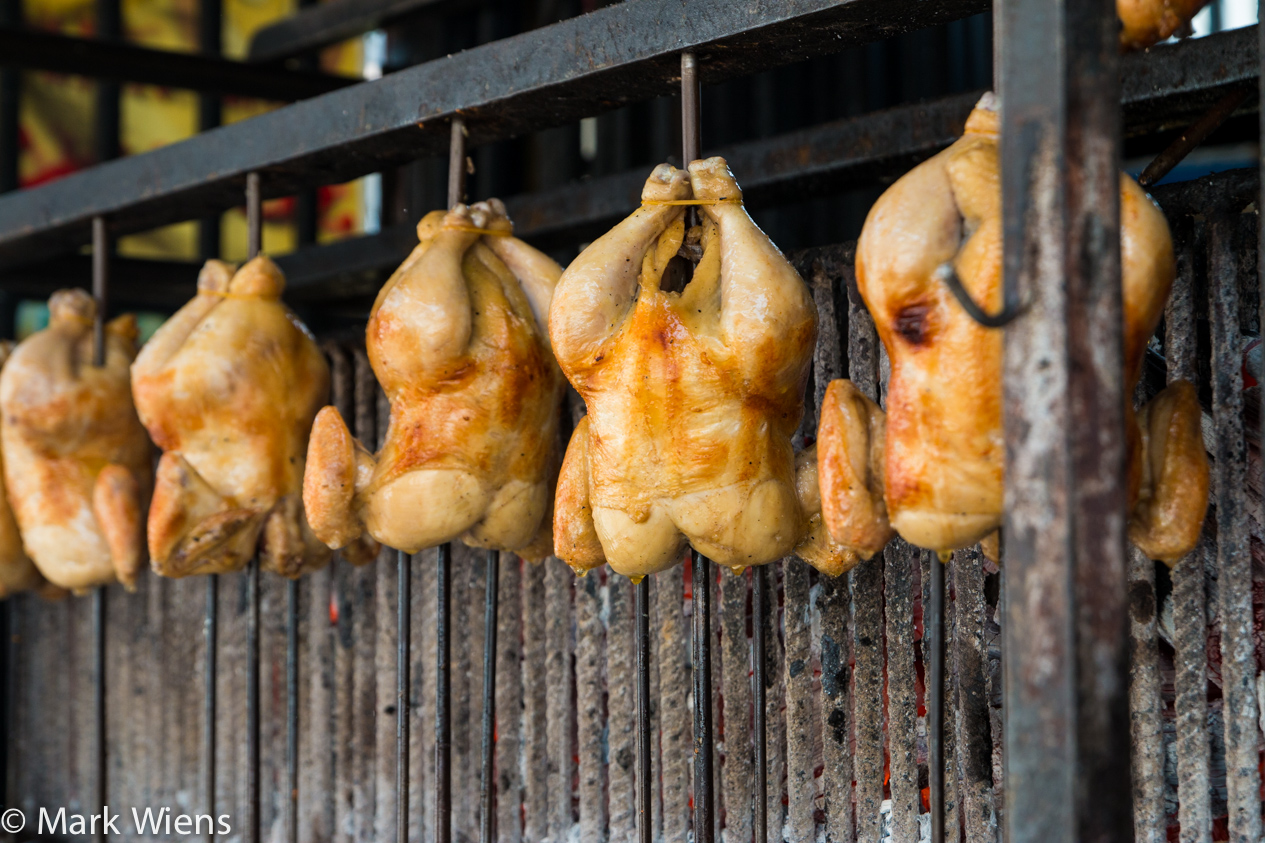 Greeting you as you enter is the unique SP Chicken (SP ไก่ย่าง) grill, a modified stand up charcoal rotisserie that has been engineered to roast a chicken to perfection.
As the birds go round and round, they get heat from the side, so the skin oil drops downwards and doesn't cause any grease fires from below – which could potentially flame up and burn black spots on the chicken.
At SP Chicken (SP ไก่ย่าง) they're doing it right!
I had read about SP Chicken (SP ไก่ย่าง) in the New York Times, a restaurant Thai chef Andy Ricker had recommended in Chiang Mai.
SP Chicken (SP ไก่ย่าง) is a Thai Isaan restaurant located in central Chiang Mai.
Their gai yang (ไก่ย่าง) is what they're most known for, but they also have the full spectrum of Isaan food available. Their menu is in both Thai and English, so you should have no trouble ordering.
The chicken roast upside down, slowly spinning, to ensure an equal heat penetrates the birds.
I also noticed that the guy in charge of roasting the chicken was removing them from the roasting rack every few minutes and brushing off any black charcoal particles that may have popped out of the smoldering coals in the grill – doing some good quality control.
If you're like me, the first thought you're going to have is, "that's a pretty small chicken."
And that would be correct (check out the size of the one I made).
You can literally eat the entire drumstick in one bite… I know because I did!
The chickens are pretty small, but that doesn't mean they're not good; It means that you won't want to share with anyone else, you'll want to eat the entire whole chicken yourself.
My wife and I ordered the whole gai yang (ไก่ย่าง), and it came quickly to the table with a trio of different sauces.
Two of the sauces were the sweet tomato ketchupy sauce known as nam jim gai (น้ำจิ้มไก่) and the third was a wondrous version of nam jim jaew (น้ำจิ้มแจ่ว), a house made combination of chili flakes, fish sauce, lime juice and green onions.
Price – 140 THB for the whole chicken (ไก่ย่าง SP 1ตัว 140 บาท)
The nam jim jaew (น้ำจิ้มแจ่ว) was incredibly good, not sweet at all like it can be at other restaurants, but this one was sour and spicy and awesome.
Ok, back to that chicken…
It was marvelously succulent, and again, though it was such a small little guy, the flavors were just packed into it. Another thing that made it so tasty was that it wasn't overcooked and dry, but moist – even the white meat.
The skin was almost like duck skin, golden brown, slightly crispy, and just intensely tasty.
A quick dip into that sauce, and I was happy.
Along with the gai yang (ไก่ย่าง), I also ordered a plate of yam dab wan moo (ยำตับหวานหมู), basically a salad or larb made from slices of pork liver.
The liver was nice and tender, not rubbery, and it included a great mix of shallots, green onions, and sprigs of fresh mint. The dressing was nice and sour and the fresh lime juice is what stood out to give it such great flavor.
Price – 50 THB
For my vegetable dish, I chose som tam boo (ส้มตำปู), green papaya salad with crab.
Again, just like the liver salad, what stood out to me was the use of fresh lime juice and lots of it, which made all the difference.
At SP Chicken (SP ไก่ย่าง) they do an excellent job at making a well balanced Thai salad – salty, sour, slightly sweet, and spicy.
Price – 40 THB
Although I forgot to take a photo of it, I also had the tom saab neua, a hot and sour beef soup. It was excellent as were the rest of the dishes, and included plenty of tender beef in a lime sour broth packed with chillies and herbs.
Also, no som tam and gai yang meal is complete without sticky rice, which at SP Chicken (SP ไก่ย่าง) comes in a glass bowl.
The Bottom Line
Their gai yang (ไก่ย่าง) may be small, but it's just loaded with flavors and absolutely delicious.
The rest of the dishes were also excellent, nicely tangy from fresh lime juice and not too salty. An excellent choice for Isaan food in Chiang Mai.
Check out more Chiang Mai eating options here.
SP Chicken (SP ไก่ย่าง)
Address: 9/1 Sam Larn Soi 1, Phra Singh, Muang Chiang Mai, Thailand
Open hours: 11 am – 9 pm daily
Phone: 080 500 5035
Prices: About 100 – 200 THB per person
ที่อยู่ 9/1 สามล้าน ซอย1, ตำบล ศรีภูมิ , อำเภอเมือง เชียงใหม่
เปิดบริการทุกวัน 11:00 – 21:00 น.
โทร. 080 500 5035
How to get there:
From the west side of Chiang Mai's old city (Bunrueang Rit Rd.), walk down Samlan Soi 1 about 100 meters or so, and you'll see SP Chicken on your right hand side.