Southern Thai grilled chicken at Gai Yang Jirapan (ไก่ย่างจีระพันธ์)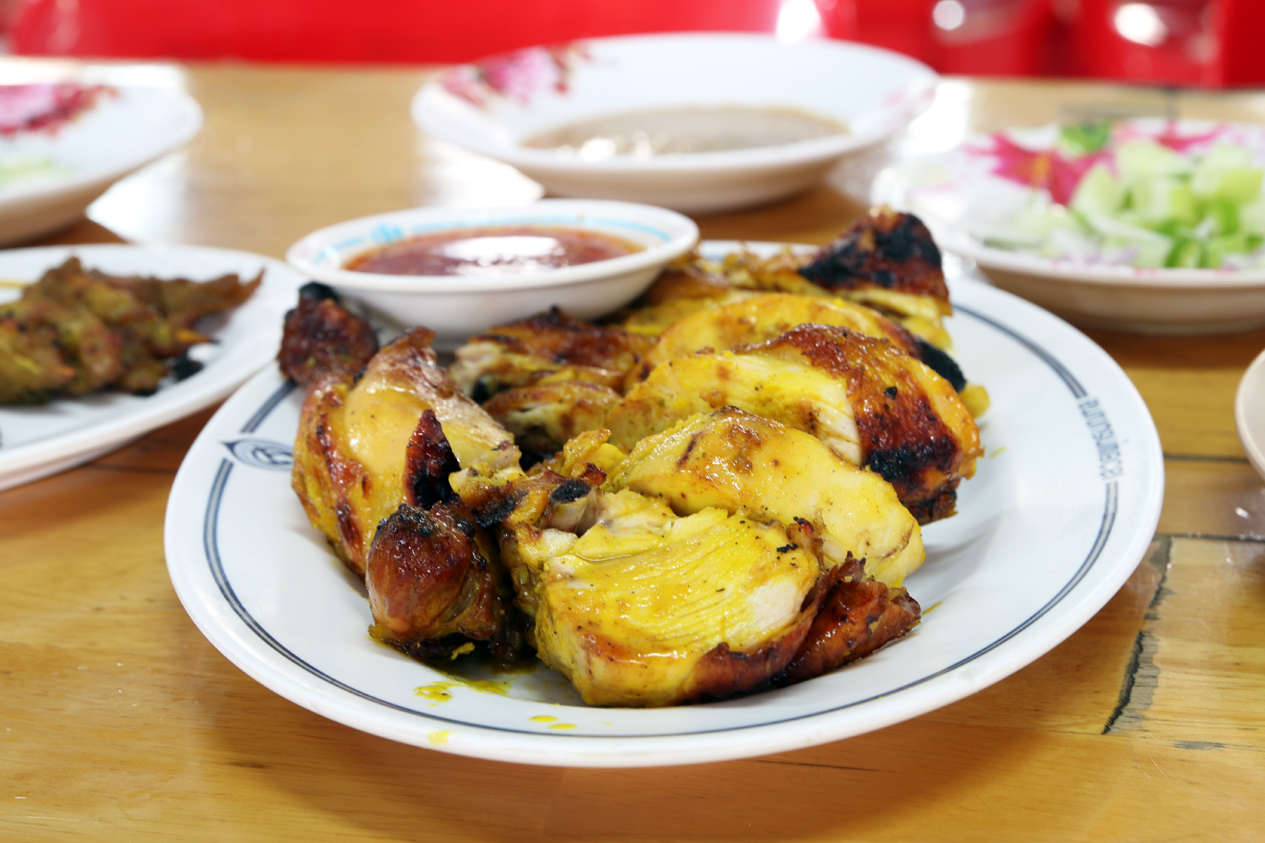 Gai Yang Jirapan (ไก่ย่างจีระพันธ์), in Bangkok, is famous for their southern Thai style grilled chicken (gai yang ไก่ย่าง).
What's the difference between the regular Bangkok Thai gai yang recipe, like they might serve at Sabai Jai Gai Yang?
That lies mainly with the use of kamin (ขมิ้น), fresh turmeric root, which is commonly associated with southern Thai food. There are two types of southern Thai grilled chicken, the whole chicken version like this, and skewers of chicken that are served in a red sauce: this restaurant covers the former style.
But more on the chicken later…
Gai Yang Jirapan (ไก่ย่างจีระพันธ์) is a pretty good sized open-air restaurant in Bangkok with lots of seating and lots of food choices.
It's a full Thai Muslim food court, and all the food you can get here is halal.
If you come in the morning or for an early lunch, you'll have many more choices than I did… I came mid-afternoon, which wasn't the best time.
You'll smell the grilled chicken (gai yang ไก่ย่าง) and know you're in the right place.
Since I got there at the end of the day (I was there around 3:30 pm, they close at 4:30 pm), only a few stranded birds were left on display, but in the mid-morning, if you come, you'll find a lot more chickens.
Spread legs, and glistening with their golden turmeric scented skin, they waited to be ordered.
As soon as you order gai yang (ไก่ย่าง), they'll throw the chicken back on the grill for a few minutes to heat it though, then cut it up with swift chops until it's bite sized.
Can you see those yellow drips on the side of the plate?
After chopping up the chicken, they drizzled on some extra yellow sauce.
I don't know exactly what all was in that yellow sauce, but I think it was probably chicken oils mixed with spices, and it was spectacularly flavorful.
The gai yang (ไก่ย่าง) was served with the normal style Thai grilled chicken dipping sauce, the sweet and sour ketchup-y kind.
The southern Thai grilled chicken is definitely the reason to come to Gai Yang Jirapan (ไก่ย่างจีระพันธ์).
It was meaty, and the flavor of the marinade was excellent, with a great flavor of turmeric and black pepper.
We also tried a mataba gai (มะตะบะไก่), a chicken and egg stuffed roti. It wasn't nearly as good as the Yusup Pochana version, but alright.
Another thing I did really enjoy at Gai Yang Jirapan (ไก่ย่างจีระพันธ์) was their beef soup (soup neua ซุปเนื้อ).
It was the clear style, extreme beef flavor in the broth, and flavored strongly with prik kee noo suan (the little green Thai chilies that pack as much heat as they do flavor), lots of fried shallots, and a ton of lime juice.
The chunks of tender beef added to the goodness. It was a great bowl of soup neua (ซุปเนื้อ).
Finally, to round off my meal, I ended things with a side dish of beef satay (neua satay เนื้อสะเต๊ะ).
Unfortunately, but partly due to my late arrival at the restaurant, they had been sitting around for a little too long. They were served hot, but reheated.
The flavor was good, but they were too dried out. I ended up having to soak them in the vinegar to re-hydrate them!
The Bottom Line
The food was pretty good, but one of my mistakes is that I arrived on the tail end of the day when they were cleaning up and only a few leftovers remained.
The southern style grilled chicken (gai yang ไก่ย่าง) is definitely the key item to come for. It was full of flavor and juicy. I also loved the beef soup.
It's also worth mentioning that the owner, his family, and the staff are all really nice.
Gai Yang Jirapan (ไก่ย่างจีระพันธ์)
Address: Thanon Param 9, Suan Luang, near the Shell petrol station | อาคาร ใกล้ปั๊มน้ำมันเชลล์ ถนนพระราม 9 แขวงสวนหลวง เขตสวนหลวง กรุงเทพ
Tel: 08-9546-2651
Opening hours: 9 am – 4:30 pm daily (closed Monday and Tuesday of 3rd week of every month)
NOTE: Biggest tip is to arrive in the morning or for an early lunch for the best food, and freshest grilled chicken.
How to get there:
Located just off the busy Rama 9 road, near Ramkhamhaeng, there's not easy way to get here other than by taxi. If you print out the Thai address, a taxi driver should be able to get you there.

View Bangkok Eating Thai Food Map in a larger map