Sompong Seafood Restaurant (ร้านสมพงศ์) in Samut Prakan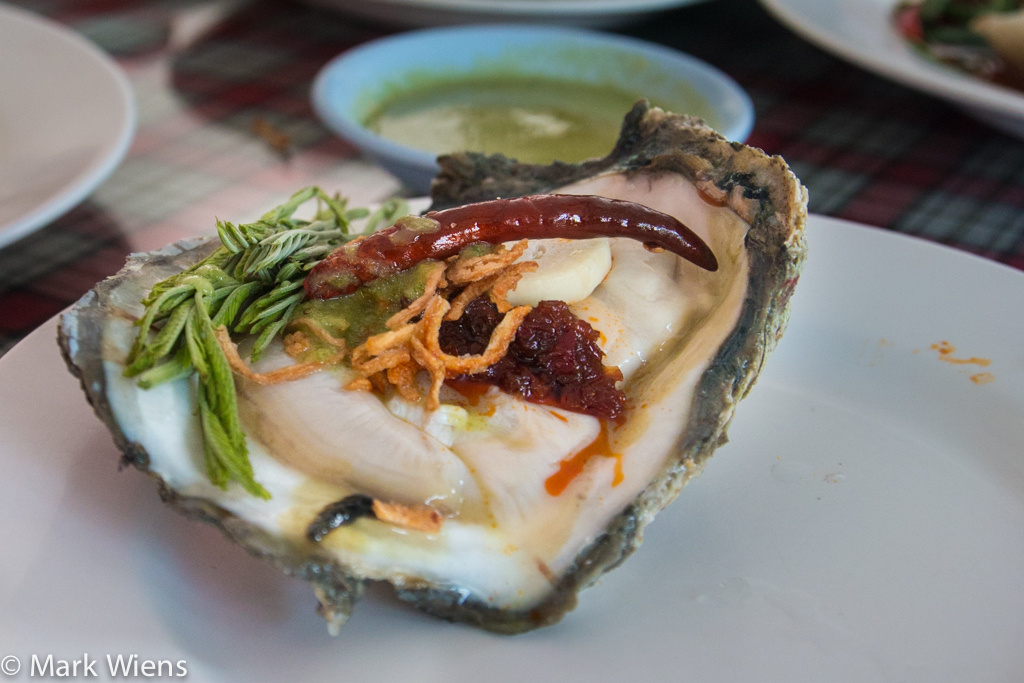 Samut Prakan (สมุทรปราการ) town, located about 29 kilometers south of Bangkok, is also known as Pak Nam (ปากน้ำ) or the mouth of the ocean.
Being closer to the sea, they are known for Talad Pak Nam (ตลาดปากน้ำ), one of the larger seafood distribution markets that caters to Bangkok (the other is Mahachai on the southwest side).
After a fantastic time wandering around the seafood market, my friend Dirk and I headed to Sompong Seafood Restaurant (ร้านสมพงศ์) to eat.
We actually arrived a bit early, before they opened for lunch.
Luckily the restaurant also has a cafe in the parking lot, so we stopped for quick cup of coffee (กาแฟ) before proceeding to the feast.
The coffee was pretty good, and the cafe was nice and relaxing, and provided some much needed AC relief.
A huge food mascot at any restaurant is always a good sign for me, and when it's a crab, that's even better.
You'll know you arrived at Sompong Seafood Restaurant (ร้านสมพงศ์) by the giant crab that greets you.
At the front of the restaurant there are a few tanks of fresh fish and other seafoods like the scary looking mantis prawns, all available and fresh.
We didn't have any mantis prawns this meal, but if I go back, I'll definitely order some.
The menu included most of the usual Thai seafood options with a huge variety.
But the thing that stood out to me most on the menu was the oysters.
They had both the small variety of oysters, which are like little bite sized nuggets, and they had the giant oysters from Nakhon Si Thammarat.
I couldn't resist a huge one.
Price – 65 THB per piece
To begin our seafood meal we each got a hoy nang rom sod (หอยนางรมสด), a fresh giant Thai style oyster.
Thai style oysters are served with condiments that include prik pao (roasted chili sauce), fried shallots, fried chilies, raw garlic, sauce seafood (recipe here), and gateen which is acacia auriculiformis.
If you haven't had a Thai style oyster, you're in for a real treat.
I like to pile all the toppings all over the oyster – the combination of the toppings all blended together is incredible.
Then I like to scoop out the entire slimy goodness of the oyster and take it all in with a single bite. After closing my eyes and chewing in pure delight, I then grab a few of the acacia sprigs and chase in down.
These oysters were insanely good.
Just one of those unbelievable food moments of glory.
For the vegetable dish I ordered pad yord mara (ผัดยอดมะระ), a type of gourd pumpkin leaf, which is always one of my go-to vegetables.
It was good, nothing out of the ordinary, but just good as could be.
Price – 100 THB
The hoy dalab pad horapa (หอยตลับผัดโหรพา), clams fried with Thai sweet basil, was another excellent dish.
Clams are not that easy to find in Thai cuisine, so when I see it on a menu, it's always on opportunity I jump at.
Price – 120 THB
Along with the oysters, the hoy dalab pad horapa (หอยตลับผัดโหรพา) was easily one of my favorite dishes of our meal at Sompong Seafood Restaurant (ร้านสมพงศ์).
They were pretty good sized, meaty and sweet, and flavored nicely with sweet basil.
If you eat at Sompong, don't miss it, it was extremely tasty.
The price of the big crabs was a little on the high side, so we decided to go for soft shell crab, a dish known as boo neem pad pongari (ปูนิ่มผัดผงกะหรี่).
The soft shell crab was cut into pieces, deep fried, and then cooked in yellow Thai pongari curry.
Price – 260THB
Overall, the boo neem pad pongari (ปูนิ่มผัดผงกะหรี่) was my least favorite dish of the meal.
The soft shell crab was good, but the pongari curry was too thick (maybe they thickened it too much with flour), and it could have been more flavorful with yellow curry powder. I don't think I'd order their pongari again.
A Thai seafood meal would not be complete without a fish, and I was going to order a pla kapong neung see ew (steamed in soy sauce), but our waiter suggested we try their pla kahpong neung manao (ปลากระพงนึ่งมะนาว), a barramundi steamed in lime and chili sauce.
So we decided to go on the waiters recommendation.
Price – 320 THB
The version at Sompong (ร้านสมพงศ์) was served and prepared a bit different from most other Thai seafood restaurants.
For starters, the fish was butterfly cut, instead of whole.
While most other restaurants serving pla kahpong neung manao (ปลากระพงนึ่งมะนาว) would steam the fish and serve it in a clear soup with chopped chilies and garlic on top, this version tasted more like the chilies and garlic were blended into the soup – it was more of a gravy.
I thought their pla kahpong neung manao (ปลากระพงนึ่งมะนาว) was a little different, but really good.
It was nice and sour, the way it should be, and I thought the fish wasn't overcooked, but just nice and juicy and tasty.
I could have used a few more raw chilies sprinkled on top, but overall, it was very good.
Getting to the bottom of the fish, the soup starts to get more sour, and filled with chilies and garlic. I'm always a big fan of the bottom of the dish.
Another thing I liked about Sompong Seafood Restaurant (ร้านสมพงศ์) was that the kitchen appeared to be quite clean and well organized.
It was a nice open air kitchen, and they had a bunch of chefs standing around. The restaurant looks like it can handle some big groups.
Our well rounded seafood meal at Sompong was a great way to end a morning of walking around and exploring the fresh seafood market at Talad Pak Nam (ตลาดปากน้ำ).
The Bottom Line
The seafood at Sompong (ร้านสมพงศ์) was quite good. I wasn't a huge fan of their style of pongari yellow egg curry, but the rest of the dishes were wonderful.
I think all of us especially loved the oysters, those were amazing.
If you take a day trip to visit Samut Prakan, it's definitely a seafood restaurant to include on your itinerary.
Sompong Seafood Restaurant (ร้านสมพงศ์) – Samut Prakan
Address: Thanon Srinakarin, Dambon, Bang Muang, Amphoe Muang, Samut Prakan 10270
Phone: 02-703-2496
Open hours: 11 am – 10 pm daily
Prices: Our total bill came to just over 1,100 THB for 3 of us, and we ate all these dishes (plus the oysters). I thought it was a good deal – a bit cheaper than what you'd pay for the same meal in central Bangkok.
27/15  ถนน ศรีนครินทร์ ตำบล บางเมือง อำเภอ เมือง จังหวัด สมุทรปราการ 10270
โทร. 02-703-2496
เปิดบริการทุกวัน 11.00-22.00 น.
How to get there:
Samut Prakan town is located about 29 kilometers south of Bangkok. You can get there by taking a bus, 511 from Sukhumvit, or you can take a taxi directly there. This is more a restaurant you'd come to on a day trip.

View Bangkok Eating Thai Food Map in a larger map