Som Tam Khun Gan – A Snakehead Fish You'll Love!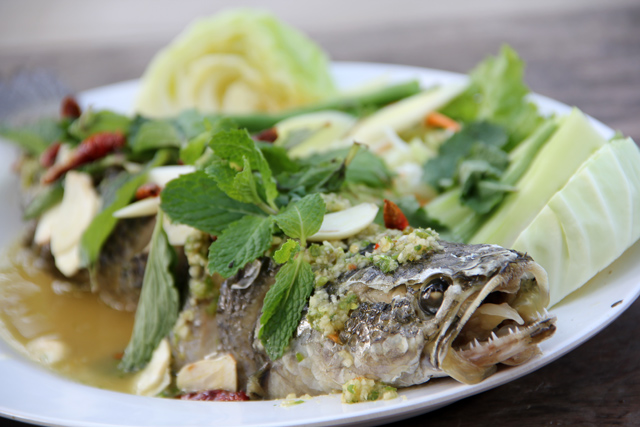 Located on a quiet little neighborhood street in Bangkok's Wachiratham Sathit district (Sukhumvit 101/1) is the little relaxing culinary paradise of Som Tam Khun Gan ส้มตำคุณกัญจณ์.
It was an impulse dining experience; I had never seen the restaurant or heard about it – but just because it looked good, I decided to give it a try.
It's a sit down restaurant with an ambiance similar to the relaxing Isaan restaurant in Bang Na, nice gardens and an outdoors tropical environment.
But as a street food indulger, I'm not one who usually cares too much about the ambiance of a restaurant – but sometimes it can be nice to relax and enjoy a pleasant meal…
Now on to the FOOD!
The menu was incredible, a truly gigantic selection of awesome looking Isaan fusion dishes and a large section of various types and styles of fish.
After much decision, I decided on the Pla Chon Lui Suan (ปลาช่อนลุยสวน), a steamed snake head fish topped with limey chili sauce, cloves of sliced garlic, dried chilies and sprigs of mint. It came surrounded by steamed veggies.
It was probably one of the best Pla Chon Lui Suan (ปลาช่อนลุยสวน) I've ever had the privilege of devouring. I munched every single bone dry, drank the sauce, and licked the plate clean – it was that tasty!
Price: 280 THB
The Som Tam Thai (ส้มตำไทย) was good too, normal but still an always pleasant dish to order with any spread of Isaan food.
Price: 40 THB
It was my first time to ever eat this dish called Pra Goong (พล่ากุ้ง), and I was overjoyed with my first bite.
The prawns were steamed, not overcooked, so they remained plump and juicy – not rubbery at all.
They were covered in a a sweet chili sauce that was laced with thinly sliced lemongrass, chunks of raw garlic, red onions and fresh sprigs of fragrant mint.
It was just so good, I could barely control my self.
Price: 80 THB
Here's a shot of my rice with a spoonful of Pra Goong (พล่ากุ้ง)!
Som Tam Khun Gan (ส้มตำคุณกัญจณ์) not only has outstanding food, but also is a great relaxing dining environment.
In the daytime the restaurant is more low key, but at night they set up more tables throughout the garden, there is some background music and the restaurant is busy throughout the evening.
If you're still hungry after that, Bangkok's deep fried snack truck is just down the road.
The Bottom Line
The food is amazing, and the ambiance is just as good – I couldn't have been happier with my order.
I would highly recommend both the Pla Chon Lui Suan (ปลาช่อนลุยสวน) and the Pra Goong (พล่ากุ้ง). Of course, there are about 200 other things on the menu that looked equally delightful but I just couldn't order everything.
Lunch or dinner, you won't be disappointed.
Prices are a little on the high side, but that's alright when the atmosphere is as nice as it is.
Som Tam Khun Gan ส้มตำคุณกัญจณ์
Address: Sukhumvit 101/1, Wachiratham Sathit Soi 23, Bang Na, Pra Khanong, Bangkok 10260
Hours: 10:00 – 24:00
Phone: 02 – 397 0770
Prices: Expect to pay 200 – 300 THB per person
ส้มตำคุณกัญจณ์
สุขุมวิท 101/1  ซ.วชิรธรรมสาธิต 23 บางนา พระโขนง กทม. 10260
เปิด 10.00 – 24.00 น.
โทร. 02-3970770
How to Get There
The restaurant is located about 1.5 kilometers away from Sukhumvit Road on Soi 101/1. It's best to take a taxi from Sukhumvit Road all the way to the restaurant unless you want to walk for about 20 minutes. The closest BTS station is Punnawithi.

View Eating Thai Food Map in a larger map