Utterly Good Som Tam and Grilled Chicken in Ubon Ratchathani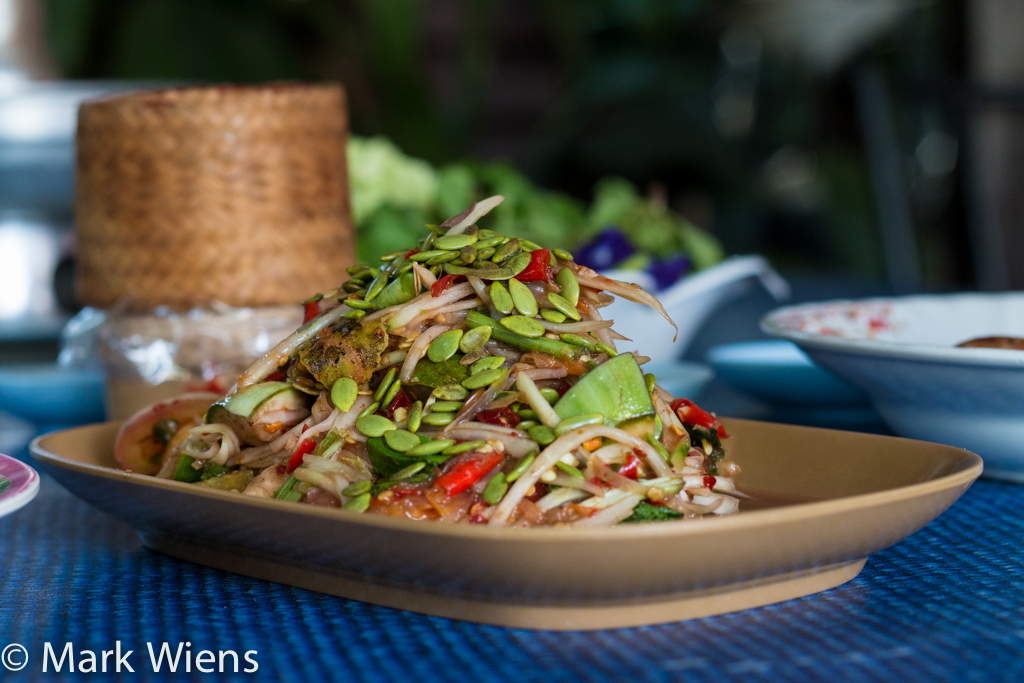 As I'm sure you've heard me say more than a few times on this blog, there are few greater combinations than som tam (green papaya salad) and gai yang (grilled chicken).
It's a combo that never gets boring.
Something about the salty grilled chicken and the spicy pungent green papaya salad is a marriage that was always meant to be.
Not long ago, I was in Khon Kaen, and had some fantastic locally famous grilled chicken.
Now, in Ubon Ratchathani I found myself at another award winning restaurant known as Pornthip Som Tam Gai Yang – Wat Jaeng (ร้านอาหาร พรทิพย์ส้มตำไก่ย่าง (วัดแจ้ง).
Pornthip Som Tam Gai Yang – Wat Jaeng (ร้านอาหาร พรทิพย์ส้มตำไก่ย่าง (วัดแจ้ง) looks sort of like an old Thai wooden house from the outside, but then you'll see and smell smoke pouring out of the restaurant, and you'll know delicious grilled chicken and other meat is not far away.
Along with grilled chicken, the restaurant also serves pla pao (ปลาเผา), or roasted fish, which unfortunately I didn't have a chance to try, though I'm sure they make no mistakes with it.
At the very front of Pornthip Som Tam Gai Yang – Wat Jaeng (ร้านอาหาร พรทิพย์ส้มตำไก่ย่าง (วัดแจ้ง) is where the meat cabinet is positioned.
Chicken, fish, and also sai krok Isaan, the ever so popular Isaan sausage, are all represented, and as soon as I arrived, I went into a near emergency state of hunger due to the immediate aroma of all the meat grilling.
Despite having eaten plenty of Isaan sausage over the past few weeks while traveling through Isaan, their sausage looked to be of incredible quality, and who could resist sausage when it looks this good, fresh off the grill?
One step further, past the grills, and into the entrance corridor of the restaurant and you'll be greeted by a long table, filled with all things delicious from Isaan – a variety of sausages, noodles, stews, mok – things in grilled banana leaf packages – everything made in house that can be ordered to eat there, or for takeaway.
The food temptations are never ending.
Gai yang (ไก่ย่าง)
Gai yang (ไก่ย่าง) is served by the half, and Ying and I ordered two halves, so we got a full chicken. The meat glistened in the natural light, so I knew already before even taking a bite, that it would be juicy and moist – and indeed it was.
Price – 200 THB
The gai yang (ไก่ย่าง) was grilled until perfect, slightly blackened for enhanced flavor, juicy, and slightly oily. The meat was delicious, and when dipped into each of the dipping sauces, it was even better.
One thing I cannot emphasize enough is how good the grilled chicken sauces at Pornthip Som Tam Gai Yang – Wat Jaeng (ร้านอาหาร พรทิพย์ส้มตำไก่ย่าง (วัดแจ้ง) were – they were insanely good.
The gai yang was served with two different sauces, a normal dark red sauce including chili flakes, fish sauce and lime juice, and I don't think there was any sugar included, because it was sharp and pungent – my exact style.
The other sauce, another typical gai yang (ไก่ย่าง) sauce, which some restaurants serve directly from that terrible bottle of "Thai sweet chili sauce," was far different from the norm.
It was light and fresh, garlicky, slightly sweet, and it almost had a zing to it on my tongue. I think there may have been a touch of Sprite or fizz in their recipe, and it was extremely well rounded and flavorful.
You won't go wrong with their gai yang (ไก่ย่าง) and their home-made sauces.
Som tam Laos (ส้มตำลาว)
In words, I can hardly do justice to how good the som tam was at Pornthip Som Tam Gai Yang – Wat Jaeng (ร้านอาหาร พรทิพย์ส้มตำไก่ย่าง (วัดแจ้ง). It was, in my opinion, everything I want in a plate of green papaya salad.
My usual som tam order is som tam Laos (ส้มตำลาว), a variety of green papaya salad that includes fermented fish sauce, a Laos olive (มะกอกลาว), and a mix of green papaya, tomatoes, and eggplant.
They don't always include a sprinkle of white popinac seeds, the little green seeds on the top of this som tam, but I'm always grateful when they do. They are like miniature stink beans.
This plate of som tam Laos (ส้มตำลาว) was impressively delicious.
Price – 50 THB
Tom saeb graduk moo (ต้มแซ่บกระดูกหมู)
Not too many Isaan restaurants serve their tom saeb graduk moo (ต้มแซ่บกระดูกหมู), the sour Isaan version of tom yum, in a fire pot, but the owner explained to me that she likes to keep the soup hot throughout the duration of everyones meal – I agree.
Her, tom saeb, teeming with bite sized chunks of fall apart tender pork ribs, was sour, spicy, and boiling hot.
It was deliciously flavored, full of herbs like sawtooth and cilantro, and I really liked that she threw on a handful of mint as well, which I haven't seen often in tom saeb graduk moo (ต้มแซ่บกระดูกหมู).
Price – 150 THB
Sai krok moo yang (ไส้กรอกหมูย่าง)
Not forgetting the Isaan sausage, which on the menu they call sai krok moo yang (ไส้กรอกหมูย่าง), or grilled pork sausage.
Loving the grilled chicken and the som tam, I was honestly hardly even thinking about the sausage. But then I tried it, and was surprised how good it was, even on top of everything else.
The sausage, again, made in house, not ordered from outside like some restaurants, was less fatty than many other versions of sai krok I've had. It was slightly sour, and had a wonderful smokiness.
Price – 70 THB
Pornthip Som Tam Gai Yang – Wat Jaeng (ร้านอาหาร พรทิพย์ส้มตำไก่ย่าง (วัดแจ้ง) has both an indoor AC section of seating, and an outdoor open air section as well.
Everyday, especially popular as a lunch spot, the restaurant fills up, some having to wait for tables.
Conclusion
If you visit Ubon Ratchathani, in Isaan, and love food, there's no way you're going to want to miss a meal at Pornthip Som Tam Gai Yang – Wat Jaeng (ร้านอาหาร พรทิพย์ส้มตำไก่ย่าง (วัดแจ้ง).
Everything I ate, from the grilled chicken to the Isaan sausage, was incredibly good, and I especially loved the som tam Laos (ส้มตำลาว) which the owner pounded to perfection.
In the land of som tam, gai yang, and sticky rice, this restaurant in Ubon excels.
Pornthip Som Tam Gai Yang – Wat Jaeng (ร้านอาหาร พรทิพย์ส้มตำไก่ย่าง (วัดแจ้ง)
Address: 136 Thanon Sapsit, Mueang Ubon Ratchathani District, Ubon Ratchathani, Thailand
Phone: 0897208101
Open hours: 8 am – 8 pm daily
ที่อยู่ ที่อยู่ : 136 ถนนสรรพสิทธิ์ ตำบลในเมือง อำเภอเมืองอุบลราชธานี อุบลราชธานี
โทร. 0897208101
เปิดทุกวัน เวลา 08.00 – 20.00 น
How to get there: The restaurant is located in Ubon Ratchathani, Isaan, on Thanon Sapsit Road, just a block to the east of Wat Jaeng temple. When I was in Ubon, I stayed at T3 House hotel, and the restaurant was conveniently just a 3 minute walk away.