Surprising Sea Food in Chiang Mai, at Lerd Rote Tai Rom Ma Feuang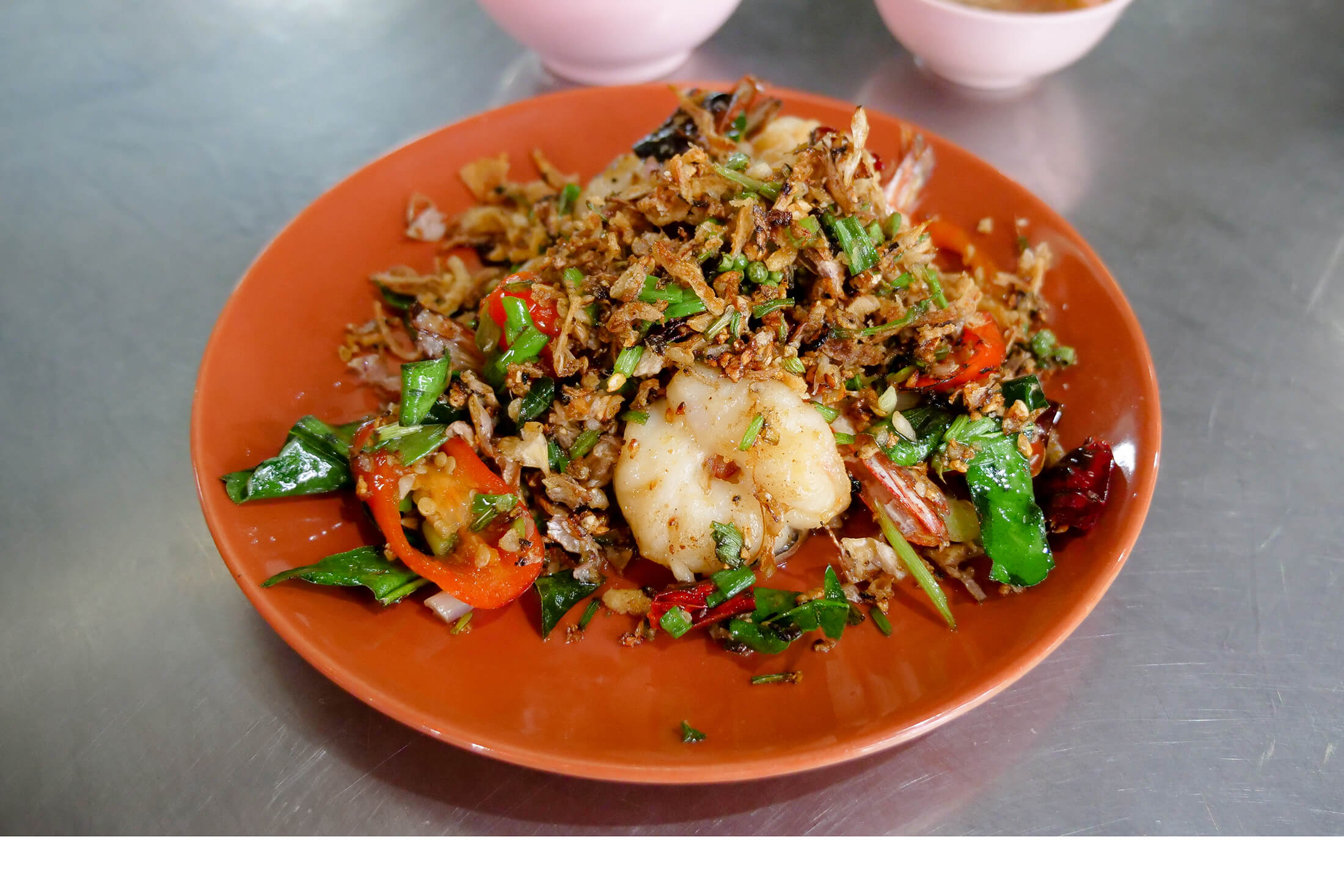 Lerd Rote Tai Rom Ma-Feuang Restaurant (เลิศรสใต้ร่มมะเฟือง), or just "Lerd Rote" for short, serves some of the best food in Chiang Mai, Thailand, and some of the best Thai-Chinese food I've ever had anywhere!
Although the town of Chiang Mai is so for North of anything resembling salty ocean water, I could not believe how happy I was to be eating their delicious seafood.
Let me share with you the details of this amazing restaurant, and some drool-worthy photos, all in the article below.
Lerd Rote Tai Rom Ma Feuang is the Name
The restaurant name translates to 'excellent tastes in the shade of the carambola trees,' and I would say this is a perfect place for your next feast of authentic Thai food in Chiang Mai.
The chefs here serve incredible high-heat wok-style dishes – and just wait until you see the claws on this huge black pepper crab.
Thai-Chinese Style Cooking
The cooking here is all Thai-Chinese-style, done with a huge wok pan, and the chef literally leads you in from the street by the sounds and smells of his work.
Bathing in a sauna of seafood-steam, he mops his brow with a neck towel, and looks up only to call out orders.
Of course, I have to admit that at first, I was hesitant to visit a mountain-side restaurant that specializes in seafood. Chiang Mai is an entire days' drive from anything resembling the home of salt-water dwelling animals, I really couldn't believe someone would call this the 'best food in Chiang Mai.'
When I saw the freshness (and size) of the fish, the shrimp, and finally the crab that they are serving though, my stomach was literally leaping for joy!
Salt and Pepper Fried Shrimp (กุ้งพริกเกลือ)
"Goong Prik Gleu-ah"
The first thing we ordered was the shrimp. This style of dry frying with salt and pepper is a dish perfect for the high-heat wok-cooking that this chef so obviously excels at (you can hear the 'whoosh' of his high-power gas flame from out the front door).
The shrimp are so large that just three of them, covered by a mountain of garlic, chilies, peppercorns, and diced kaffir lime leaves, fill an entire dinner plate.
I couldn't believe the juicy tenderness of the shrimp, and the huge amount of chili and garlic goes so well with the dry salty flavor of the shrimp cooked at high heat.
If not for the crab arriving just a few minutes later, I would have raved about how this dish was the best dish we had all week. You should definitely order this shrimp when you visit Lerd Rote Restaurant.
Fish Tom Yam in Clear Broth (ต้มยำปลา นำ้ใส)
"Tom-Yam-Plaa Nam-Sai"
A fire-pot full of fish will compliment the salty garlic-y shrimp nicely, and the lean-meat, more gentle flavor of Sea Bass is a great choice.
A fish with usually a very gentle taste, Sea Bass goes very well with a tom yam soup. I always like to order it with clear soup broth ("nam sai"), as this really allows you to get the flavor of the meat itself.
The recipe at Lerd Rote is full of thick chunks of white sea bass meat, some real fish-meat fish-balls, and a type of small dense local seasonal mushroom ("het poh"). The lemongrass and galangal make the soup very sour, and the large shreds of cilantro and kaffir lime leaves give it a fresh and herbaceous smell as well.
Tom yam soup is always a solid choice when you want to eat Thai-style. Many Thai-Chinese will have a soup like this for dinner, plus a stir-fried vegetable dish, eating these two dishes with just a small bowl of white rice.
Black Pepper Crab (ปูผัดพริกไทยดำ)
"Boo Pad Prik Thai Dam"
It took ten minutes for the crab to arrive, but thats probably because the crab they picked for us weighed more than a kilogram.
Incredible.
First things first, let me say that honestly, when ordering a dish like this, you may even need to prepare yourself mentally for what is about to happen.
For me, crab meat is something so special, such a pure and rich food experience, that its even hard to put into words sometimes all the things that a dish like this makes me feel.
This crab was exactly what I hoped for, and knew that it would be – which was just out of control delicious.
It is so good, you may even go a few minutes without speaking, and even then it might only be gibberish that comes out behind a massive and joyous grin.
The amount of black pepper in this dish is insane, it felt like the chef may have used an entire bottle on this one crab. The smoky flavors, the umami-ness, the fried onion and garlicy-ness, they all just go together so well to elevate this crab to perfection.
Gigantic Crab Claws
One more look at that crab – and I want to order another one right now.
The claw was nearly as big as my own hand.
Honestly, this is not a dish you order when sticking to a budget, and the incredible buttery gentle textures of the crab claw meat combined with the jaggedly nasal tang from all those peppercorns are the type of dangerous deliciousness that might have you just trusting the chef with your entire wallet.
If you do decide to order this though (and trust the chef with your wallet), then at least you know you have our support – just as long as he brings you more crab.
Chinese Chives Fried w/Squid (กุยช่ายปลาหมึก)
"Gui-Chai-Plaa-Meuk"
As the rest of our order focused on rich and buttery, meaty seafood dishes, its almost necessary to have a more simply fried plate of vegetables to complete the meal.
Chinese chives ("gui chai") are a thin, soft, but still crispy vegetable (when fried quickly and at such high heat), and you can really taste the freshness in the flowering shoots of the chives they use.
The squid meat they include in this dish is not rubbery, and retains a nice chewiness which combines well with the smoky flavors from that high-heat wok pan.
The Flavors Speak for Themselves
I don't know how much more I could rave about the seafood here – I'll just say that I highly recommend a visit to Lerd Rote on your next trip, especially if you want to build your own list for 'Best Food in Chiang Mai.'
Finally, this restaurant has much more than just seafood, and although we didn't have too much time today, I would love to return and order some more of the vegetable dishes frying on that ultra high-heat wok pan (its clearly the type of place where you can trust the chef with every dish).
They also have some fruit-with-ice drinks on the menu, but I didn't see any including Starfruit (Carambola, "ma-fueang," as in the name of the restaurant).
Seating, Ambiance, and Hours
The seating is unassuming, and perfectly utilitarian – it takes nothing away, gives customers all that they need, and provides a great ambiance to this restaurant clearly dedicated to mastering the seafood arts.
You sit directly next to the Ping River, a relaxing and quiet place shaded under the Starfruit trees, perfect for a dinner time feast of seafood in Chiang Mai with friends or family.
Remember that Lerd Rote Restaurant has traditional Bangkok-Thai-Chinese opening hours – opening for a few hours at lunchtime, then closing at 2PM for a mid-afternoon break, before then opening again for dinner at 5pm.
Their Confidence is Comforting
Parking here also goes right along with the feeling of a restaurant that needs nothing to hide behind. You might need to park outside on the street, and walk for a little ways to get back to the restaurant itself.
The amazing quality of Lerd Rote's food is enough to keep customers coming in, and this restaurant spends almost nothing extra in the way of things like signs for the restaurant, places to park, a host or hostess to stand in front and let you know that the restaurant is even open… :)
This shop nails eight out of nine tips on EatingThaiFood's winning-restaurant-checklist.
Ways to improve your chances in picking a winner before eating at a restaurant – hidden gems in Thailand will have many if not all of the things on the list.
Getting There:
Address: 126 Tambon Pa Tan, Amphoe Mueang Chiang Mai, Chang Wat Chiang Mai 50300
Map: (Google Maps)
Hours: 1130AM-2PM, and then again from 5PM-9PM. Open Daily.
Prices: Our total bill came to 2,000B. A bit pricey, but the quality of the seafood was incredible.
In Thai:
ที่อยู่: 126 ตำบล ป่าตัน อำเภอเมืองเชียงใหม่ เชียงใหม่ 50300
เปิด-ปิด: 1130AM-2PM และ 5PM-9PM
โทร: 053 872 092