Samrong Market: All Thai Cooking Ingredients You Need and Secret Bargains!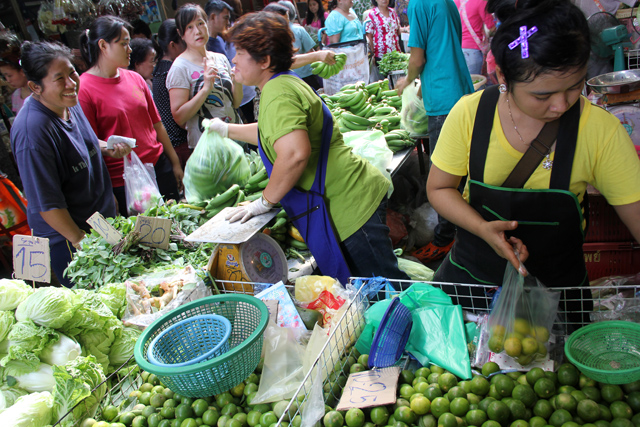 Bangkok has tons of markets.
Some of them are mega distribution markets, while others are little neighborhood low key markets.
One of my favorite markets in Bangkok is Samrong Market (officially located in Samut Prakan, but on the border of Bangkok's Bang Na district and just a short distance from Bearing BTS station).
Samrong Market contains a massive selection and variety of fresh vegetables, fruit, meat, seafood and all things Thai ingredients.
If you're about to do some Thai food cooking and need to round up everything to cook with, you'll be able to purchase everything and more at Samrong.
There are three main sections of the market.
On the east side of Sukhumvit Road you'll find a huge sheltered area that includes fish, meat, vegetables, spices and lots of pre-cooked food. Just the first section is as big as Krabi's Maharaj Market, but there's still so much more to Samrong!
If you cross over to the west side of Samrong Market (same side as Imperial Big C), you'll get into an even larger open air area. The second section is a sprawl of fruit and vegetable vendors that change throughout the day. In this section you can find some great deals.
If you walk to the back of the second section you'll finally get to the third market where most of the butchers and meat vendors are located. The best time to buy meat is in the early morning hours.
You won't have trouble locating seafood at Samrong and most of the prices are pretty decent.
I enjoy going to Samrong Market to feed my lust for southern Thai food. It's not as good as Bang Kapi market near Ramkhamhaeng, but there are a few good stores to get southern Thai ingredients.
There's also an irresistible southern Thai restaurant on the outskirts of Samrong – I'd highly recommend it!
Like all respectable Thai markets, there should be not only uncooked veggies and fruits, but also a proportional amount of takeaway or sit down prepared food.
Samrong Market has an overwhelming amount of cooked food, depending on what time you visit.
Just like Long Bien Market in Hanoi, Samrong opens extremely early in the morning for distribution and then begins to settle down by mid morning. This is when the market shifts to selling a lot of pre-cooked foods in addition to fresh produce.
Why I go to Samrong Market (the Secret)
At Samrong Market, vendors want to sell EVERYTHING.
My absolute favorite reason for making a weekly trip to the market is to capitalize on kilos of delicious tropical fruit at a steal of a deal. I sometimes come away with giant stocks of bananas for just 5 THB, 5 kilos of mangoes for 20 THB, or 3 kilos of guavas for 10 THB.
I've honestly walked away with close to 20 kilos of fruit for just 100 THB (about $3).
The secret is to go when the vendors are switching shifts – around 11 am. They want to get ride of everything they have – and are willing to dip their prices LOW!
I once came home from Samrong Market with a legendary 10 kilo durian (more on this plus a VIDEO coming soon).
If you like to browse local Thai markets in Bangkok, Samrong Market is about as good as it gets. You can buy anything imaginable and it's always action packed.
How to Get to Samrong Market
You can actually take the BTS to Bearing station and it's just a short distance down Sukhumvit from there (I've walked in a bout 10 minutes). There are also lots of buses – 511, 25 etc. (check these Samut Prakan buses)
Here's the map:

View Eating Thai Food Map in a larger map