Ran Nai Oo (ร้านนายอู๋-ข้าวแกงสามย่าน) – Thai Rice and Curry at Samyan Market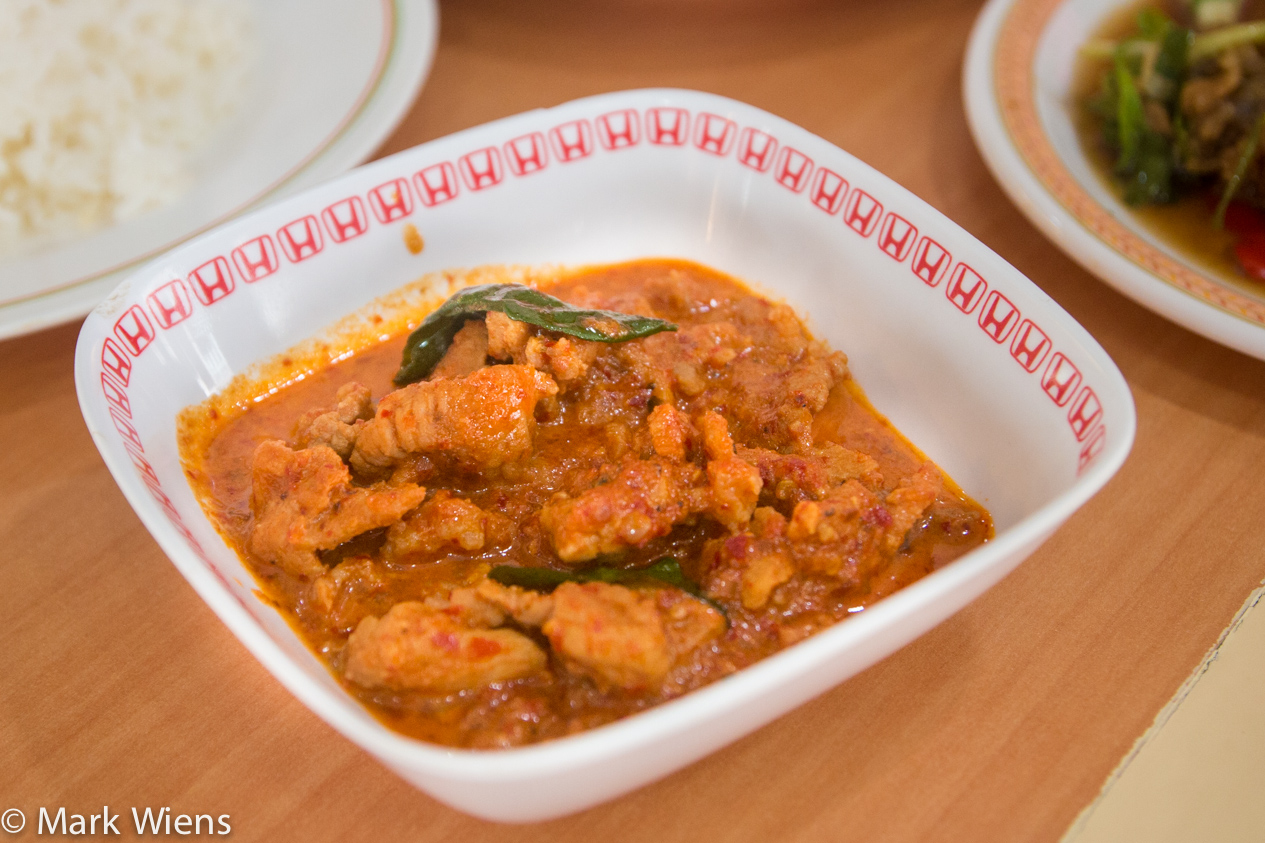 Throughout Bangkok you'll find tons and tons of local khao gaeng (rice and curry ข้าวแกง) restaurants.
While I like to eat noodles occasionally, I'm more of a rice and curry kind of guy most of the time – so I'm always on the hunt for good restaurants like this.
Located on Chula Soi 11, within the Samyan area of Bangkok, is Ran Nai Oo – Khao Gaeng Samyan (ร้านนายอู๋-ข้าวแกงสามย่าน), a Thai rice and curry restaurant that has been serving for over 50 years.
Like all khao gaeng (ข้าวแกง) restaurants, you get to see all the Thai dishes that are available, and choose to eat what looks the best… but sometimes it can be challenging to make a decision.
The owner is quite a friendly man, and he even speaks a bit of English, and he's happy to point out the different dishes and recommend something for you to eat.
Khanom jeen nam prik (ขนมจีนน้ำพริก) is not all that easy to come across walking around Bangkok, but it's one of the specialities at Ran Nai Oo – Khao Gaeng Samyan (ร้านนายอู๋-ข้าวแกงสามย่าน).
Khanom jeen, are the soft white, slightly fermented rice noodles, that can be served with a variety of different types of curry on top.
We ordered the khanom jeen nam prik with a hard boiled egg on the side (ขนมจีนน้ำพริก ไข่ต้ม), a bed of rice noodles, some slivers of morning glory, shreds of banana flower, all covered in the nam prik curry sauce.
The dish sort of tastes like a sweet peanut butter curry, not really spicy.
It's personally not my favorite dish, because it's sweet, but for what it is, it was very good here (my wife really enjoyed it).
Price – 40 THB
How to order…
At a khao gaeng restaurant in Thailand you can order either choose to order rad khao (ราดข้าว) or gap khao (กับข้าว).
Rad khao means that you'll get a plate of rice, and then chose 2 – 3 different curries that will be placed right on top of your rice.
Gap khao means that you order a couple of dishes that come on full plates, and you order a plate of rice on the side.
I normally order gap khao, though more expensive, you get more food!
First dish I chose, pla kahpong pad keun chai (ปลากะพงผัดคึ่นฉ่าย), pieces of deep fried barramundi (Asian sea bass), stir fried with lots of baby celery, onions, chilies, and some ginger.
It's always a solid dish, and this was decent.
Price – 40 THB
My eye was on the penang pork curry (แพนงหมู) as soon as we entered the restaurant, and so that's what I got.
I had already thought it was going to be a good version, because I could actually see the chilies within the curry.
Sometimes you'll eat a Thai penang curry that is just sweet and nutty with no other dimensions – which I don't really care for.
This penang pork curry (แพนงหมู) was excellent, probably my favorite dish that I ate at Ran Nai Oo – Khao Gaeng Samyan (ร้านนายอู๋-ข้าวแกงสามย่าน). It had a nice balance of sweetness, coarse peanuts, and an actual kick of chili heat.
Price – 40 THB
One of the famous and very random dishes that they serve is called gai tod pad met mamuang imapan (ไก่ทอดผัดเม็ดมะม่วงหินมพานต์), which is basically nothing more than fried chicken with hot dogs and cashew nuts.
This is a unique creation by Ran Nai Oo – Khao Gaeng Samyan (ร้านนายอู๋-ข้าวแกงสามย่าน), and let me tell you, a lot of trendy Thai students would love this one.
Chunks of fried chicken, pieces of hot dog, and a few cashew nuts, all stir fried in a sweet glaze.
Haha, I almost could not take it seriously as a Thai dish… and it tasted exactly how it sounds.
Price – 40 THB
The other curries also looked pretty good, and I noticed quite a few people entering the restaurant and heading straight for the gaeng keow wan (แกงเขียวหวานไก่ green curry), so that's probably what I'll order next time – looks good!
They also have a selection of other Thai curries like ganeg taypo (morning glory and salted fish in coconut milk), and massaman curry.
The Bottom Line
Ran Nai Oo – Khao Gaeng Samyan (ร้านนายอู๋-ข้าวแกงสามย่าน) serves a good selection of khao gaeng (rice and curry), and if you're in the area, it's worth a stop for lunch.
Another bonus is that they have an indoor AC room, which is a bit of a rare thing when it comes to eating khao geang, unless you eat at a mall food court.
Ran Nai Oo – Khao Gaeng Samyan (ร้านนายอู๋-ข้าวแกงสามย่าน)
Address: 198 Chula Soi 11
Open hours: 6 am – 6:30 pm Monday – Friday, 6 am – 2 pm on Saturday, closed on Sunday
Prices: Full dishes like I had were 40 THB
ที่อยู่ 198 ซอยจุฬา 11 ถนนพระราม 4 แขวงวังใหม่ เขตปทุมวัน กทม 10330 กรุงเทพมหานคร 10330, Thailand
เปิดบริการ จันทร์ – ศุกร์ 6.00-20.30 น และ วันเสาร์  6.00-14.oo น.
โทร. 02-215-4076
How to get there
The restaurant is located on Chula Soi 11. I took the MRT to Sam Yan station, exited towards Chamchurri Square, and then headed out, walked across the Phaya Thai road, and continued until I got to Chula Soi 11. Make a right on Soi 11, and you'll find the restaurant on your right hand side on Soi 48 Alley. Took about 10 minutes to walk.