One of the Best Thai Seafood Restaurants on Sukhumvit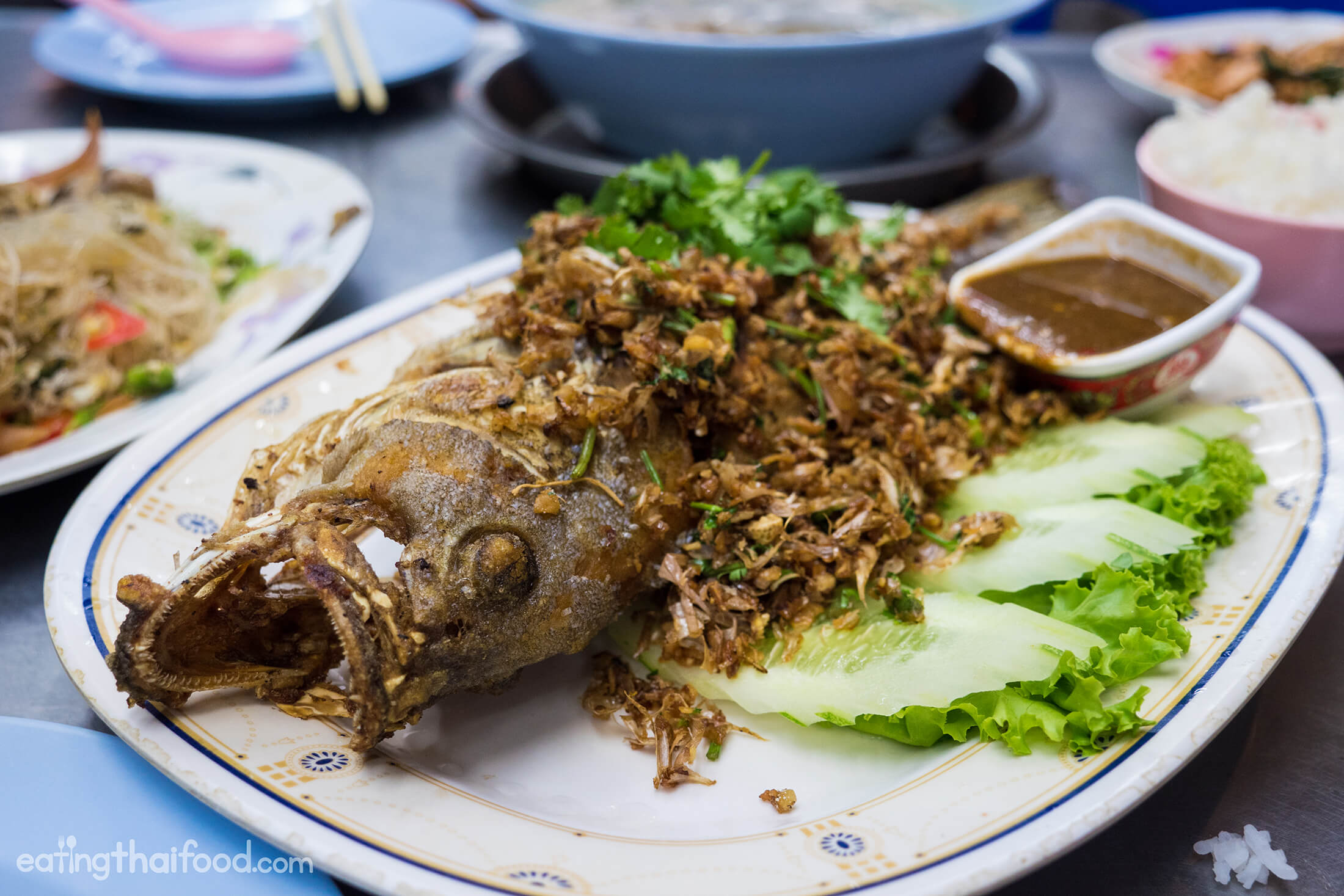 Located right along Bangkok's Sukhumvit road, in-between Thong Lo and Phrom Phong, Saeng Chai Pochana (ร้านแสงชัยโภชนา) is one of the better Thai Chinese seafood restaurants.
If you're looking for steamed, deep fried, and stir fried seafood, plus a selection of porky Chinese dishes, all of which are nice and salty, and extremely tasty Saeng Chai Pochana (ร้านแสงชัยโภชนา) won't let your taste buds down.
Here's what my wife and I ate on our most recent meal here.
Next time, crab!
Saeng Chai Pochana (ร้านแสงชัยโภชนา)
The sign of the restaurant is sort of blocked by trees if you're looking at it from across the street (that is until the Bangkok city cleaners come by and chop back the trees), but it's a red sign, with yellow writing.
One of the shophouses is where the cooking and the ingredients prepared, and there is an adjacent indoor shophouse that's used as a dining room.
Also, if you're lucky, or come early, you can grab a table on the sidewalk.
The Menu
The menu at Saeng Chai Pochana (ร้านแสงชัยโภชนา) is extensive and not in the best shape – it's one of those menus you don't really want to put your full palm down onto to turn the page!
You'll find the entire range of Thai and Thai Chinese seafood dishes available, and I don't think you can really make a bad decision, it just all depends on what you're in the mood to eat.
The menu is written in Thai, Japanese, and English, likely because their location, in-between Thong Lo and Phrom Phong, has a high concentration of both English and Japanese speaking expats.
I think I've said this a number of times before on previous restaurants reviews… but sometimes when you just look at the greasy old menu, you know the food is going to be good before it arrives.
Saeng Chai Pochana (ร้านแสงชัยโภชนา) had one of those menus – and I'm certainly not one to complain.
Pad dok kajon (ผัดดอกขจร)
We started our meal at Saeng Chai Pochana (ร้านแสงชัยโภชนา) with a plate of pad dok kajon (ผัดดอกขจร), stir fried cowslip creeper flowers (or Thai milkweed flowers) with egg and mung bean noodles.
It was awesomely good – first of all a good combination of ingredients that I always like, and because it had a wonderful wok smoky flavor. The mung bean noodles weren't mushy, and the cowslip creeper flowers remained crispy and fresh.
The slight char on the egg was the extra touch that made it even better. Their version was heavy on the mung bean noodles, with less of the flowers, but it sure tasted incredibly good.
Overall, a very good plate of pad dok kajon (ผัดดอกขจร), and very similar to the version at 55 Pochana, a similar restaurant just down the road.
Tom moo kiem chai (ต้มหมูเกี้ยมฉ่าย)
One of the signature soups at Saeng Chai Pochana (ร้านแสงชัยโภชนา), and a dish I think that just about every table that eats dinner here orders, is tom moo kiem chai (ต้มหมูเกี้ยมฉ่าย), essentially a minced pork soup flavored with Chinese style pickled mustard greens.
Another noticeable flavor in the soup was preserved salty plums, which added a pungently sour and salty fruity taste to the soup.
The bowl of tom moo kiem chai (ต้มหมูเกี้ยมฉ่าย) was one of those dishes that when you take your first bite it surprises you – it shocks your mouth a bit – because it's looks so plain from appearance, but it's actually so incredibly sour and flavorful.
In addition to the sour saltiness, the soup also included quite a generous amount of minced pork, kind of half broken up. It almost looked like a meatball that someone crumbled apart.
Although a bit on the oily side from all the minced pork, there's no denying how tasty it was, and that unique sourness was fantastic.
Gai pad prik gaeng (ไก่ผัดพริกแกง)
I decided to order a chicken dish as well, and I went with gai pad prik gaeng (ไก่ผัดพริกแกง), chicken stir fried with red curry paste.
This was the only dish of our meal at Saeng Chai Pochana (ร้านแสงชัยโภชนา) that I probably wouldn't order again. The curry wasn't so good, and it was too creamy and sweet, while lacking great curry paste flavor.
The ingredients were still good, and I especially enjoyed the green peppercorns and the fistfuls of sweet basil within the dish.
Better to stick with the seafood Thai Chinese dishes.
Pla gao tod gratiem prik Thai (ปลาเก๋าทอดกระเทียม)
Moving onto the ultimate winner of the night, I couldn't resist ordering a pla gao tod gratiem prik Thai (ปลาเก๋าทอดกระเทียม), a brown marbled group deep fried and topped with garlic and black pepper. I have a weakness for fish.
When it came to our table I was immediately in love. The heaping pile of garlic was almost as impressive as the garlic mountain in Chiang Rai.
I couldn't resist the grouper deep fried
Fried fish with garlic and pepper
The fish was first possibly marinated, then deep fried to an absolute crispy goldenness. But the fish meat underneath that layer of crunchiness remained flaky and still moist.
Now let's talk about that heap of garlic, that's what really made the fish unbelievably good.
Don't take the next few lines of what I'm about to explain too seriously though… I'm just guessing about how they made it…
The garlic was coarsely pounded, then deep fried, and I'm guessing separately from the fish so that it didn't burn (or tossed in at the end of the frying).
Using the small Thai garlic, which have softer edible skin, the garlic was possibly tossed in soy sauce and black pepper before going into the hot oil and transforming into pure glorious golden crispies. And then it was finally dumped over the fried fish and finished with a handful of coarse cilantro.


The garlic was salty, sticky, crunchy, garlicky, and paired with the fish and some rice, it was just all around a wonderful wonderful thing.
The pla gao tod gratiem prik Thai (ปลาเก๋าทอดกระเทียม) was a marvelous creation and was definitely the dish of the meal for me.
Prices
Mostly the reason our bill was so high was because I ordered the brown marbled grouper, which was sold by weight. It wasn't a huge one, but it did increase our bill, and it was well worth it.
Dish prices really depend on the seafood, dish, and sometimes the weight of the seafood.
Our total bill for everything we ate, and there were two of us, was 750 THB ($20.88).
Conclusion
Saeng Chai Pochana (ร้านแสงชัยโภชนา) is one of the better and more well known Thai Chinese seafood restaurants located on Sukhumvit Road in-between Thong Lo and Phrom Phong.
From their well used menu, you know right off the bat, they are going to serve delicious food, and their menu is hugely extensive, covering the full range of Thai seafood dishes and things from the sea.
The tom moo kiem chai (ต้มหมูเกี้ยมฉ่าย), a soup of minced pork and preserved mustard greens was good, but the real stunner was the pla gao tod gratiem prik Thai (ปลาเก๋าทอดกระเทียม), brown marbled grouper topped in a heap of garlic.
For an excellent (but a bit greasy) Thai Chinese seafood meal, Saeng Chai Pochana (ร้านแสงชัยโภชนา) is a meal that won't let you know.
Also, they are open late into the night, until 4 am – keep that in mind next time you're craving a salty garlicky deep fried fish in the middle of the night!
Saeng Chai Pochana (ร้านแสงชัยโภชนา)
Address: 762/5-6 Sukhumvit Road, Soi 32 – Right on the main Sukhumvit Road
Open hours: 6 pm – 4 am daily – it's a late night spot if you need it!
Prices: Our total meal cost 750 THB ($20.88)
How to get there: Saeng Chai Pochana (ร้านแสงชัยโภชนา) is located on Sukhumvit Road, near Soi 32, and between Thong Lo and Phrom Phong BTS – walkable from either station.