Roti Taew Nam – Ridiculously Tasty Egg Roti for Breakfast in Phuket!
Roti Taew Nam (โรตีแถวน้ำ) is one of the best Halal roti breakfast restaurants in Phuket. Try the insanely crispy roti, fried eggs, and curry.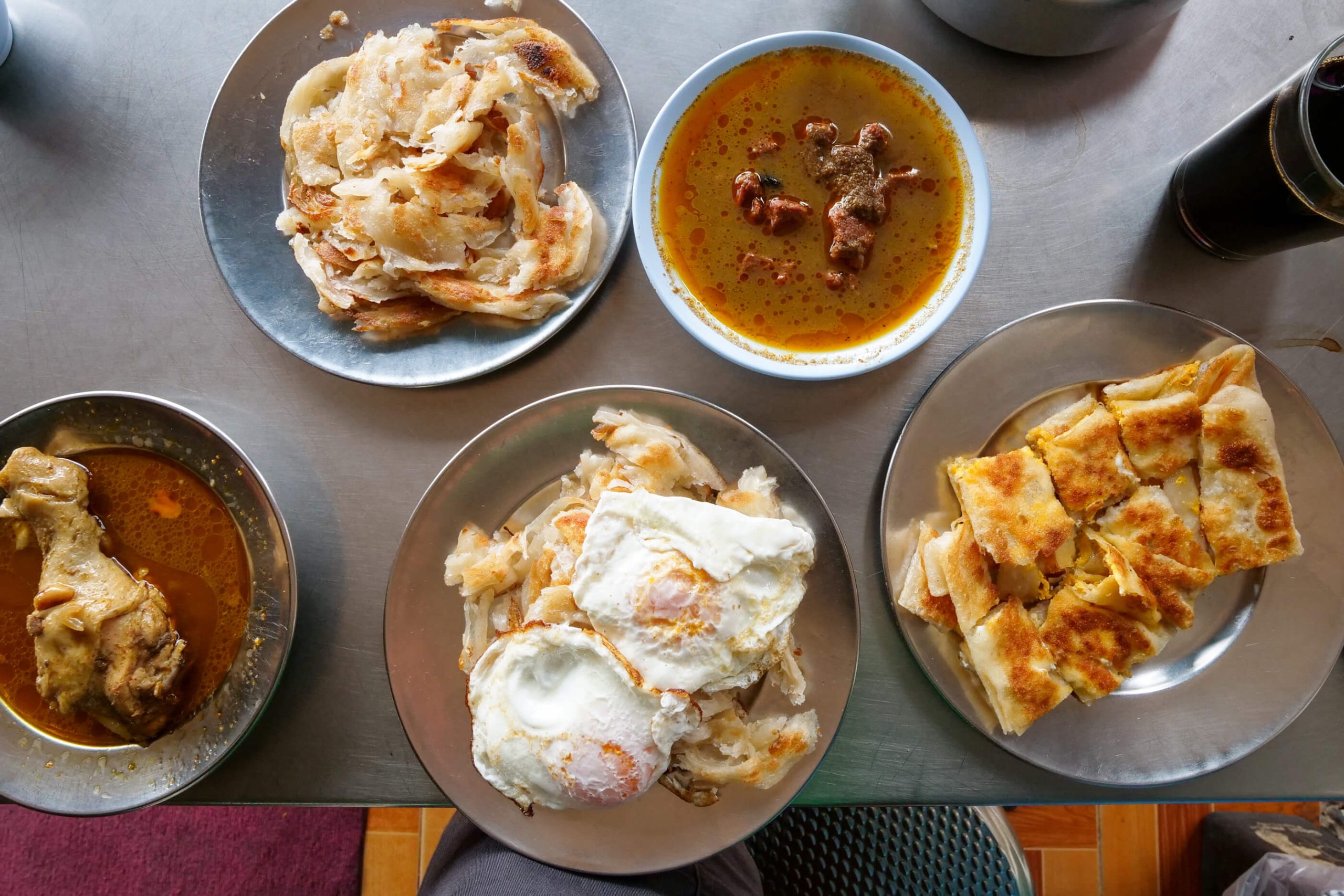 Roti Taew Nam (โรตีแถวน้ำ) is a famous breakfast restaurant in Phuket Town, Thailand known for their extremely tasty roti.
Whatever they do, they do it right, and you will love the crispy texture. So get ready for plates of roti, oozy eggs, and Massaman curry to soak it all up.
Here's what you can expect to eat!
Roti Taew Nam (โรตีแถวน้ำ) – Phuket, Thailand
The restaurant is located right in the heart of Phuket Town, on the corner of Phuket and Thalang roads.
They are open from 6 am – 12 Noon daily, so it's a perfect place to get an early start for breakfast, or a mid-morning brunch.
One of the notable things about Roti Taew Nam is that all of the rotis are cooked on a flat iron griddle over charcoal. Not using gas. This just adds to the coolness of the restaurant, and I think the smokiness and flame of the fire really does add to the flavor of the roti.
Finally, there are two pilgrimage worthy roti breakfast restaurants in Phuket (that I've been to). One is Roti Taew Nam and the other is Roti Chaofa. For me, Roti Taew Nam has the best of the best roti, but Roti Chaofa is quite a bit better for their curry.
Both are excellent, both are Halal.
Video – Street Food in Phuket
Roti Taew Nam (โรตีแถวน้ำ) rightfully received a Bib Gourmand award in the Phuket Michelin Guide.
And so on my Michelin Guide street food tour of Phuket, first thing I ate was roti. So if you have some time and want to see the full experience of eating at Roti Taew Nam, you can watch the video above (here's the YouTube link).
The Menu
They have a full English / Thai picture menu even though it says pancakes in English, they are roti). So even if you don't speak Thai you won't have any problem ordering.
The menu is simple and straight forward. While some roti shops in Thailand mainly sell sweet roti, Roti Taew Nam is for the most part a savory roti stall, serving roti and curry.
Plain roti
Let's begin with the plain roti.
I'm not sure what they do, but the plain roti is one of the crispiest rotis I've ever had, and yet it remains gooey and flaky on the insides.
I also like how your roti is layered, fried in disc, and then hand shredded before it's served. Really really outstanding plain roti, honestly one of the best single rotis in Thailand.
2 Roti, 2 Eggs
From plain base crispy roti, you can choose your toppings and side dishes.
You can get a 1:1, but you'll likely want to go straight for a 2:2, which is 2 rotis, 2 eggs. It's a little like the 2 x 2 or 4 x 4 at In N Out.
The eggs are also fried on the same hot griddle as the roti, and you can choose how they are cooked. The runny yolks flowing onto the crispy roti is sensational.
Beef curry
There are a handful of curries you can try. I first tried the beef curry. The style is kind of light and water based, so almost more soupy. The flavor was balanced, a little sweet, and with a hint of cinnamon.
For me, the beef curry was good, but not outstanding.
Chicken massaman curry
It was a similar story for the chicken massaman curry. The curry was light and more watery style than thick and rich (maybe good for breakfast?).
The massaman curry was sweet and nutty.
The curries are ok, but really what stands out is the roti, not the curry. I prefer the curry over at Roti Chaofa.
Sweet roti
Finally, my wife ordered the stuffed roti with egg and sweetened condensed milk (bottom right corner). A delicious option if you want something sweet. And we also asked for the condensed milk on the side so it wasn't too sweet.
Along with you meal you can order old Thai style coffee and tea.
Without a doubt, Roti Taew Nam (โรตีแถวน้ำ) is a classic roti breakfast restaurant in Phuket. It's a perfect place to have a quick local breakfast in Phuket, and enjoy one of Thailand's roti gems. Just wait till you taste how crispy it is!
Roti Taew Nam (โรตีแถวน้ำ)
Address: Thalang Rd, ตำบล ตลาดใหญ่ Mueang Phuket District, Phuket 83000 (Google map)
Open hours: 6 am – 12 Noon daily
Prices: Roti and egg is 20 THB, each curry is 50 THB