Rim Talay Restaurant on the Beach in Koh Samui
Rim Talay Restaurant, located at Santiburi Resort in Koh Samui, serves a menu of international and Thai dishes on the beach. The atmosphere is what I really loved about our meal here.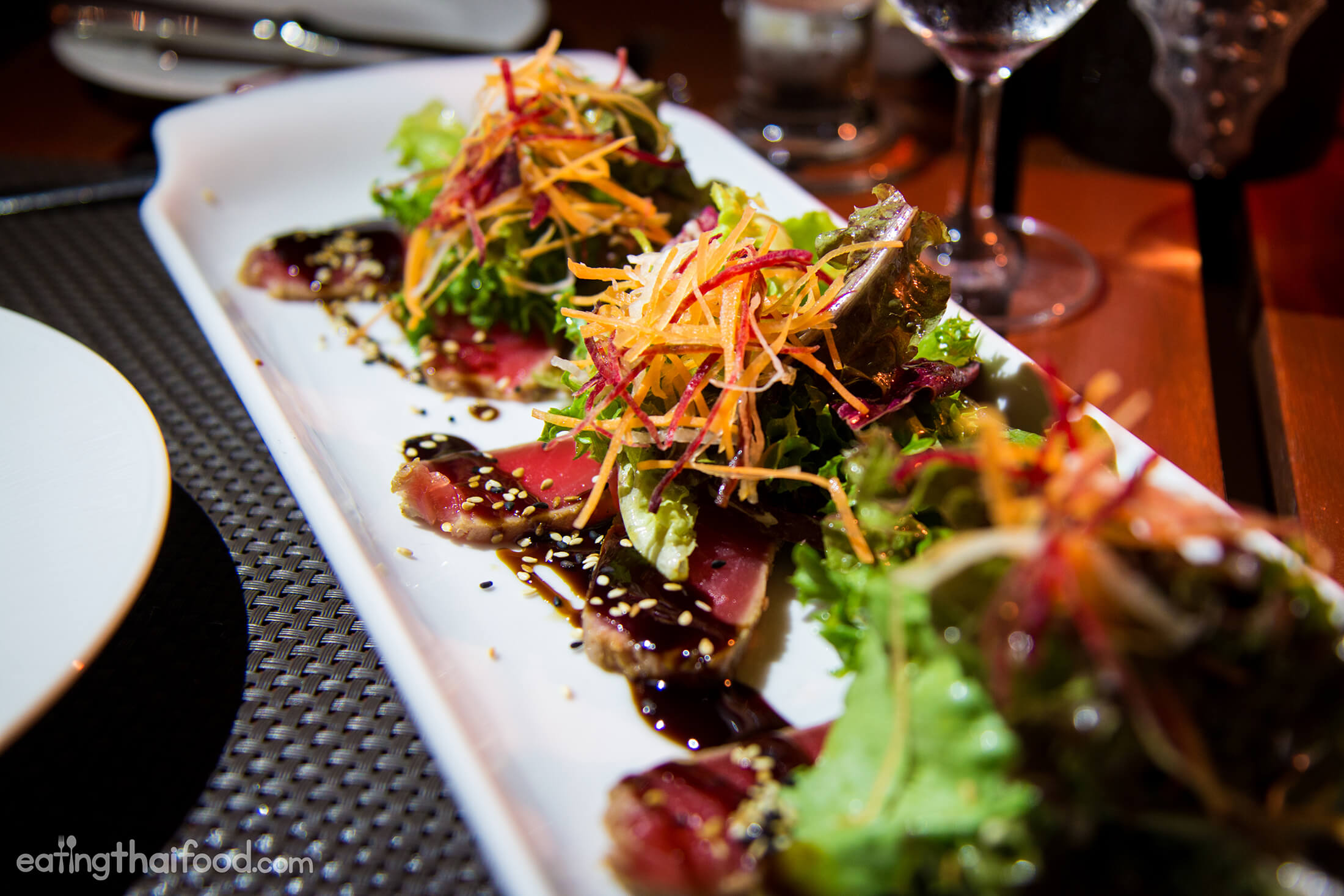 Mostly why I wanted to quickly share about this restaurant is because of the beautiful atmosphere.
The food was overall quite good as well, but the atmosphere, sitting on the peaceful Mae Nam beach of Koh Samui, lights flickering off the glassy peaceful sea, with a reflection of Koh Phangan in the distance, was really the highlight for me.
Ying and I were invited to stay at Santiburi Beach Resort in Koh Samui, and for dinner on our first night, we ate at Rim Talay Restaurat.
(Also, if you're interested, be sure to check out our vlogs from Koh Samui)
Due to being on the beach and the romantic kind of atmosphere, and with no tripod, the lighting made it extremely hard to take photos.
Luckily, using Ying's phone flashlight, something I've been using quite frequently lately, we were able to get a few shots.
The Menu
On the menu at Rim Talay they had a selection of both International and Thai dishes, and a pretty good sized list of different steaks, most of which were imported from Australia.
At nicer restaurants in Thailand that serve both Thai and International food, I tend to shy away from the Thai food, mostly because I know that I'll just about prefer a local style restaurant, and stick with international dishes – plus living in Thailand with a Thai family I rarely eat Western style food.
So here's what we ate…
Tuna salad
Ying and I began with a tuna salad, which came with thin strips of sliced and lightly seared tuna, topped with little bundles of salad, drizzled in a sour and sweet balsamic dressing, and finally topped with a handful of sesame seeds.
The salad was excellent and the pieces of tuna were soft like butter, with a slight balsamic dressing and nuttiness from the sesame seeds.
I would have loved to have an entire plate, or platter, of just the lightly seared tuna.
Pizza
I wouldn't say I'm a big pizza connoisseur, so I'm probably not the best to technically judge pizza, but this was pretty good for me.
We ordered a pizza topped with prosciutto, rocket, and olives – and since my wife doesn't like olives, I got to eat them all!
Although there probably could have been a few extra toppings on the pizza, overall the flavor was excellent, not too salty like pizza can sometimes be, but just the right amount of cheese.
Grilled fish
Another part of the menu at Rim Talay Restaurant that they offered was the fresh seafood station.
At the front of the restaurant there was a metal bucket with a selection of the catch of the day, all on ice, and waiting to be chosen.
When I see fresh fish, everything else on my mind, or on the menu, gets put on hold: I love fish.
After thinking for quite some time wether to get a fresh red snapper steamed in soy sauce or grilled, I finally ended up getting it grilled.
The fish was grilled pretty plain, maybe just a pinch of salt, and it was served with a couple of dippings sauces on the side and a few wedges of lime.
But when you have fresh grilled fish, that's not overcooked so it remains juicy and flaky, you really hardly need any condiments. All I needed was a quick squeeze of lime juice, before licking his bones clean.
Conclusion
For a high end international meal with an amazing atmosphere, Rim Talay Restaurant in the evening at Santiburi Beach Resort in Koh Samui was quite a treat.
I rarely have a chance to eat on the beach, or to eat international food in Thailand – mostly because I love Thai food so much – but this nice.
The seafood was good and fresh, the service at the restaurant was top notch, and the atmosphere was hard to beat.
Rim Talay Restaurant – Koh Samui, Thailand
Address: Located at Santiburi Beach Resort*, Mae Nam, Koh Samui, Thailand
Prices: Again, I didn't pay for this meal, but our total bill came to about 1,500 THB. I also saw steaks on the menu ranging in price from about 800 THB – 2000 THB.
NOTE: Ying and I were invited to stay at Santiburi Beach Resort, and this meal at Rim Talay was included in our stay. So I didn't pay for this meal, but I wanted to quickly highlight it for its amazing atmosphere in Koh Samui and decent food.
More local Koh Samui food to come soon!