Restaurant: Huan Huay Kaew
Huan Huay Kaew is a peaceful restaurant serving amazing Northern Thai food dishes near Chiag Mai, Thailand.
Restaurant Name ชื่อร้านอาหาร
Huan Huay Kaew Restaurant
City / Place สถานที่
Chiang Mai, Thailand
Open Hours เวลาเปิด – ปิด
11 am – 10 pm daily
Telephone Number เบอร์โทรศัพท์
0 5389 2698
Description บรรยาย
Built on stilts over a stream and elevated into the treetops, Huan Huay Kaew Restaurant is a wonderful spot for a relaxing meal. The menu includes an extensive selection of Thai food and specialized in Northern Thai dishes. There are no problems ordering as the menu and descriptions are in Thai and English.
What to Order / Prices   อาหารแนะนำ / ราคา
Gaeng hanglay แกงฮังเล
Nam prik ong น้ำพริกอ่อง
Sai ooah ไส้อั่ว
Gaeng som pak ruam แกงส้มผักรวม
Pla meuk yad sai แพนงปลาหมึกยัดไส้
A restaurant on the nicer side, after a filling satisfying meal the bill came to around 200 baht per person.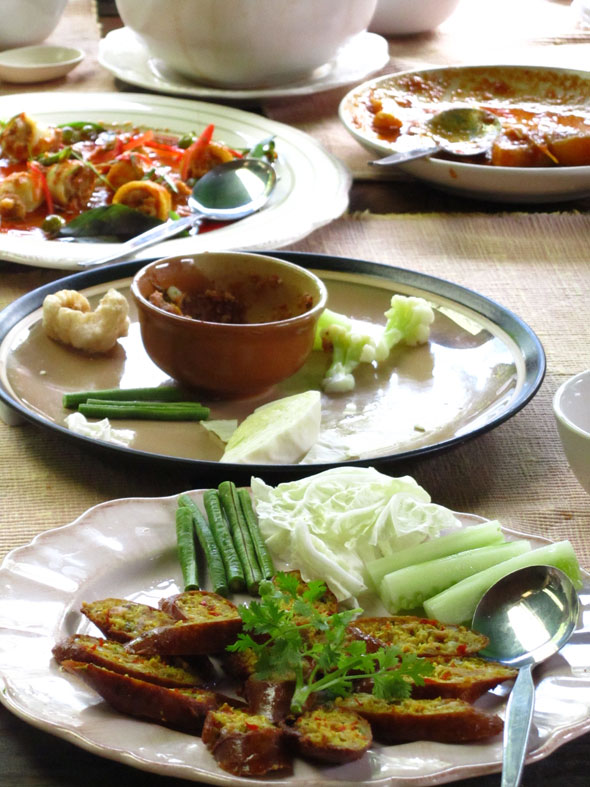 Honest Opinion ความเห็น
The setting was gorgeous and the food that accompanied was just as good. If you are on your way to visit Doi Suthep temple on the mountain behind Chiang Mai, this is a worthwhile place to grab a delicious relaxing lunch or dinner.
Address ที่อยู่
31/2 M.2. T.Suthep, Huay Kaew Rt.
Chiang Mai, Thailand
www.lannaburi.com