Raya – Phuket's Most Famous Restaurant
Raya is probably the most famous restaurant in Phuket Town, specializing in local Phuket food. I was impressed with the atmosphere, the stink beans, and the moo hong, braised Phuket style pork.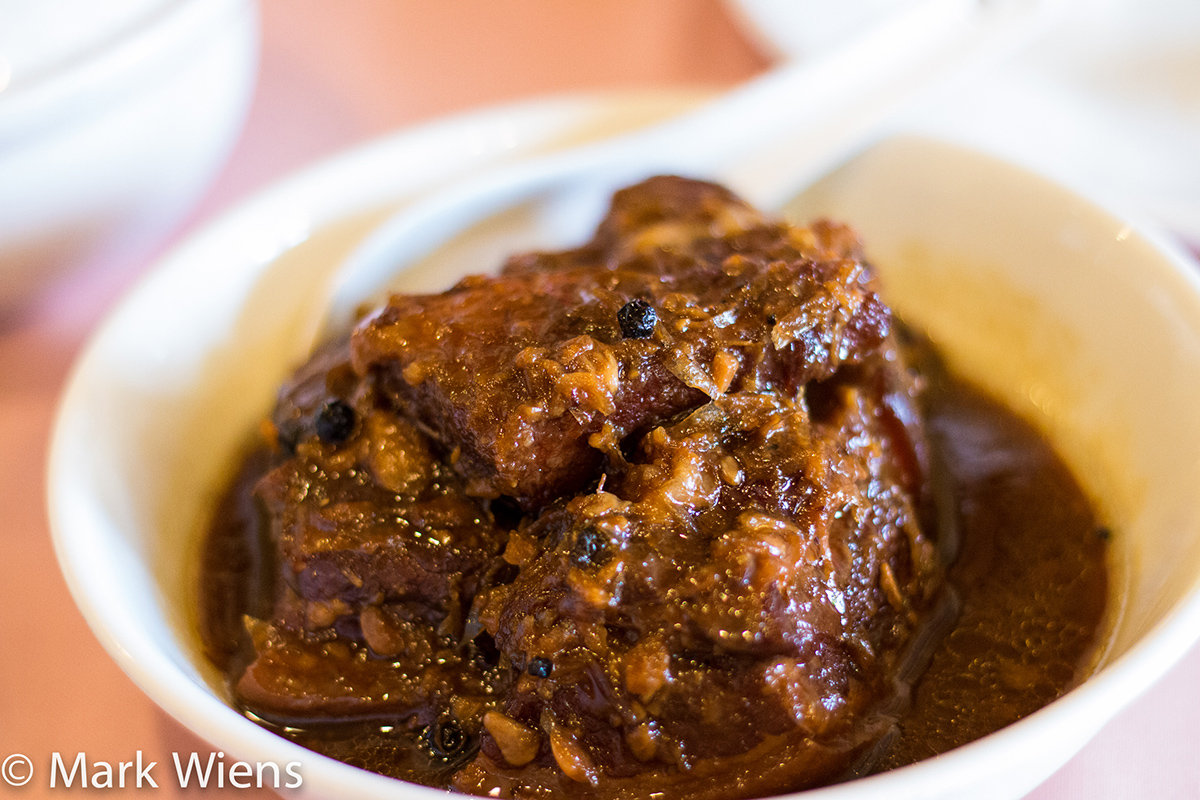 When it comes to restaurants in Phuket, easily the most recognized is Raya (ร้านระย้า).
The restaurant is famous for being one of the premiere restaurants in Phuket Town for preserving and serving original Phuket style Thai dishes.
Just like Lock Tien, Raya is popular with both local Phuket residents, and visiting Thais from around the country, but Raya is much more high end.
Atmosphere
I think one of the best things about eating at Raya Restaurant in Phuket (ร้านระย้า) is the ambiance and the atmosphere.
The restaurant is housed in a Sino-Portuguese house, that's beautifully preserved and decorated.
Unfortunately it's kind of tucked behind a modern style bar and restaurant, hiding some of the house, but nevertheless, the property is still charming.
There's both a downstairs and upstairs, but unfortunately the day I ate there, there was a private function occupying the entire upstairs, so I was only able to sit downstairs… that's ok, but if you go, you can choose where to sit.
Even within the display cabinets around the house there were beautiful decorations, fine China, and other antiques.
Eating at Raya Restaurant is sort of like eating in a breathing museum… with better tasting food.
Menu
The menu is written in both Thai and English, so if you're visiting Thailand, you should have no problem ordering.
There are a variety of different Thai dishes on the menu, but my main eye and attention was on the "Popular Dishes" section, where many of the original Phuket style dishes are mentioned.
I wish I could have tried everything at Raya Restaurant, but with just my wife and I, we only could try a few.
On my next meal here, I'll be trying the crab curry!
Stink beans with shrimp (กุ้งผัดสะตอ)
You've probably seen me write about stink beans quite a few times already, and I've published a recipe, because it's one of my favorites foods in the entire world.
So every time I see sataw (สะตอ), or stink beans on the menu, I simply must eat it.
The plate of goong pad sataw (กุ้งผัดสะตอ) at Raya was prepared with shrimp, and heavy on the shrimp paste.
It was easily my favorite dish at Raya Restaurant.
Price – 250 THB
The plate of goong pad sataw (กุ้งผัดสะตอ) came piled with stink beans, and although there were only about 5 big shrimp, there was a huge amount of stink beans on this plate – perfect ratio for me.
The shrimp and stink beans were stir fried with garlic and chilies, and mostly seasoned with a generous amount of shrimp paste to give it flavor and saltiness.
It wasn't at all sweet, but more salty and fragrant, highlighting the flavor of the stink beans wonderfully.
Yah, again, this was, along with the moo hong (หมูฮ้อง) below, my favorite dish of our meal at Raya.
You cannot go to Raya Restaurant Phuket (ร้านระย้า) without ordering a bowl of moo hong (หมูฮ้อง), or as it's called on the menu, "Steamed pork with pepper and garlic (Phuket style)."
But rather than being steamed, the pork is actually braised for hours until it's tender and succulent and packed with flavor.
Price – 250 THB
Moo hong (หมูฮ้อง) is not only a southern Thai dish, but it's actually pretty much only available in Phuket where it was introduced.
You can find the dish occasionally at at other restaurants, like The Local in Bangkok, but really it's a Phuket dish.
The pork was slow braised with shallots and garlic and palm sugar, and with little spice other than dark and light soy sauce and black pepper.
The focus of moo hong (หมูฮ้อง) is mostly on the tender cubes of pork meat and belly. Their version was marvelous, extremely tender and rich pieces of meat, sweet and garlicky, with a wonderful black pepper flavor.
Moo hong (หมูฮ้อง) is one of the must-eat dishes at Raya house restaurant Phuket, and in my opinion it was very, very good.
Both my wife and I loved it.
Vegetable fern salad (ยำผักกูดกุ้งสด)
In order to balance out the meat dishes, we ordered a plate of vegetable fern salad (ยำผักกูดกุ้งสด yam pak gud goong sot) with shrimp.
Pak gud (ผักกูด), a type of edible fern, is typically one of my favorite vegetables in southern Thailand, it has a wonderful texture and pretty neutral vegetable flavor.
But unfortunately this fern salad was overly sweet and didn't barely have any flavor – it tasted to me like the dressing was pre-mixed in a batch and just added to the blanched vegetables, rather then precisely mixing the dressing for the individual dish.
At restaurants like Nong Joke in Krabi, I've had much better and more complex versions of of yam pak gud (ยำผักกูดกุ้งสด).
Price – 250 THB
Fried chicken w/ crispy ginger (ไก่ทอดขิงกรอบ)
Along with the fern salad, I was quite disappointed with the fried chicken with crispy ginger (ไก่ทอดขิงกรอบ).
The chicken was cut extremely thin, and then deep fried to a crisp. However it was so overly deep fried it was completely dried out and stale.
The slices of ginger were good tasting, sort of caramelized, but with stale chicken, it just didn't have a fresh or good taste. I wouldn't order this again.
Price – 200 THB
Conclusion
Raya Restaurant (ร้านระย้า) is one of the most famous restaurants in Phuket, specializing in original Phuket style Thai food.
When I was in Phuket Town, one day for lunch my wife and I headed to Raya to get a flavor of Phuket for ourselves.
I really enjoyed the moo hong (หมูฮ้อง), a slow braised Phuket pork dish, and the goong pad sataw (กุ้งผัดสะตอ), shrimp with stink beans, but the other two dishes we ordered weren't nearly as fantastic.
Overall, I'd say Raya Restaurant is worth visiting when you're in Phuket, especially for history of the restaurant and the atmosphere, and definitely don't miss a bowl of their moo hong (หมูฮ้อง), and stink beans if you love them!
Raya Restaurant (ร้านระย้า) – Phuket Town
Address: 48 Dibuk Road, Phuket Town, Phuket
Phone: 076-218155
Open hours: 10 am – 10 pm daily
Prices: Prices are a bit high, should be about 300 – 600 THB per person
ที่อยู่ 48 ถนน ดีบุก (ติดกับร้านประชาชื่น) ตลาดใหญ่ เมืองภูเก็ต จังหวัด ภูเก็ต
เปิดบริการทุกวัน 10.00 – 22.oo น.
โทร. 076-218155
How to get there: Raya Restaurant is located in Phuket Old Town, at the intersection of Dibuk and Thepkrasattri. If you're staying somewhere in central Phuket Old Town*, you should be able to easily walk here.
For the Raya restaurant map, scroll down on the left hand side to "Southern Thailand," then find "Raya – Phuket," click on it, and it will highlight the position on the map.