Rasa Khas – Indonesian Restaurant in Bangkok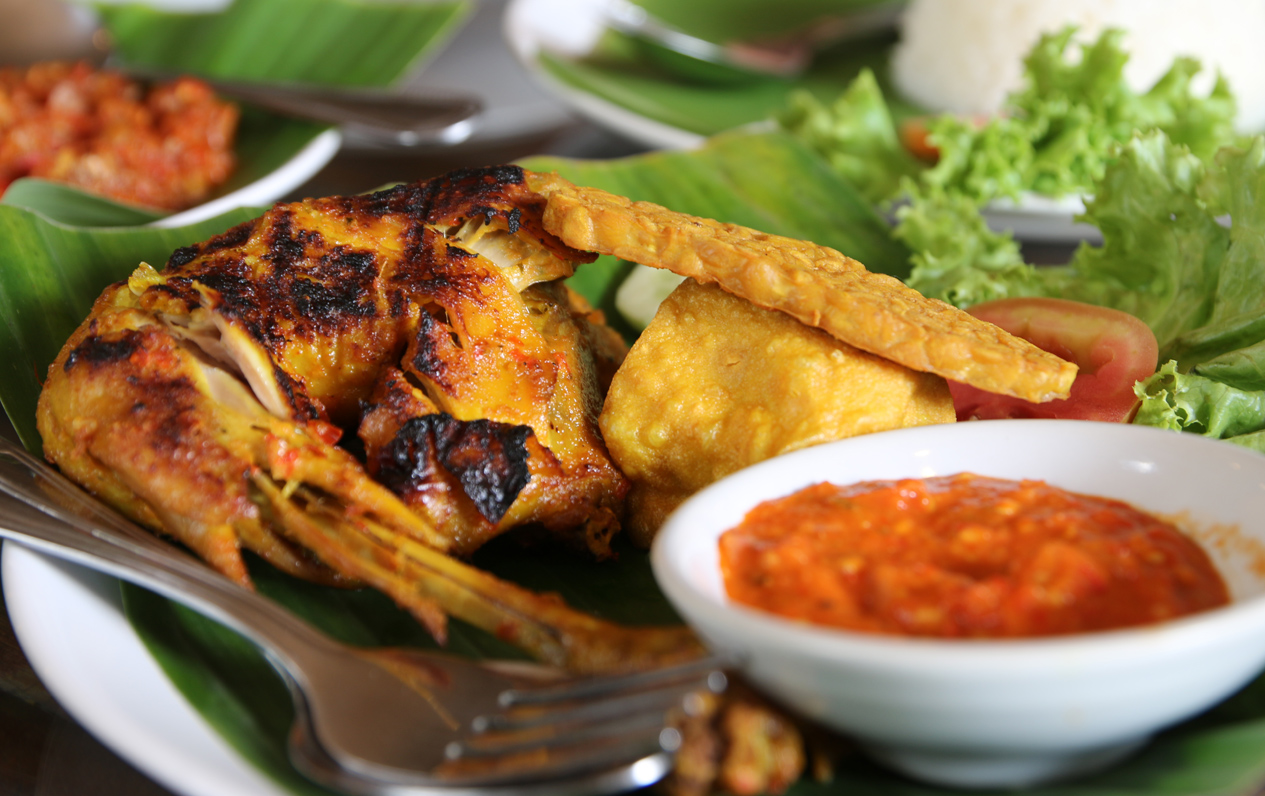 Despite the diversity of restaurants in Bangkok, the amount of other southeast Asian restaurants, can just about be counted on two hands.
There are a couple Malaysian restaurants, one Filipino restaurant, and just a few Indonesian restaurants.
Opening just at the beginning of 2013, Rasa Khas is a welcome addition to the nearly non-existent Indonesian restaurant scene in Bangkok.
It's been years since my last visit to Indonesia, a trip that opened my eyes to the glories of nasi padang, ikan bakar, and gado gado, as well as plenty of foods that I can't even remember the names of.
Anyways, I was happy to try Rasa Khas.
One of their house specialities is sate ayam, or Indonesian chicken satay.
Quite a bit different from the Thai street satay I had eaten a few weeks ago, the sticks of flavorful chicken at Rasa Khas were marvelous.
The skewers were nice and big, grilled so they had some nice smokey flavor, and then topped with peanut sauce and sprinkled with fried garlic and shallots. The extra hit of chili sambal provided a nice heat touch. I loved them!
Price – 160 THB
The sambal tempe, a chili dip made with soybean fritters mixed with pounded chilies and kaffir limes leaves, wasn't my favorite dish of the meal, though it was still good. It was tangy and tomatoey but not spicy enough.
Price – 100 THB
Ketoprak is a famous Indonesian street food, so I couldn't miss it at Rasa Khas.
Steamed rice cakes, big hunks of tofu, rice vermicelli noodles, cabbage, and bean sprouts were combined for the base of the salad. It was then covered in thick creamy peanut sauce with a sweet tinge from palm sugar and a drizzle of kecap manis on the very top.
Unique dish, with lots of different textures going on, and I enjoyed it.
Price – 120 THB
Probably my favorite dish at Rasa Khas was the nasi ayam padang, a chunk of chicken with an egg stewed in a glorious medley of coconut milk, lemongrass, turmeric, and plenty of other herbs and spices.
It had some very similar flavors to some southern Thai curries.
Price – 180 THB (came as a set with rice)
The ayam bakar bumbu rojak, a piece of chicken marinated in coconut cream and spices before being grilled, was also spectacular.
It was served along with a fried square of tempe (soybean fritter) and a mild, yet flavorful, chili dipping sauce.
Price – 160 THB
Last dish of my Indonesian food in Bangkok conquest came down to udang bakar Bali, a grilled prawns recipe originating from Bali.
The prawns were marinated in ginger and garlic, turmeric and chili, and grilled over charcoal, and the marinade crusted onto the outside.
The Balinese style prawns were a little pricey, but definitely delicious.
Price – 250 THB
The Bottom Line
So the overall verdict of Rasa Khas in Bangkok – great food, nice relaxing ambiance, and the staff and service are friendly and helpful. I would definitely return again for another Indonesian food meal in Bangkok!
Rasa Khas Bangkok
Address: 86  Sukhumvit 23 Khlong Toei Nuea, Watthana Bangkok 10110 | 86 สุขุมวิท 23 คลองเตยเหนือ วัฒนา กรุงเทพ 10110
Tel: 02-1085437, 082-223-6239
Opening Hours: 11am – 11pm Tuesday through Sunday (closed on Monday)
Prices: Expect to pay around 200 – 300 THB per person for a meal, there are also single plate specials including rice and a meat for 180 THB – and pretty good sized portions.
Website: http://rasakhas.com/
How to get there:
Rasa Khas is located just a stones throw from The Local, an excellent sit-down Thai restaurant.
The restaurant is basically about 500 meters or so down Sukhumvit Soi 23. Once you get to Asoke Soi 1, make a right and you'll see Rasa Khas. Closest BTS station is Asoke – takes about 10 – 15 minutes to walk.

View Bangkok Eating Thai Food Map in a larger map